Crisp's eighth-inning RBI single lifts A's past Sox
Donaldson belts three-run homer; bullpen tosses five scoreless innings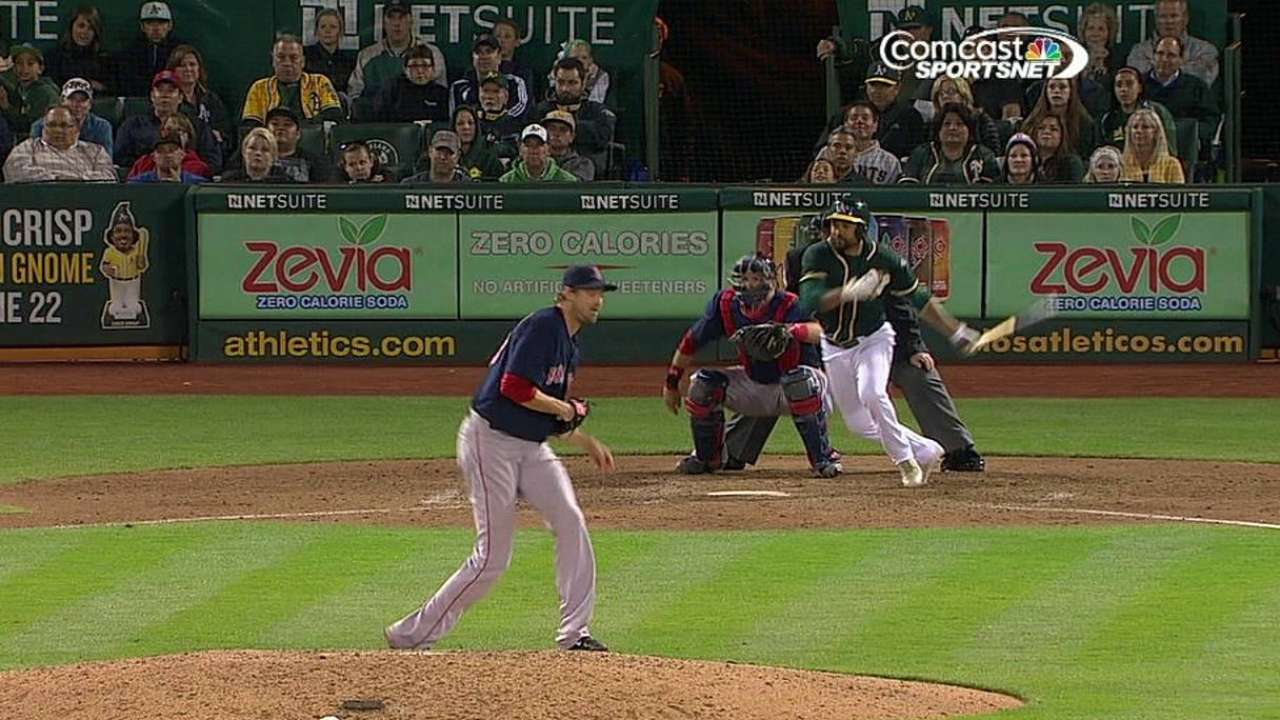 OAKLAND -- Coco Crisp didn't start Friday night's contest against the Red Sox, but in true A's fashion, he came off the bench and finished it.
The banged-up Crisp began the game on the bench while Craig Gentry held his place in center, later entering it in the seventh as a pinch-hitter and winning it in the eighth on a go-ahead RBI single off lefty Andrew Miller that proved the difference in a 4-3 win.
"Everybody in here in the later innings, his number can be pulled out of the hat," said Crisp. "We know with our team we play a full squad, so we're always prepared in case of anything."
"Certainly I'd like to rest him the whole game, but he always tells me he's ready to go, and he came up huge for us," said manager Bob Melvin. "There's been so many times over the last couple of years where he comes up in those situations and comes through so many times. To an extent you almost expect it, which is unrealistic, but you always feel good when he's up at the plate.
"A lot of times, that's the way we have to win games like that, using our entire roster."
But it's the way Melvin does it, so masterful with his maneuvers, that makes it so impressive. Gentry was no slouch, reaching base twice in three plate appearances and providing a remarkable catch in the second with runners on first and second to jumpstart an inning-ending double play.
But with Red Sox righty Burke Badenhop on the mound in the seventh, Melvin called on Crisp, ending Gentry's night.
"Gentry's a special player," said Crisp. "It's a two-headed monster right now, me and him."
The victory was the A's fourth straight and sixth in their last seven games, pushing them a season-high 18 games over .500 at 46-28, the Majors' best record.
Josh Donaldson, all week having shown signs of breaking out of a rare slump, went deep for the first time since June 6 in the first inning off lefty Felix Doubront, a loud shot to left field for a three-run homer.
It was the 18th homer of the season for Donaldson, now boasting 55 RBIs to tie Brandon Moss for the team lead. Yoenis Cespedes, who singled and walked twice, isn't far behind with 49.
Starter Brad Mills struck out the side in the first inning of his A's debut, but it didn't last much longer. The lefty only made it through four on 94 pitches, after issuing four walks -- two of which resulted in runs -- while getting some spotty defense behind him.
With runners on first and second in the second frame, Mills induced a potential inning-ending double play ball from Stephen Drew that Nick Punto botched on the throw to Jed Lowrie, loading the bases for Jackie Bradley Jr. with just one out. The outfielder made them pay with a two-run single, and the Red Sox would tie the game in the third on David Ortiz's RBI knock.
Jim Johnson loaded the bases in the fifth but left it unscathed, and Ryan Cook, who, like Johnson, had been struggling, followed up with two perfect innings.
Lefty Fernando Abad was next, pitching a scoreless eighth to allow his teammates to climb out on top in the bottom half of the inning.
"It's a good team over there," said Boston's Jonny Gomes. "They had a guy who's had 100 saves the last two years coming in in the fifth."
These days, it's Sean Doolittle getting the saves, and with such ease to boot. The lefty struck out two in a nine-pitch ninth inning for his 10th save, extending his scoreless streak to a career-high 23 1/3 innings. His strikeout-to-walk ratio is 50:1.
"That was a complete team win today," said Melvin. "When your starter goes four innings and you got to use a lot of bullpen … certainly got a lot of contributions."
Jane Lee is a reporter for MLB.com. This story was not subject to the approval of Major League Baseball or its clubs.