Padres walk off on Cabrera's sacrifice fly
Ninth-inning rally vs. Jansen leads to third straight win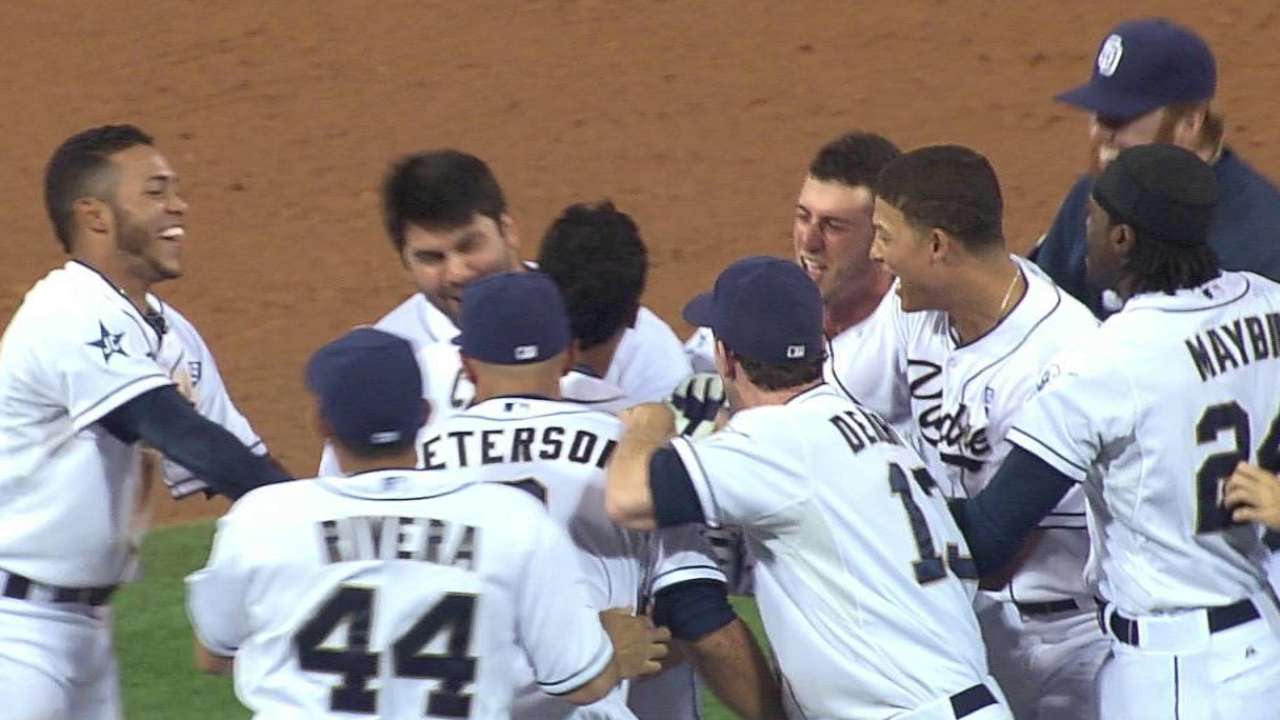 SAN DIEGO -- Jake Goebbert might be the wrong person to gauge the pulse of the Padres following their improbable victory over the Dodgers on Friday, especially since he's been with the team all of two days and is still working on remembering everyone's names.
But Goebbert felt as if he picked up on something poignant during the Padres' frantic ninth-inning rally that eventually led to a 6-5 victory over the Dodgers before a raucous crowd of 31,199 at Petco Park, something that allowed him to believe this win was unlike any other in this trying season.
"It was as pure emotion as you'll see at any level," he said.
The Padres, who appeared on their way to being buried early, hung around Friday and then pounced on closer Kenley Jansen for three runs in the ninth inning to pick up their third victory in as many days -- a win that, to a man, felt different than any of their previous 31 victories.
"It's got to be right up there, right … that's right up there," said Padres manager Bud Black, who usually downplays any one particular victory, especially when framed against a 162-game schedule.
To be sure, this one felt a little different for the Padres (32-42). It came against the Dodgers (40-35), who the Padres hadn't seen since April 2. It allowed them to win three successive games for the first time since May 10-11 and 13, and came at the end of an emotional week that began with the death of Hall of Fame outfielder Tony Gwynn, Mr. Padre.
"This has been a tough week for San Diego," Black said. "… It was good to play a good game for the city."
Trailing 5-3 entering the ninth inning, and facing Jansen, Alexi Amarista singled to left and then scored a run when pinch-hitter Carlos Quentin doubled into the left-field corner. Will Venable came up and hit a ball high and far down the right-field line, into the deck that was as majestic as it was foul.
Venable managed to keep the ball in fair territory on his next swing, a double to the left-center gap to score pinch-runner Andrew Cashner to tie the game.
"We thought about bunting him [Cashner] to third. Jansen is tough, even with a guy on third. He's really, really good. But we decided to let Will swing," Black said.
Black, dealing with a short bench with Chase Headley unavailable because of a sore back, went to his bench for his only other catcher, Rene Rivera, who bunted Venable to third base. The next batter, Everth Cabrera, won the game with a sacrifice fly to right field.
"We chipped away the whole game. When you dig yourself out of a 5-1, 5-2 hole, it doesn't make it as hard in the ninth inning," said Padres pitcher Ian Kennedy, who allowed four earned runs on seven hits over five innings.
"That was fun to watch, guys putting good at-bats together."
The best at-bats weren't just reserved for the ninth inning.
Seth Smith hit two home runs and barely missed a third when he had to settle for a double off the wall in straight-away center field.
"With all due respect, it's Seth Smith, not Babe Ruth," said Dodgers pitcher Dan Haren. "He hit like Babe Ruth tonight."
Smith continued his torrid hitting against the Dodgers. He had two home runs against them in April and the two on Friday gave him four of his eight home runs this year.
"I've been working on my swing and came in and did some early work," said Smith, who said the fix had more to do with timing than anything too technical. "It's fun when you put in the work and then see the results."
As for Goebbert, who joined the team Friday after Yonder Alonso landed on the 15-day disabled list with tendinitis in his right wrist, his first big league at-bat will always be a memorable one. His parents, wife and brother were here to see it, a line drive to right field for an RBI that made it 5-2 in the fifth inning.
"Amazing. Especially after such a team win like that, it's just an amazing night to get my first at-bat for first hit and RBI. To help this team get a [win] is awesome," Goebbert said.
"To be part of something that special at this level was truly a unique experience and something I'll never forget. And everybody wants to beat the Dodgers, they're a great team."
Corey Brock is a reporter for MLB.com. Keep track of @FollowThePadres on Twitter. This story was not subject to the approval of Major League Baseball or its clubs.