Dodgers' streak ends at three with Padres' walk-off
Jansen's blown save compounded by injury to Puig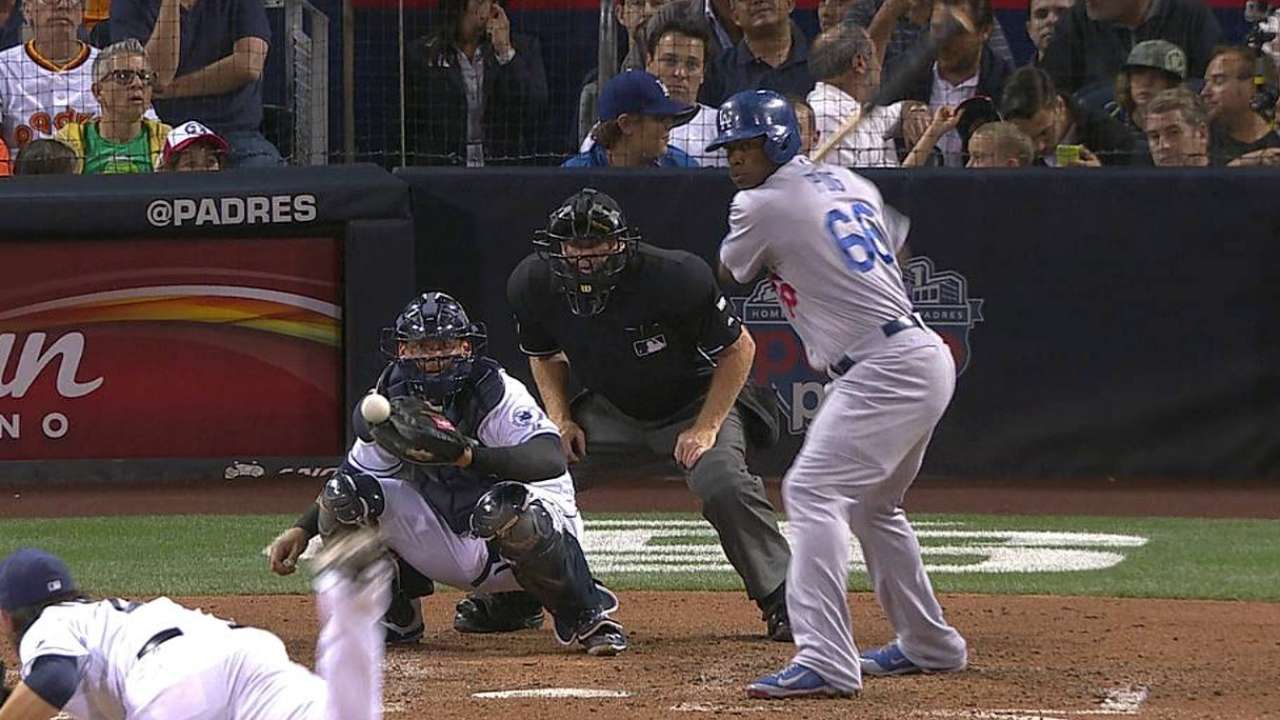 SAN DIEGO -- Yasiel Puig got hurt, Kenley Jansen got hit and the Dodgers got beat, 6-5, by the Padres in a three-run bottom of the ninth inning Friday night.
After leading by four runs at one point and appearing ready to close the gap on the first-place Giants to three games, the Dodgers' win streak was snapped at three and they now they must worry about their right fielder and closer.
Puig, who ran around the bases while scoring in the fifth inning, aggravated a strained left hip flexor that first surfaced June 7 and pulled himself from the game after flying out in the top of the eighth inning.
"It's the same [right] hip and I continue to get treatment, try to play through it to support my team, but it's still hurting," said Puig.
Jansen, asked to protect a 5-3 lead in the ninth inning, faced five batters. He allowed a sharp single to Alexi Amarista, hard-hit doubles to Carlos Quentin and Will Venable, a sacrifice bunt by Rene Rivera and the game-winning sacrifice fly by Everth Cabrera in medium-deep right field, beyond the No. 19 stenciled into the grass in memory of the late Tony Gwynn.
That's where Puig and his howitzer arm would have been, if he were still in the game. It would have been a great race to see Venable tagging from third as the winning run with Puig trying to throw him out, but instead Scott Van Slyke caught the ball backpeddling and made the obligatory lob in as the game ended.
"It wasn't my day today," said Jansen, whose cutter velocity ranged from 90-96 mph and continues to miss the catcher's target by just enough to get walloped. He suffered his third loss and third blown save, his ERA soaring to 4.55.
The Dodgers led at one time, 5-1, with Dan Haren in position to raise his record to 8-4. Haren was charged with three runs in 5 2/3 innings and allowed a pair of solo homers to Seth Smith, who has four against the Dodgers this year.
"With all due respect, it's Seth Smith, not Babe Ruth," said a frustrated Haren. "He hit like Babe Ruth tonight. He's hit me well in the past."
Haren allowed only two home runs over his first seven starts, but has been taken deep 12 times in his last seven starts. He said he felt better physically than he has in a while, but he was disappointed he left so many innings for the bullpen to clean up.
"A lot of times earlier in the year, I didn't feel as good and the results were better," he said. "Today was the opposite. I felt like I should have done better today."
Haren was given an early lead, as Dee Gordon opened the game with another Little League home run, officially a triple to center field and a throwing error by relay man Jace Peterson that allowed Gordon to score. Gordon's eight triples are tied for the MLB lead and halfway to the Los Angeles single-season record of 16, set by Willie Davis in 1970.
Hanley Ramirez singled but was thrown out at second on a failed run-and-hit when Puig swung through a 3-2 pitch. The Dodgers still tacked on a run, as Adrian Gonzalez doubled and scored on Matt Kemp's single off the glove of diving third baseman Amarista.
The Padres cut the lead in half with two out in the bottom of the first on a 435-foot blast to center by Smith, the longest homer by a Padre at Petco Park this year. It was the 10th consecutive start in which Haren has been scored upon in the first or second inning.
The Dodgers extended the lead to 5-1 with a three-run fifth inning as the Padres couldn't throw straight. San Diego starter Ian Kennedy issued a walk and two wild pitches and the Dodgers scored two runs on Puig's infield single on a 3-0 pitch that split the left side of the drawn-in infield. Shortstop Cabrera and third baseman Amarista dived toward each other, the ball deflecting off Cabrera's glove into shallow left field as Ramirez scored from second.
Amarista retrieved the ball and his throw home was wild, allowing Puig to continue around second and into third. He scored from there on Gonzalez's sacrifice fly.
San Diego responded in the bottom of the fifth with a double by Amarista, who stole third and was driven home with the first hit of pinch-hitter Jake Goebbert's career. Smith closed the gap to 5-3 with a homer leading off the sixth.
Ken Gurnick is a reporter for MLB.com. This story was not subject to the approval of Major League Baseball or its clubs.