Brignac lands on DL with high ankle sprain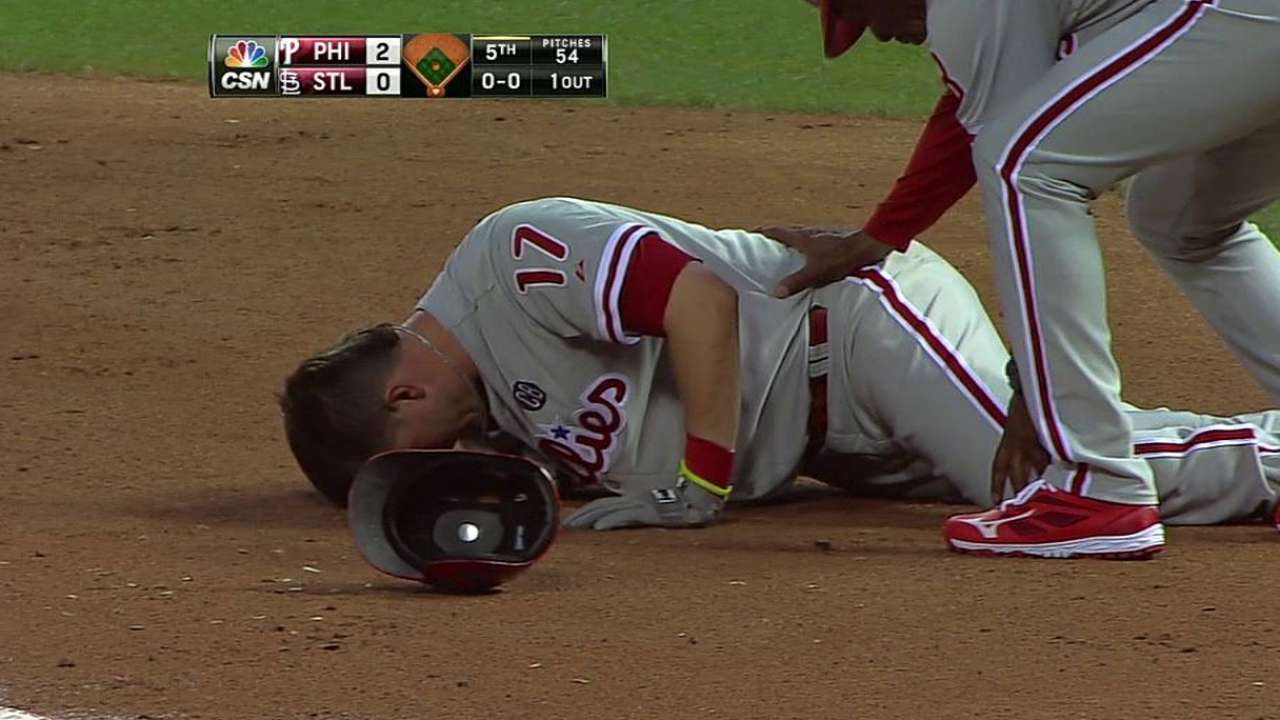 ST. LOUIS -- Reid Brignac feared his left ankle might be broken Thursday, when he slid into first base at Busch Stadium and oddly contorted it.
X-rays on Brignac's ankle came back negative and the third baseman was diagnosed with a high ankle sprain. The injury wasn't as severe as initially thought, but was bad enough to send him to the 15-day disabled list Friday.
Brignac's ankle was tightly wrapped Friday, and there is no knowing if two weeks will be enough time for it to heal and allow the 28-year-old to return to action when eligible to come off the DL.
"It's hard to gauge right now," Brignac said. "Hopefully when the time comes up I'll be ready to start playing again then. I can put weight on it, I can walk on it. It's a little discomfort, but it looks like it's getting better already."
Brignac had taken over at third base for the Phillies in late May when Cody Asche went on the disabled list May 22 with a strained left hamstring. Asche was activated from the DL on Friday.
Brignac was beginning to heat up in recent weeks, and entered Thursday night hitting .368 (7-for-19) in his previous four games before going 0-for-2 and being removed in the fifth inning.
"He was doing some very good things," Phillies manager Ryne Sandberg said. "He was playing a steady third base, making routine plays. I think he had three big hits late in the game that made a difference in winning games in about a 10-day span. He gave us a lift in a time that we needed."
Asche, who was sent on a rehab assignment to Class A Lakewood for three games last Friday and two games at Triple-A Lehigh Valley on Tuesday and Wednesday, had arrived in St. Louis to meet the team prior to Thursday's game. He was already set to be activated Friday before Brignac injured his ankle.
Ultimately, he was activated with Brignac headed to the DL. Asche had been the Phillies regular third baseman before hurting his hamstring. In 40 games this season he's hit .258 with four home runs and 18 RBIs.
While Brignac will miss time, both he and Sandberg were feeling fortunate Friday his injury is only a sprain.
"It didn't look too bad as far as swelling. It didn't look like a grapefruit or anything," Sandberg said. "Watching the play from over here and watching the players land on the field, it looked uglier than what it ended up to be.
"It could have been a lot worse."
Alex Halsted is an associate reporter for MLB.com. This story was not subject to the approval of Major League Baseball or its clubs.