Britton bitten by walk-off blast in loss to Yanks
Closer allows four runs in ninth, with three coming on Beltran's homer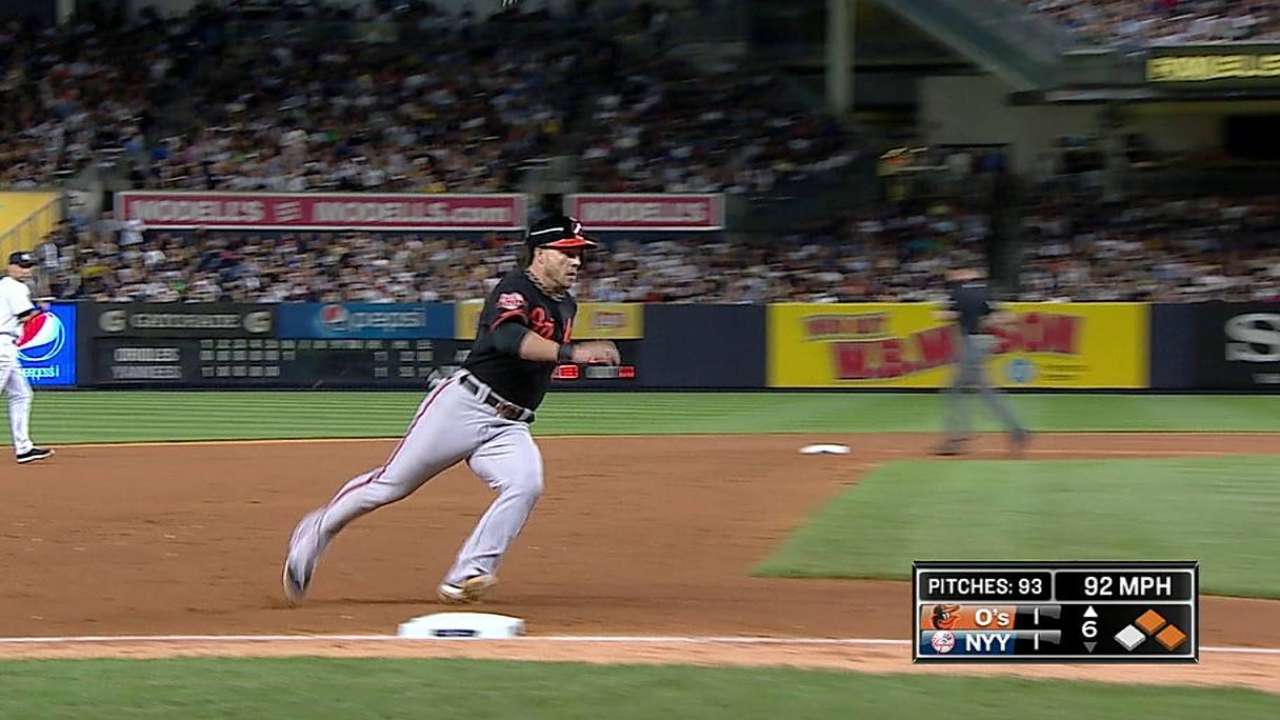 NEW YORK -- The Orioles didn't have a hit until the sixth inning and watched starter Ubaldo Jimenez issue a season-high six walks on Friday night at Yankee Stadium.
Still, they entered the ninth inning with a two-run lead and a chance to make up ground in the American League East. Instead, lefty closer Zach Britton suffered his second blown save of the season, surrendering a two-out three-run homer to Carlos Beltran that handed the Orioles a 5-3 walk-off loss to the Yankees.
The defeat spoiled a solid relief outing from lefty long man T.J. McFarland and another two-RBI night from the red-hot Steve Pearce, dropping third-place Baltimore to 37-35 on the year and 3-9 in its last 12 one-run games.
"You're one good pitch away, keeping the ball down, I can get out of that inning," said Britton, who had allowed just one hit in his previous five outings combined and entered the game tops in the AL in relief ERA (0.72) with saves in nine of 10 opportunities since earning the ninth-inning duties.
"It was just kind of a fight, little bit of the balls running everywhere. I made the adjustments, just not when it really counted. That last pitch right there, [Beltran is] a good high-ball hitter when he is facing a lefty and I kind of put it right where he could do some damage. The only way I am going to be successful is getting the ball down and I wasn't."
Tasked to protect a two-run lead, Britton, who uses a trademark sinker, allowed a leadoff single to Brett Gardner, who came around to score on a two-out hit from Brian McCann. It marked the first run allowed by Britton, moved to the closer role on May 15, in 16 1/3 innings since taking over the ninth inning.
"He's tough," McCann said of Britton, who is having a breakout year in his first full season in relief. "He has so much movement, but we were able to get the ball up on him and not swing at balls, and when you do that against a sinkerballer, you're going to have success."
McCann's single put runners on first and second -- Britton had walked Mark Teixeira -- and Beltran crushed a 3-1 pitch to give New York its first walk-off win of the season.
"We've done that a lot this year where we have gotten that last out," manager Buck Showalter said. "Zach has been rock solid for us in a time of need and will be again."
Britton's uncharacteristic struggles were preceded by another shaky outing from Jimenez, who raised his total to 16 free passes over his last 14 innings. For the eighth time in nine starts, Jimenez didn't record an out in the seventh inning. He was, however, able to hold New York to one run over 5 2/3 innings with some major damage control before McFarland came in and retired the next six straight.
"The first few innings I felt really good," said Jimenez, who is 1-4 with a 5.79 ERA in six career starts vs. the Yankees. "The fourth, fifth inning I started rushing my mechanics. I was trying to make my fastball move a little bit more. That was a mistake -- it caused my front shoulder to fly open and that's what made everything difficult, more difficult to throw strikes."
The Orioles allowed the Yankees to load the bases three times without allowing a run, with Jimenez getting a big lift on Adam Jones' double play to end the second inning. Following a double, a one-out single and a walk, Gardner hit a ball to Jones, who fired home to catcher Nick Hundley to easily get Beltran.
"Just out of the stretch, it looks like he was rushing a little bit, so I went out and talked to him about staying closed a little longer," Hundley said. "I thought he made good adjustments throughout the game, pitched this lineup tough. Obviously, you don't want to walk guys, but at the same time, they earned some of that, too. I thought he did a good job keeping us in it, giving up one."
Jimenez allowed a first-inning run on Teixeira's double, with Jacoby Ellsbury delivering a two-out single and stealing second base. Hundley, who allowed a second steal in the second inning, threw out Ichiro Suzuki to end the fourth. He also gave the Orioles their first hit of the night off Yankees starter Hiroki Kuroda with a leadoff double in the sixth.
After Hundley's hit, his first extra-base hit with the Orioles, Pearce delivered an RBI double that one-hopped the left-field fence one out later. It marked Pearce's fifth extra-base hit in his last three games, and he scored the go-ahead run on Jones' single to right field.
The Yankees -- who couldn't cash in on Jimenez's trio of two-out walks the inning prior -- threatened immediately after the Orioles took the lead. McCann started the bottom of the sixth inning with a single and Jimenez walked Beltran before getting a pair of popups. He issued his sixth walk to No. 9 batter Yangervis Solarte, loading the bases and ending his night in favor of McFarland.
"It forces Mac to pitch a little bit more and puts us in jeopardy with some length tomorrow," Showalter said of Jimenez's control issues. "I could look at the finished product and say one thing, but the six walks -- I thought he and we were very fortunate to survive those tonight. I think more times than not, the baseball gods will get you on that one."
Jimenez said he thought he sped things up whenever he had a runner on base as going deep into the game continues to be an issue. Signed to a four-year, $50 million deal this past offseason, Jimenez has a 4.63 ERA in 15 starts and is winless in his last eight games.
"It's frustrating because these are games we want to win right now," Britton said. "But yeah, you've got to turn the page. It is the only thing you can do. You can't just sit here and mope about it. You go out there and make the adjustment next time and go out there and pound the zone, throw strikes and get ahead and get ground balls."
Brittany Ghiroli is a reporter for MLB.com. Read her blog, Britt's Bird Watch, and follow her on Facebook and Twitter @britt_ghiroli. This story was not subject to the approval of Major League Baseball or its clubs.