Lineup rebounds, but Rox doomed by pitching woes
Colorado falls in opener despite 16 hits in first game since being no-hit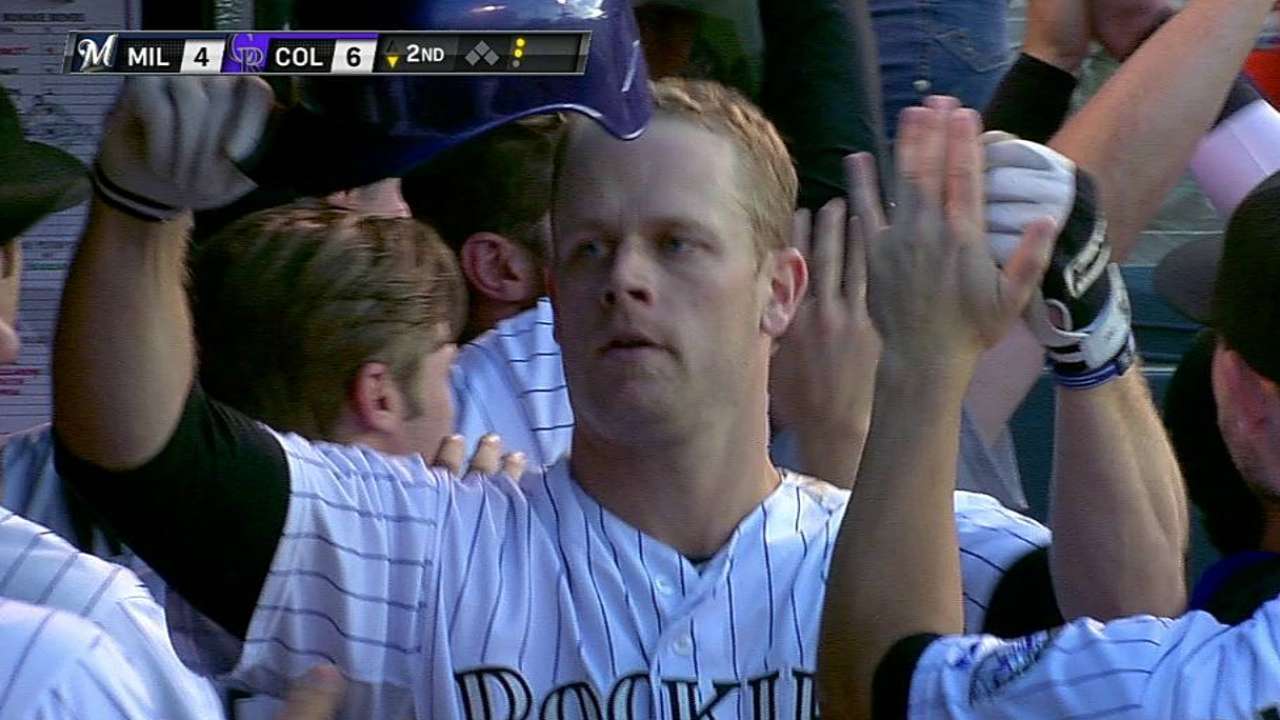 DENVER -- This best sums up the Rockies' pitching in the 13-10 loss to the Brewers on Friday night at Coors field in front of 41,238:
In the bottom of the second inning, the Rockies' Justin Morneau homered for three runs and had five RBIs at that point, all against Brewers starter Marco Estrada (6-4). Yet before the top of the third was done, the Rockies were behind, never to lead again.
In their first game since being no-hit by the Dodgers' Clayton Kershaw on Wednesday night, the offense couldn't be faulted. But with Christian Bergman (0-2) giving up nine hits and seven runs in three innings to start the rough pitching night, the Rockies lost for the ninth time in their last 12 home games.
It was the second of those losses in which the Rockies scored in double figures, and the fourth of those losses in which they scored seven or more runs.
"We kept fighting our way back into it, but we couldn't hold back their offense," Rockies manager Walt Weiss said.
The Rockies, who lost their fourth straight, have seen their starter fail to work four innings in their last two contests. Jorge De La Rosa gave up eight runs in 3 1/3 innings in the Kershaw-dominated, 8-0 loss to the Dodgers in Los Angeles.
After two passable starts (3.75 ERA in games against the Giants and Braves), Bergman gave up three first-inning runs on four hits, including doubles by Scooter Gennett, Jonathan Lucroy and Aramis Ramirez, with Lucroy's driving in a run and Ramirez's knocking in two.
Also against Bergman, Brewers shortstop Jean Segura doubled his season total with two solo shots, one to lead off the second, the other a solo shot in the third to give the Brewers a 7-6 lead. Earlier in the third, Khris Davis knocked a two-run shot for his 13th homer of the season.
"I was just leaving pitches up in the zone -- my fastball was up a little bit, off-speed pitches were up a little, too, and they capitalized on it," Bergman said.
Of course, it seems the Rockies can't have a game without a hand injury, or at least the potential for one.
Ramirez's single in the third, which preceded Davis' homer, bounced hard off the base of Bergman's left hand, just above the cuff of the glove. X-rays were negative, and Bergman hopes the swelling will subside enough for him to make his next start. The Rockies have two pitchers (Brett Anderson and Jordan Lyles) and two position players (third baseman Nolan Arenado and outfielder Carlos Gonzalez) on the disabled list with hand or finger injuries.
Weiss said the hand had as much to do with Bergman leaving after three as the runs he gave up. But Weiss and Brewers manager Ron Roenicke each spent the evening searching, usually futilely, for a pitcher who could put away a hitter. Each team had 10 two-strike hits.
"No doubt the ball was flying a little bit, but there were a lot of bad pitches on both sides," Rockies shortstop Troy Tulowitzki said.
The pitchers' inability to put away hitters made for a fun night to swing.
"It's unbelievable," said Roenicke. "I know the ball carries well but there were balls squared up all night long. It's amazing how many balls were hit hard."
Morneau did the hard hitting early, and ran his home run total to 12, but the Rockies would have needed constant offense to match the Brewers.
Instead, after giving up six runs in the first two innings, Estrada weaved through six innings and one batter in the seventh with just one additional run charged to him.
Helping Estrada was the length of time the Rockies had to wait before hitting. Bergman needed 69 pitches to make it through three innings, and reliever Tommy Kahnle chucked 53 in two innings.
"Long innings kill the vibe and kill the momentum we had going," said Corey Dickerson, who would restore some Rockies momentum with a two-run homer in the sixth off reliever Zach Duke to improve his season total to nine.
Ramirez, Davis and Segura each had an RBI single in a three-run, five-hit sixth against Chris Martin. Ryan Braun's RBI double off the Rockies' Matt Belisle in the seventh gave the Brewers a 12-8 lead. The Rockies Brandon Barnes cut the lead to two runs in the seventh with a two-run shot dead center off Brandon Kintzler -- Barnes' third homer of the season but first that wasn't inside the park.
It made the Brewers have to pitch. Brewers lefty reliever Will Smith dealt with two on and one out before forcing a Morneau fielder's choice grounder and striking out Wilin Rosario to trim his ERA in 39 appearances to 1.03.
Braun added another RBI hit in the ninth off Adam Ottavino to run Milwaukee's hit total to 19 before Brewers closer Francisco Rodriguez worked the bottom of the inning to earn his Majors-leading 24th save.
Thomas Harding is a reporter for MLB.com. Read his blog, Hardball in the Rockies, and follow him on Twitter @harding_at_mlb. This story was not subject to the approval of Major League Baseball or its clubs.