Royals' grip on first slips with loss to Mariners
Holland yields two runs in 9th after KC claws back from 5-run deficit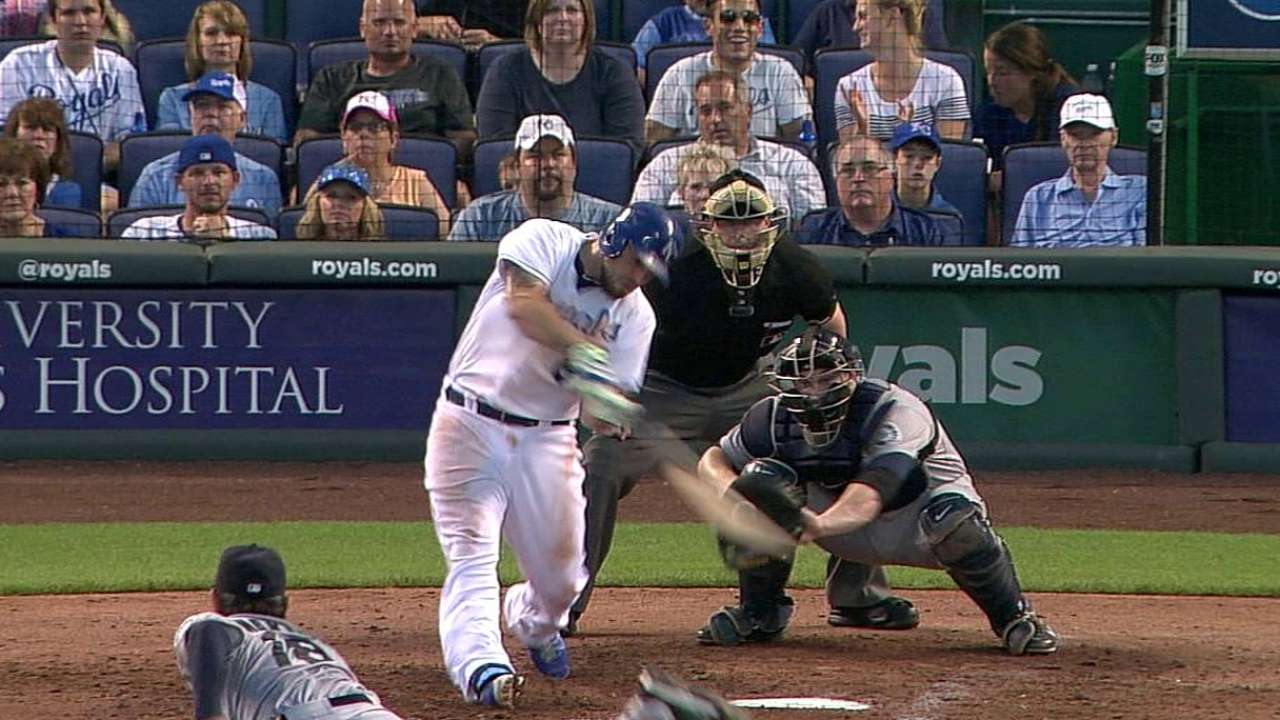 KANSAS CITY -- Three glorious days in first place ended for the Royals on Friday night, but they didn't go quietly.
Kansas City's upstart club staged a stirring comeback against Seattle that ignited a sellout crowd of 38,475 fans, but the Royals couldn't provide them with a victory. The Mariners prevailed, 7-5, by scoring twice in the ninth inning against closer Greg Holland.
"They were disappointed in the loss, but I don't think they left disappointed in the baseball game," said the Royals' Billy Butler.
With Detroit's 6-4 win over Cleveland, the Royals slid back behind the Tigers by half a game in the American League Central standings.
The Royals overcame a five-run deficit to tie the score against Mr. Untouchable, Hisashi Iwakuma, and then had budding rallies stymied in each of the last two innings.
"That was honestly one of the best baseball games we've all been a part of," the Mariners' Brad Miller said. "Great baseball all around."
It was certainly terrific for Miller, who opened the Mariners' ninth by belting a home run down the right-field line off Holland to snap a 5-5 tie.
"I just got up on the first guy [Miller] two strikes, didn't get the slider where I wanted, make a mistake and sometimes you pay for 'em, and I did tonight," Holland said. "But at that point, you've got to leave it at one and we've got a fighting chance."
But then, Holland gave up an insurance run after getting two outs. James Jones singled before Holland walked both Robinson Cano and Kyle Seager. That's when Kansas City-born Logan Morrison singled up the middle for a two-run Mariners lead.
"I make one mistake and just kind of lost it in the strike zone," Holland said. "I was throwing the ball every place after the first hitter."
Royals starter James Shields gave up five runs in the first five innings, surrendering a two-run homer to Morrison and a solo shot to Mike Zunino. And with the Royals going against Iwakuma, the situation looked bleak.
After all, Iwakuma in his two previous starts against the Royals had a total of 16 shutout innings. He made it 20 with four more scoreless innings, beginning with a three-strikeout first inning.
"You think you're trying to scrap and claw any way you can, and it seemed like the bus arrived for us in the fifth," Butler said.
It sure did. Salvador Perez got the Royals' first run off Iwakuma with a home run to left field. Lorenzo Cain doubled and Mike Moustakas hammered a two-run shot to right field.
And when Butler and Alex Gordon opened the sixth inning with singles, Iwakuma was finished. Both runners scored against reliever Dominic Leone and, just like that, it was 5-5.
The third out of that inning came when Morrison, the first baseman, rushed into short right field to snare Alcides Escobar's looper that looked for all the world like a run-scoring hit.
"I thought so, too. That was a great play, man," Escobar said.
Even so, the score was tied.
"We battled hard today, battled back, showed a lot of heart," Shields said.
So did Shields, working through the sixth and seventh innings with ease.
"When we get back in the game like that," Royals manager Ned Yost said, "he just takes his game to the next level and finds ways to get us through the seventh inning."
That got the game to setup man Wade Davis. He produced his 22nd consecutive scoreless inning with two more strikeouts -- he has 36 in that span.
In their half of the eighth, the Royals loaded the bases against reliever Danny Farquhar when Butler and Gordon again singled and, after an out, Cain was intentionally walked to fill the bases. But Charlie Furbush retired Moustakas and Escobar to end it.
Then, after Holland's nightmarish ninth, the Royals went after Mariners closer Fernando Rodney with singles by Jarrod Dyson and Eric Hosmer. But, with the capacity crowd roaring, they were stopped again.
The sold-out house saw quite a show.
"It was dead until we did something," Yost said. "Every time we got a hit, the place was going crazy even though we were down 5-0. Then it got real exciting when we scored three in the fifth and it was a great atmosphere right up to the end."
Dick Kaegel is a reporter for MLB.com. This story was not subject to the approval of Major League Baseball or its clubs.