Vargas, Royals hit ninth-inning wall against M's
Lefty gives up go-ahead single after convincing Yost to extend start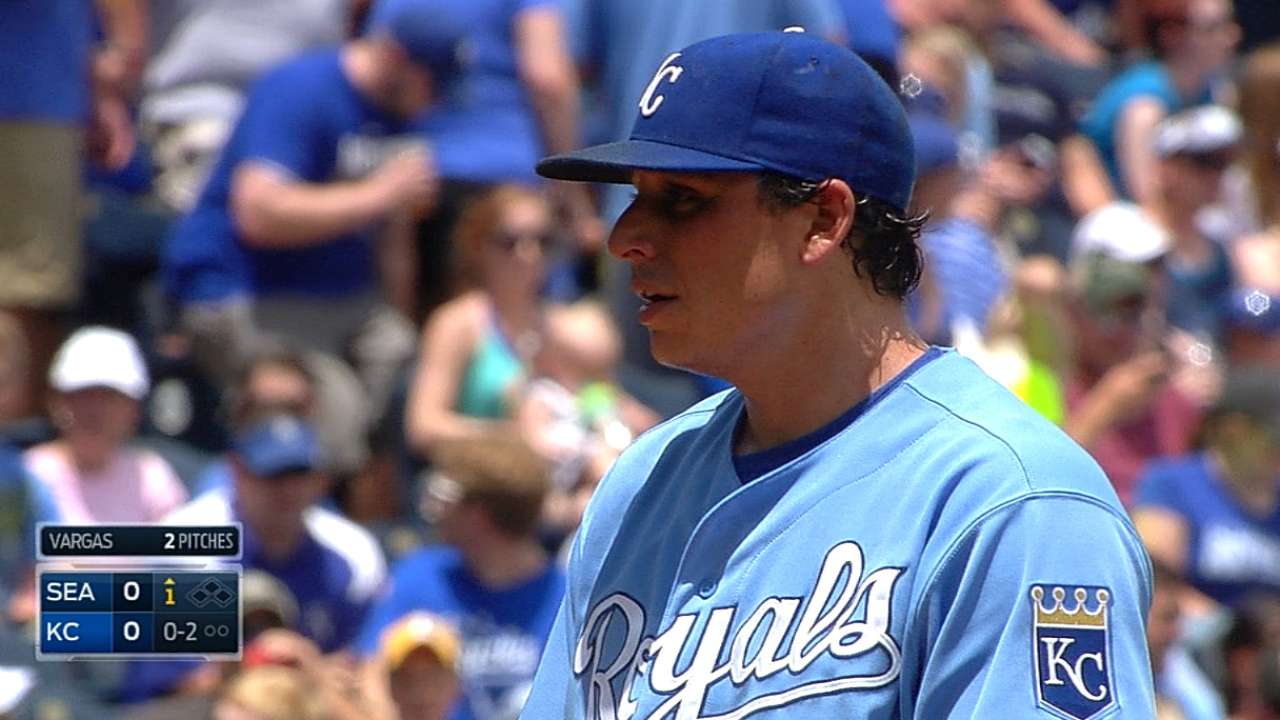 KANSAS CITY -- Time for a crucial managerial decision. Two out, two on, score tied in the ninth inning. Royals starter Jason Vargas has pitched a great game. Leave him in or go get him?
"You know going into it, if it works, you're a smart guy. If it doesn't, you're the dumbest guy in the stadium," manager Ned Yost said wryly. "And I turned out to be the dumbest guy in the stadium today."
Yost chose to stick with Vargas, who promptly gave up the RBI single to Dustin Ackley that gave the Seattle Mariners a 2-1 victory on Saturday at Kauffman Stadium. It was the Royals' third straight loss following a 10-game winning streak.
There were few doubters about Vargas' chances to finish the ninth. He got through the first eight innings on 93 pitches. When Kyle Seager doubled into the right-center gap with two outs, Yost went to the mound.
"He just asked me if I could get him, and I said, 'Yeah.' There wasn't a whole lot more than that," Vargas said.
Stefen Romero followed with a soft line drive that looked like the third out, but the ball glanced away from second baseman Pedro Ciriaco for a single, sending Seager to third.
"It was kind of a soft ball and I just got it between hops," Ciriaco said. "Vargas pitched a great game and I've got to make that play for him."
Yost agreed with the reserve infielder's assessment.
"Tough hop, tough play, you've got to make the play in that situation," Yost said. "It's a ball that you either step up or step back and play the hop."
Up came Ackley, who had entered the game as a pinch-runner in the seventh. Yost had closer Greg Holland ready in the bullpen; was he tempted to pull Vargas?
"A little bit," Yost said. "I had Holly warmed up. But it was one of those situations where he'd been so dominant, and it was a left-on-left matchup. Ackley hadn't swung the bat all day and, again, [Vargas] felt strong."
On a 2-2 pitch, Ackley stroked a single into right field and Seager scored. Vargas was relieved by Kelvin Herrera but, on a steal attempt, Romero was hung up off third base and tagged in a rundown for the third out. But enough damage had been done; the Royals were shut down by Mariners closer Fernando Rodney.
The Royals' primary pitching problem, though, was Chris Young, an imposing 6-foot-10 right-hander. He doesn't throw all that hard, but he certainly had the Royals baffled for the first four innings. It was 12-up, 12-down perfection.
Alex Gordon hit a screamer to right field in the second inning, but Romero managed to catch it near the bullpen fence. But there was no catching Gordon's drive that started the Royals' fifth inning. His ninth home run, coming on Young's 3-2 pitch, sailed over the bullpen into the right-field seats to make it 1-1.
"He's a good hitter. You make a mistake and he hits it out," Young said. "But I can live with it; it's a solo homer and ultimately we won the game."
Indeed, that was all the Royals could muster. Young gave up just three hits in his seven innings.
"I struggle more off soft-tossing guys than guys throwing a hundred," the Royals' Billy Butler said. "It's tough, you have to wait. He's throwing up in the zone, he's always had a good high fastball because he's so tall. It's just a little bit funky, you don't see it every day."
"He's really hard to pick up, he hides the ball well," Eric Hosmer added. "He's obviously a tall guy with a release point that's close to you. He hits his spots real well, he's a real smart guy and knows how to pitch."
So does Vargas. He made the longest outing of any Royals starter this season. Vargas also had pitched into the ninth on April 7 against Tampa Bay, but he was lifted when the Rays' Ben Zobrist led off with a homer. That time, however, Vargas emerged with a 4-2 victory.
This time, he took his third loss against seven wins, throwing 115 pitches in 91-degree heat.
"I mean, it's hot. I don't think there's any other way around it. I don't think you can feel sorry for yourself out there just because it's hot," Vargas said. "You know what you signed up for, you know what Kansas City summers are like."
Mariners manager Lloyd McClendon was impressed by the Royals' left-hander.
"He threw a whale of a game at us," he said.
Dick Kaegel is a reporter for MLB.com. This story was not subject to the approval of Major League Baseball or its clubs.