Miller's blast fuels two-run ninth to beat Royals
Morrison caps frame with RBI single, belts one of Seattle's three HRs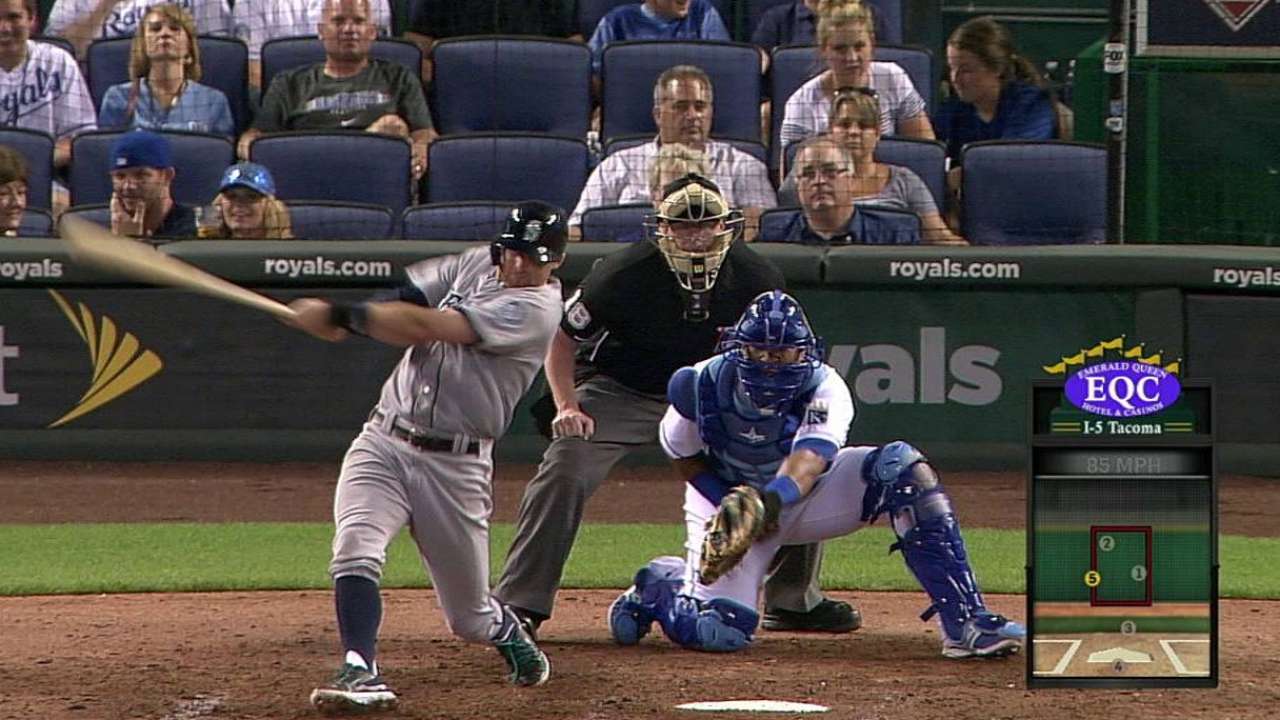 KANSAS CITY -- The Mariners' offensive charge on Friday night was led by two hitters sitting under the Mendoza line and a third with 20 strikeouts in his last 39 at-bats.
Logan Morrison, Mike Zunino and Brad Miller each launched home runs in a 7-5 win over the Royals in the series opener at Kauffman Stadium.
Miller, who is batting .195 after a 2-for-4 night, belted a go-ahead homer in a two-run ninth inning.
"What a swing by Miller, oh my goodness, they don't get much bigger than that," Morrison said.
Morrison, who raised his average to .185 after going 2-for-5 with three RBIs, tacked on the second insurance run in the ninth with an RBI single. Both runs came against shutdown closer Greg Holland.
Mariners closer Fernando Rodney worked around singles to Jarrod Dyson and Eric Hosmer in the ninth to earn his 18th save.
Miller's heroics came after the script could not have been written any simpler, or more satisfying through the first 4 1/2 innings.
Seattle's offense awoke from a two-game slumber (two runs combined in two games) to give Hisashi Iwakuma, who had baffled to that point a Royals lineup historically susceptible to the dominant righty, a 5-0 lead.
Robinson Cano, who had a pair of run-scoring hits, put Seattle ahead 1-0 with an RBI single in the first.
Zunino crushed a two-out home run in the fourth on a high changeup from Royals ace James Shields that traveled an estimated 424 feet and extended the Mariners' lead to 2-0.
Morrison capped the three-run fifth with a two-run bomb to right off Shields, only his second home run of the season. Cano contributed the other run with an RBI double.
"It was nice to see our guys break out a little bit," manager Lloyd McClendon said. "We know there's going to be some ups and downs ... this is a club that hasn't really gotten hot yet, at some point we're going to get hot."
However, the five-run lead vanished over the next two innings.
Iwakuma began the fifth with a strikeout of Alex Gordon. At this point, he'd gone 20 1/3 innings without allowing a run to the Royals. Kansas City only managed eight hits off him during that span, and just a single extra base hit.
The next batter, Salvador Perez, fell behind 0-2, but he turned around an inside splitter and planted it in the left-field bleachers to snap Iwakuma's scoreless streak against KC.
Mike Moustakas delivered a two-run bomb two hitters later. Iwakuma escaped after the Moustakas homer, but not before surrendering three runs and four hits.
Leadoff singles by Billy Butler and Gordon in the sixth ended Iwakuma's night, as McClendon opted for reliever Dominic Leone. Perez hit an RBI single to make it 5-4 and Lorenzo Cain followed by grounding into a forceout to score the tying run.
With Cain at second base as the potential go-ahead run, Joe Beimel came on and retired Moustakas on a grounder for the second out. Alcides Escobar then hit a flare into short right field against Tom Wilhelmsen, but Morrison made a game-saving defensive play with an over-the-shoulder catch to end the threat.
In the span of nine batters faced, Iwakuma had nearly allowed as many hits (six) as he had to the 67 Royals he faced in his previous 20 1/3 innings (eight hits).
Iwakuma's two inherited runners scored on a Perez single, and a Lorenzo Cain fielder's choice. This knotted the score at 5 after six innings.
"I kind of lost my rhythm as the game went on," Iwakuma said. "They were very aggressive, they got to certain pitches, and they kind of just took advantage and took off."
The Mariners' bullpen held the fort with four shutout innings from six different pitchers.
"That was such a good win all around from everyone that was in it," said reliever Charlie Furbush, who entered with the bases loaded in the eighth and recorded the final two outs. "Everyone had their part, everyone did great."
Jackson Alexander is an associate reporter for MLB.com. This story was not subject to the approval of Major League Baseball or its clubs.