Mariners staying Royally good with 9th heroics
Ackley delivers go-ahead single as Seattle rallies with two outs for win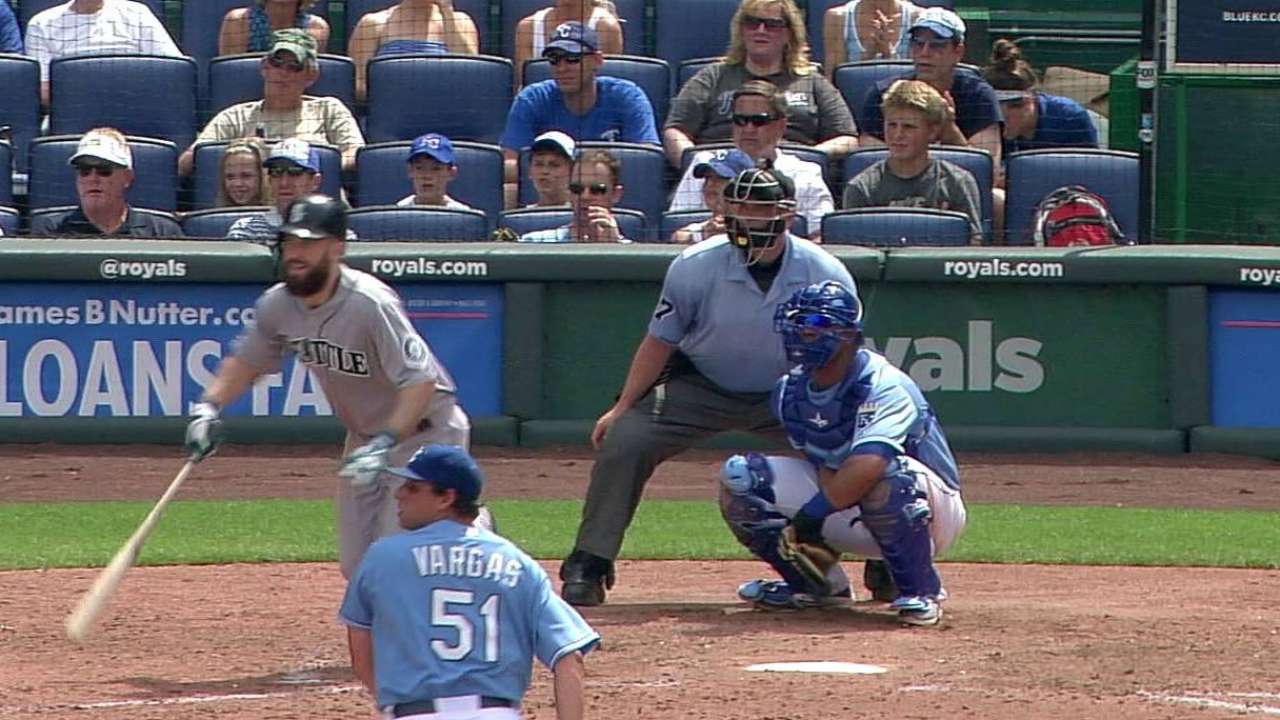 KANSAS CITY -- It appears the Mariners have developed an affinity for the ninth inning.
This time, Dustin Ackley delivered a go-ahead RBI single to lead the Mariners to a 2-1 win on Saturday, one game after fellow infielder Brad Miller's go-ahead homer in a two-run ninth frame in Seattle's 7-5 win over the Royals.
"Any time you're winning those types of games, that's right where you need to be," said Ackley, who entered as a pinch-runner for Jesus Montero in the seventh. "If you want to have a good winning season, you've got to win games like this."
The Mariners have a chance on Sunday to earn their first series sweep since taking three straight against the Yankees in an April 29-May 1 series.
"We're playing pretty decent baseball," manager Lloyd McClendon said. "Do we have room for improvement? Yes, so we'll keep working on it. But today was a good day."
Kyle Seager started the ninth-inning uprising against Royals starter Jason Vargas with a two-out double to right-center. Stefen Romero followed with a line-drive single that took a sharp hop and bounced away from second baseman Pedro Ciriaco. Seager reached third and then scored on Ackley's single to right.
Fernando Rodney closed out the win for a second straight day with his 20th save. After striking out Omar Infante to start the ninth, Jarrod Dyson drew a walk. But Rodney ended the game by getting Eric Hosmer to bounce into a 4-6-3 double play orchestrated by second baseman Robinson Cano, shortstop Miller and first baseman Logan Morrison.
"We've got a good group of guys in here, a group that doesn't quit. We play hard day in and day out," Mariners starter Chris Young said. "When we come to the park, we expect to give our best effort and as [McClendon] said earlier in the year, we might not always win, but we're going to give out best effort, and if you do that … more often than not, you'll win."
Ackley's heroics would not have been possible if not for a stellar outing by Young.
Young's fastball never exceeded 86 miles per hour, while his curveball or slider did not break particularly hard or sharp, and his changeup did not have fall-off-the table bite to it.
But Young's underwhelming repertoire kept the Royals off-balance.
"It's an amazing story. You watch a lot of video on the guy and the fastball is 85 to 88 miles an hour, it's straight. He changes speeds on a slider and a really nice changeup. But nobody sees it," Royals manager Ned Yost said.
Young, 6-foot-10 right-hander, used his deception to baffle Kansas City over seven innings, allowing just three hits and one run. He retired the first 12 batters he faced before yielding Alex Gordon's tying homer in the fifth.
Gordon fell behind 1-2, but drew the count full, then turned around Young's fastball to knot the score at 1.
"He's a good hitter. You make a mistake and he hits it out," Young said. "But I can live with it; it's a solo homer and ultimately we won the game."
Young's recipe for success was the same as it's been all season: induce fly balls.
He recorded 12 of his 21 outs (57 percent) on fly balls or popups. This disparity lines up with his MLB-leading fly-ball rate of 58 percent (league average this season is 34.3 percent).
"The result is based on quality of pitches, I can't control whether they hit the ball in the air, in the ground, foul, fair. Once it leaves my hand it's beyond control," Young said. "I can't explain why that happens, it's just one of those things."
Young recorded two strikeouts and has just 43 in 86 1/3 innings. His 4.65 strikeout per nine ratio entering Saturday ranked 95th out of 96 qualifying starting pitchers.
Seattle struck first when Cole Gillespie punched a third-inning RBI single to center, after he couldn't drop down a sacrifice bunt in the first two pitches of the at-bat. Gillespie bunted foul a pair of Vargas offerings, then shot a soft liner to center to score Miller, who reached on a bunt single.
Jackson Alexander is an associate reporter for MLB.com. This story was not subject to the approval of Major League Baseball or its clubs.