Encarnacion leads Blue Jays' epic comeback
Slugger hits two three-run homers in franchise's second-largest rally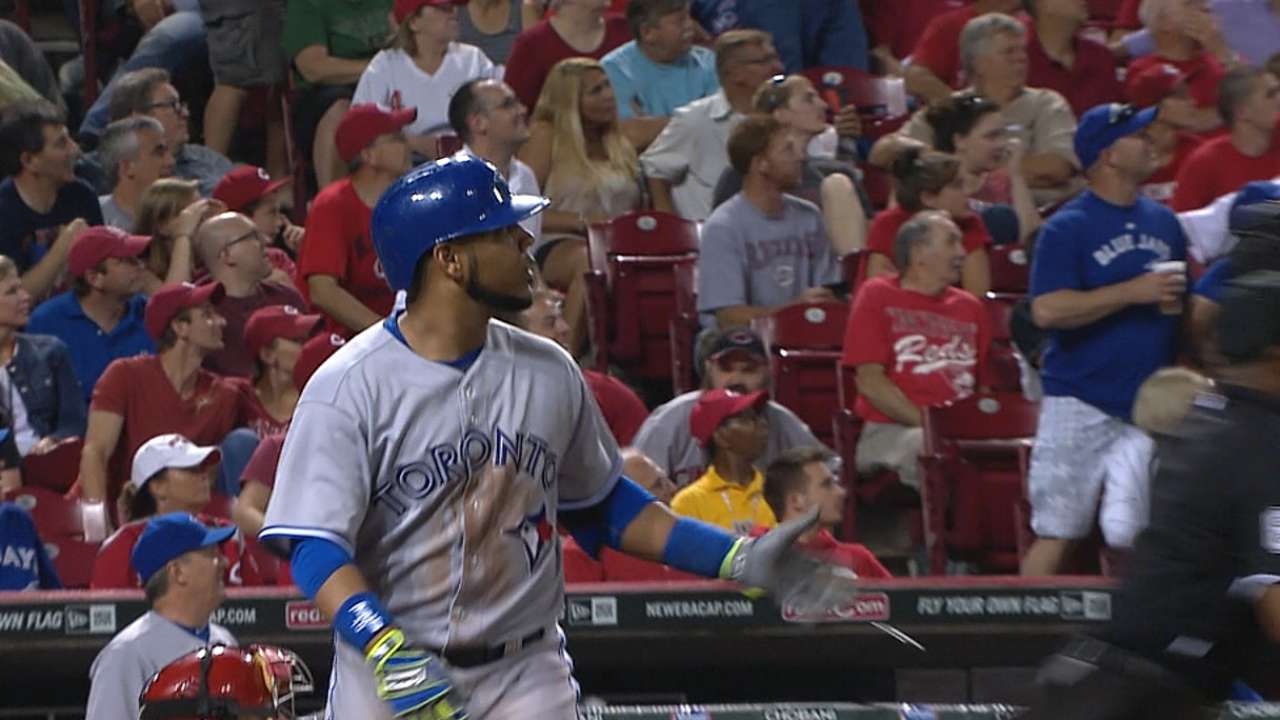 CINCINNATI -- The Blue Jays knew all along that their offense was going to break out in the relatively near future, but nobody could have predicted the slump would come to an end quite like this.
Toronto appeared to be down and out on Friday night with preparations already being made for the next day's ballgame. That's often what happens when a team falls behind by eight runs in the second inning -- the club swallows its pride for a couple of hours and then attempts to move onto the next one.
That prototypical script was ripped apart and torn to shreds in the series opener against the Reds at Great American Ball Park. Little by little the Blue Jays chipped away at a seemingly insurmountable deficit and pulled off one of the largest comebacks in franchise history with a 14-9 victory.
"What a ballgame. Those things are some kind of rare," Blue Jays manager John Gibbons said. "We're down 8-0, you're scrambling, and basically all you're thinking is, 'How are we going to get through this game with the pitching?' Then of course Edwin [Encarnacion] got us on the board, we had some other action, we kind of held them in check and then we just kind of exploded."
On a night when a lot of fans likely turned off their television sets early, a series of improbable events stole a victory away from Cincinnati and gave Toronto its second largest comeback in its 38 years. The only other time the Blue Jays won after trailing by eight or more runs came on June 4, 1989.
That game against the Red Sox still gets talked about relatively frequently across Canada. It was the kind of moment where a lot of people remember exactly where they were and what they were doing when Ernie Whitt hit the infamous grand slam off Lee Smith. This victory didn't quite measure up to that one, but it also wasn't far off.
"I may never see another game like that, you may never see another game like that, so just enjoy it and hope it leads to better things," Gibbons said.
A win seemed out of the question after starter Liam Hendriks was chased from the game in the second inning and Toronto found itself down 8-0. It wouldn't have been all that unusual to see both teams go into cruise control with the game seemingly no longer in doubt, but the Blue Jays slowly started climbing back.
Encarnacion put Toronto on the scoreboard in the third with a three-run homer for his 22nd of the year. In the fifth, two more runs came around on a pinch-hit RBI single by Adam Lind and a bases-loaded walk to Jose Bautista. In the seventh, Brett Lawrie and Juan Francisco both homered to cut the lead to one.
The comeback was completed in the eighth when Encarnacion drew a two-out walk and came around to score the tying run on a double by catcher Dioner Navarro. The floodgates were opened, and a lot of it can be tied to that initial blast by arguably the team's best hitter this season.
"After I got that three-run homer, I think we got the emotion back. Everybody in the dugout felt very happy," Encarnacion said. "We felt like we could come back after that."
Even the overpowering Reds closer Aroldis Chapman wasn't able to silence the Blue Jays' bats in the ninth. Colby Rasmus drew a leadoff walk and advanced to second on a sacrifice bunt by Munenori Kawasaki. The knockout blow was then delivered by Erik Kratz, who entered the game in the eighth inning and proceeded to hit an RBI double off the wall.
Before the inning was over Melky Cabrera added an RBI single and Encarnacion hit yet another three-run homer. It was Encarnacion's sixth multi-homer game of the season and the 17th of his career. The fact that it came against his former team probably made it that much sweeter.
Kratz claimed after the game that his team never lost faith even after they went down 8-0. When it was pointed out that was rather unusual, especially for a team that was 3-9 over its past 12 games, he was quick with the rebuttal.
"Not a team that believes in themselves," Kratz said. "That's cliche, but we really believe that losing those games the way we've been losing them is the abnormal thing, not coming back from eight runs down.
"We were fighting the whole game and we could have gotten frustrated by that, but we never allowed ourselves to get frustrated, everybody pitched in."
Kratz wasn't kidding about almost everybody pitching in. The Blue Jays used all but six of the players on their 25-man roster. There was a game-saving defensive gem from Kawasaki in the seventh, a four-walk night by Bautista, even starting pitchers Drew Hutchison and Marcus Stroman played a role as pinch-runners.
The bullpen also came through as Todd Redmond, Chad Jenkins, Sergio Santos, Dustin McGowan and Casey Janssen combined to allow one run after the second inning. It was a night when almost every player made his presence felt.
"It was awesome," Kratz said. "I've talked about it all year, about how it's 25 guys ... It was something that you're going to look at the hits as the highlights, but Bautista had four walks, 'Saki had a long at-bat that got Juan up that one time, then he had that bunt in the ninth inning. You're going to look at the highlights and see the hits but it was everybody contributing to get the runs across."
Gregor Chisholm is a reporter for MLB.com. Read his blog, North of the Border, and follow him on Twitter @gregorMLB. This story was not subject to the approval of Major League Baseball or its clubs.