Mariners overpower Royals to secure sweep
Zunino belts go-ahead homer in 7th to back rookie Elias' solid start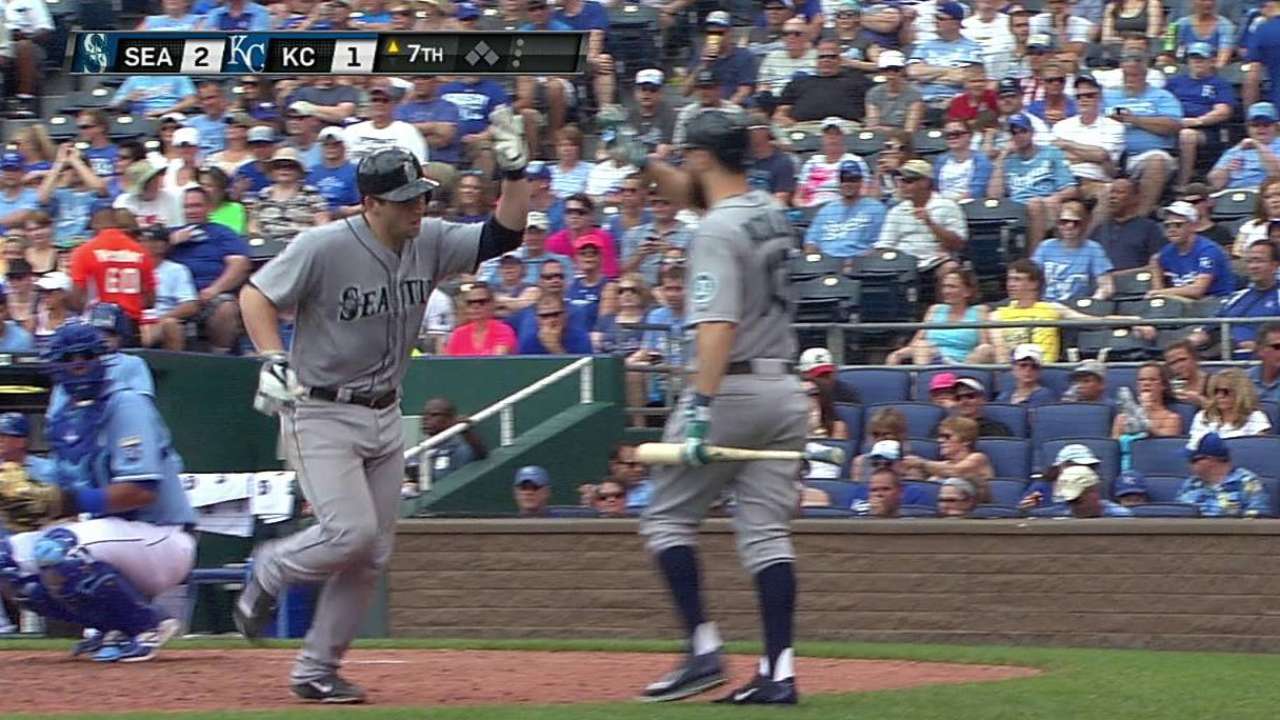 KANSAS CITY -- The theme of the Mariners' three-game sweep of the Royals could be summed up in one word: revitalization.
Mike Zunino exemplified this with his go-ahead home run in the seventh inning of Seattle's 2-1 win on Sunday in the series finale at Kauffman Stadium.
Zunino entered the series hitting .219, including .171 in his last 35 at bats with 18 strikeouts. But he cracked a double and a homer on Sunday, and also launched a mammoth shot against Royals ace James Shields in a 7-5 win on Friday.
"It's the same thing, I haven't changed my tone [on Zunino], he's coming. He's going to swing and miss a little bit, but he's getting better every day," Mariners manager Lloyd McClendon said.
Brad Miller -- owner of a .189 batting average before Friday -- keyed the series-opening victory with a go-ahead shot of his own in the ninth inning. He collected six hits in the series after going 2-for-4 on Sunday. Dustin Ackley joined the fun in Saturday's 2-1 win, as his ninth-inning single broke a 1-1 tie. Ackley sports a career-low .288 on-base percentage this season.
"Whenever you put at bats together or you're playing well it's one of those things that definitely carries over," Zunino said. "It's nice that we can turn around and play again tomorrow [against the Red Sox], and hopefully, we can build on today."
Closer Fernando Rodney worked around a two-out single in the ninth for his third save of the series and 21st overall.
McClendon had his reservations about using Rodney in four straight days.
"We had a talk, he felt good," McClendon said. "If you really think about it the last three days his workload was very, very efficient … and it was very efficient today as well," McClendon said.
Rodney received a stellar defensive play from third baseman Kyle Seager to start the ninth. Seager took a hit away from catcher Salvador Perez on a slow roller that Seager had to charge in on before making an off-balance throw to get Perez.
"That's a tough play, that's an unbelievable play," McClendon said. "But he's as good as anybody with that play. We've seen it time and time again."
Rodney struck out Pedro Ciriaco for the final out, securing the Mariners' first sweep in KC since 2007.
Roenis Elias did his part on the mound on Sunday, limiting the Royals to one run in 6 2/3 innings. It marked the rookie lefty's second straight game allowing just one run.
Elias exited in the seventh inning with two outs, a runner on second and his team leading, 2-1. Yoervis Medina relieved him and got Lorenzo Cain to fly out to center.
In that inning, McClendon won a key challenge that took away a Royals baserunner and added an out.
Ciriaco dropped a bunt down the third-base line with one out and Justin Maxwell on first after his single. Elias fielded and fired to first baseman Logan Morrison, but umpire Laz Diaz called Ciriaco safe.
After a review, replay officials in New York overturned Diaz's call, erasing Ciriaco for the second out of the inning.
"I really didn't think it was that close, I thought he was out live," McClendon said. "That is a big play, we've got problems if he's not out there."
Relievers Charlie Furbush and Danny Farquhar combined for a 1-2-3 eighth to set the stage for Rodney's save in the ninth.
Kansas City scored its first run on a second-inning sacrifice fly from Maxwell, while Willie Bloomquist stroked a RBI double off Royals starter Yordano Ventura to knot the game at 1 in the fifth inning.
Zunino broke the tie by launching Ventura's hanging breaking ball just above the Royals' bullpen in the left field.
Ventura allowed two runs over seven innings and struck out six. His stuff was electric, as he sat in the upper-90s all game, even hitting 101 mph.
"Boy, he really dialed it up a few times," McClendon said. "One thing I told our guys, 'Look, when you know you're facing good pitchers, just battle. Give it a good at-bat, make every pitch count and in the end, I promise you something good will happen.' And that's what he did. It wasn't pretty, but we got the job done."
Jackson Alexander is an associate reporter for MLB.com. This story was not subject to the approval of Major League Baseball or its clubs.