Ventura's solid start not enough to cool Mariners
Rookie fires seven strong innings, but yields decisive homer in 7th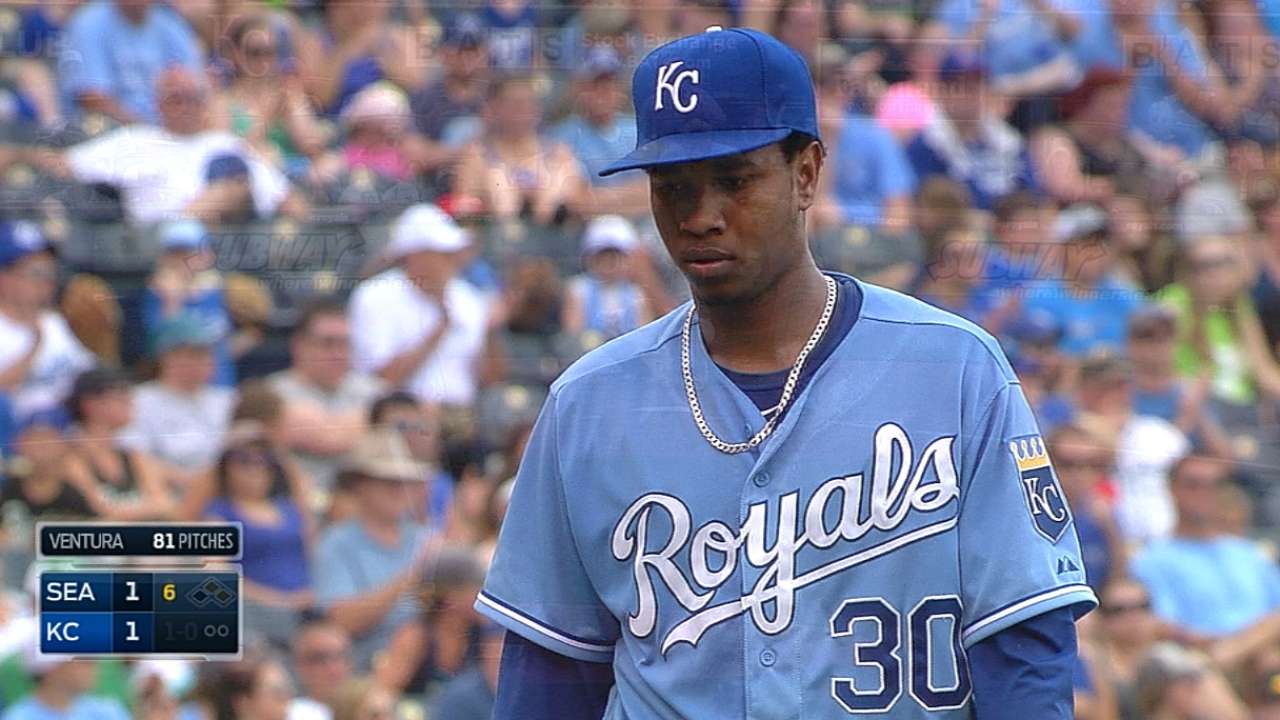 KANSAS CITY -- Baseball is not considered an extreme sport unless you're talking about the most recent directions of the Royals' season.
They won 10 consecutive games. Now they've lost four straight. The Royals have gone from hot to cold. They can only hope the next step isn't frigid.
Mike Zunino's go-ahead home run in the seventh gave the Seattle Mariners a three-game sweep over the Royals with a 2-1 win at Kauffman Stadium where 23,278 fans soaked up 90-degree heat on Sunday afternoon.
If Royals manager Ned Yost was discouraged, he wasn't showing it.
"Well, we're playing fine. We just took an offensive downturn here," Yost said. "That's why the season is such a grind. You go through the ups and the downs. ... A four-game losing streak right after you've put together a nice 10-game winning streak is tough. But you come back tomorrow and battle through it."
The Royals also lost the final game of the Detroit series on Thursday after winning 10 straight. They're still three games over .500, however, and trail the first-place Tigers by 2 1/2 games in the American League Central standings.
"We could have won all four of those games that we just lost. They're all one run or two runs," Billy Butler said. "Heck, we came back and tied it on [Hisashi] Iwakuma, a guy that was pitching like Cy Young, a guy we ain't never scored off of."
Butler was right. Three of the four losses were by 2-1 scores. A 7-5 loss to the Mariners featured a stirring Royals comeback against Iwakuma.
Sunday's game was decided by Zunino's blast leading off the seventh inning against rookie right-hander Yordano Ventura.
"He's got some electric stuff," Zunino said, "and it's one of those things where a guy like that, you've got to get him down and hope he makes a mistake over the plate."
Ventura did, hanging a 1-2 curveball that Zunino shot over the left-field bullpen, more than 400 feet.
"The curveball was a really good pitch for me today, after my fastball," Ventura said, "and I tried to throw a curveball to strike him out, but he put a good swing on it and he hit it out."
Added catcher Salvador Perez: "That was the only pitch he left up today."
Zunino also scored the Mariners' first run in the fifth inning. He led off with a double down the left-field line and, two outs later, he scored as Willie Bloomquist put a double just inside the right-field foul stripe.
The Royals' run off winning pitcher Roenis Elias, a rookie left-hander who defected from Cuba in 2010, came in the second inning. Alex Gordon singled and eventually scored on Justin Maxwell's sacrifice fly.
With two outs in the third inning, Butler rifled a ball into right-center and tried for a double, but he was thrown out by right fielder Endy Chavez.
"I took a chance," Butler said. "We had the lead. I was trying to get on second and score on one hit instead of two."
Elias went 6 2/3 innings for his seventh victory and was succeeded by a procession of four pitchers who finished off the Royals as manager Lloyd McClendon kept shuffling his relievers.
"When a team is as hot as the Kansas City Royals are, you cannot make mistakes. If you give them an inch, they'll take a yard," McClendon said.
Ventura went seven innings and by giving up just two runs kept his club in the game.
"Boy, he really dialed it up a few times," McClendon said.
The heat didn't seem to bother the two young pitchers.
"The sun here is the same sun there's in Cuba," Elias said.
The Mariners' starters in their sweep were Elias, Iwakuma and Chris Young -- fine pitchers but not exactly in the category of the pair the Dodgers are throwing at the Royals in the next two games with Zack Greinke and Clayton Kershaw.
"Well, they're elite pitchers, for sure," Yost said. "We faced good pitchers the last couple of days. These guys are elite pitchers. But I think our guys are capable -- they know they're capable -- of putting runs on the board against anybody."
Greinke, the ex-Royals star, is first up on Monday night.
"There might be a little more added intensity," Butler said. "People are going to come out and see him. He pitched here and won a Cy Young [Award] here. It'd be nice to get a win off him. We'll bring our 'A' game. We'll have to."
Dick Kaegel is a reporter for MLB.com. This story was not subject to the approval of Major League Baseball or its clubs.