With pitching as strength, Rays develop solid prospects
Guerrieri, Romero, Colome headline Tampa Bay's top arms on the farm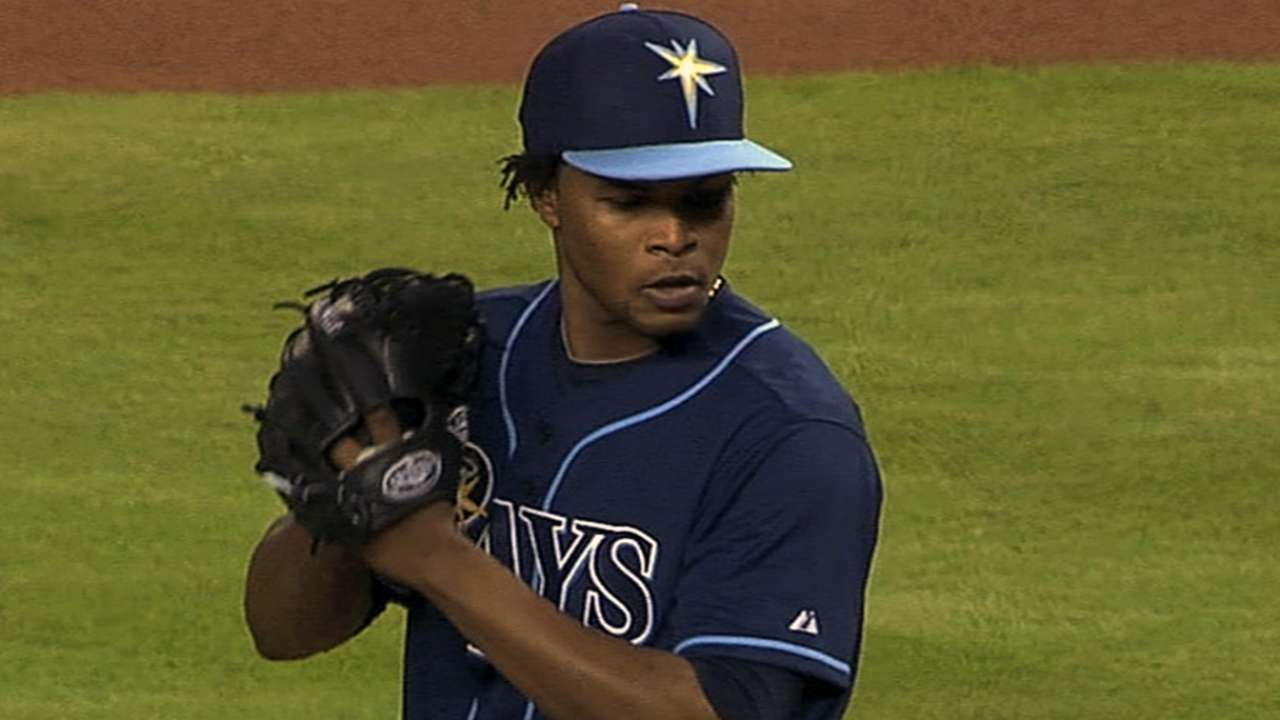 With their higher picks in the 2014 First-Year Player Draft, the Rays targeted a power bat in first-round pick Casey Gillaspie, along with high school arms. But what's in Tampa Bay's Minor League system already?
"Pitching is still our strength," said Rays director of Minor League operations Mitch Lukevics, running down a laundry list of names from the Minor Leagues, especially Triple-A Durham.
The list included Alex Colome, Enny Romero, Nate Karns, Jeff Beliveau, C.J. Riefenhauser and Kirby Yates, who was recently called up to the Rays.
When the Rays trade for pitchers and sign them as free agents, Lukevics said it keeps the Minor League pipeline full of capable arms.
"We've got a bunch of Major Leaguers down at Triple-A," he said.
But what about the more recent infusions into the pipeline? Well, both of Tampa Bay's 2013 first-round picks -- Nick Ciuffo (No. 21 overall), a high school catcher from South Carolina, and Ryne Stanek (No. 29), a right-handed pitcher out of the University of Arkansas -- are coming along well, Lukevics said.
Ciuffo, Tampa Bay's No. 6 prospect, is in Rookie ball with the Gulf Coast League Rays, but he hasn't played yet in 2014. Ciuffo hit .258 in 43 Gulf Coast League games in 2013. Stanek, though, the organization's 11th-rated prospect, is 3-3 with a 3.53 ERA for Class A Bowling Green.
"You look at his numbers down at Bowling Green -- they're excellent," Lukevics said. "And he's only made, what, six starts in his professional career?"
Lukevics said it's too early to tell when young prospects like Ciuffo and Stanek, at the lower levels of the system, might end up in the big leagues.
"We don't have that crystal ball," Lukevics said.
Lukevics added that it's the players who ultimately let the front office know they're ready, not just by showing their ability to play, but by also proving they are ready to handle the grind of the Major Leagues, deal mentally with failure and so on.
Because the Rays drafted Stanek, 23, out of college, he's likely on a faster track than the prep-school product Ciuffo, who is only 19. But Stanek was delayed last year by surgery on his right hip labrum, which held him out for 2013, although he is back and pitching well now.
Injury recovery is a common thread for many of the Rays' prospects, including at the higher levels of the Minors -- former No. 1 overall pick Tim Beckham, for instance, who made his big league debut last September, has been out all year after right knee surgery -- and among the club's highest-rated prospects.
Shortstop Hak-Ju Lee and right-handed pitcher Taylor Guerrieri -- the organization's top two prospects, and the 70th- and 80th-ranked prospects, respectively, on MLB's Top 100 list -- have both had major surgeries.
Lee missed almost all of 2013 after tearing multiple knee ligaments while turning a double play, but he has recovered and is now playing with Durham. Statistically, he is struggling this season, batting .228 in 45 games with the Bulls, but Lukevics said his comeback has been impressive.
"Hak has recovered well," Lukevics said. "Everyone thinks he has recovered well -- he was almost a full year out of baseball, remember."
Guerrieri has not played at all this season, as he underwent Tommy John surgery last summer, but Lukevics said he expects Guerrieri to be able to pitch in 2014.
"And I'm not just talking about pitching off a mound," Lukevics said. "I'm talking about pitching in game action this year.
"He's right along in his progression. He's pitching off a mound -- that's not the issue. His issue is hitting all the steps, from bullpen sessions to sim[ulated] games to rehab starts."
Guerrieri was selected to the Futures Game last year, before requiring surgery, and has three potentially above-average pitches: his fastball, curveball and changeup.
The rest of the Rays' Top 20 prospects include some arms and some bats, some high schoolers and some college athletes. There are a few speed guys, like Andrew Toles, Tampa Bay's No. 3 prospect and a third-round pick in 2012. There are a few players with power, like corner infielder Richie Shaffer, the No. 12 prospect and a 2012 first-round pick. And there are some players who, in keeping with the Rays' style, do a little bit of everything, like outfielder Mikie Mahtook, a 2011 first-rounder and Tampa Bay's 14th-ranked prospect.
David Adler is an associate reporter for MLB.com. This story was not subject to the approval of Major League Baseball or its clubs.