Morton unable to keep Castro, Cubs in park
Bucs starter allows six runs, five in third; Polanco extends hit streak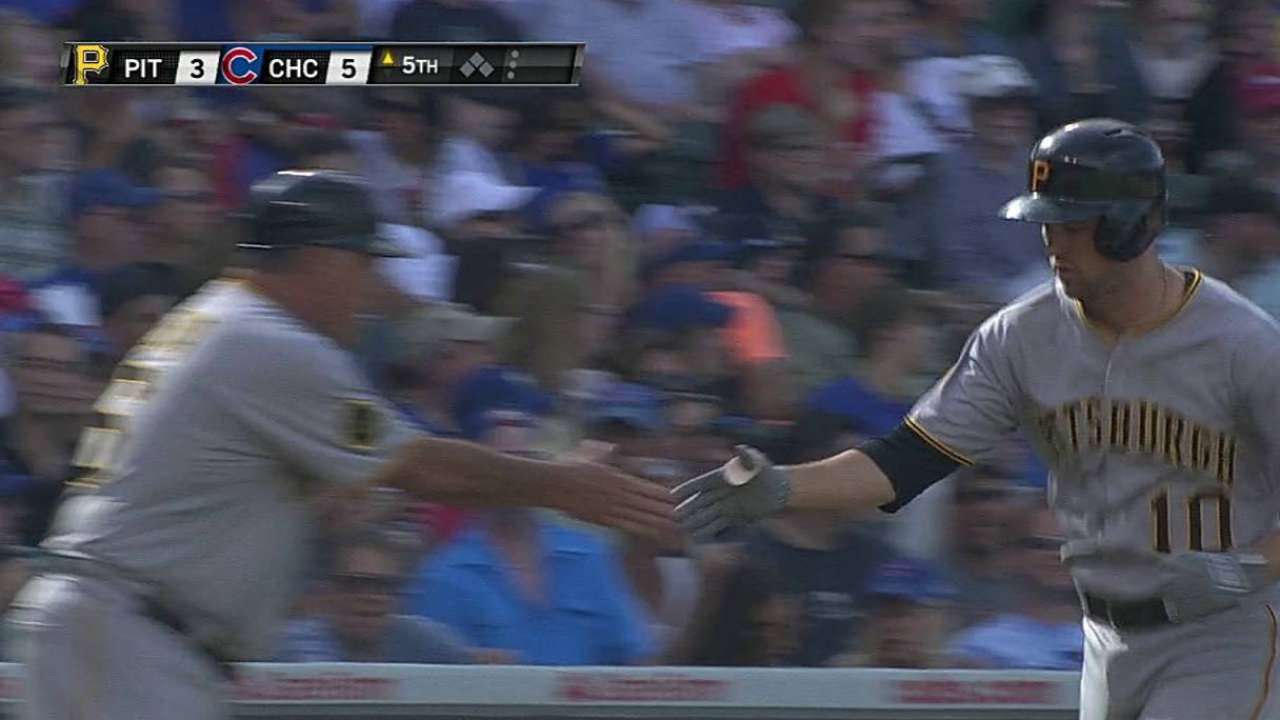 CHICAGO -- The Pirates, who have lived below .500 for 68 days of this 82-day season, have an uncommon -- perhaps unprecedented -- opportunity to surge back into contention.
Friday's game here kicked off consecutive series against four last-place teams: The Cubs (NL Central), the Rays (AL East), the Mets (NL East) and the Diamondbacks (NL West). Given the relative novelty of Interleague Play, it is unlikely that a team ever before ran into such a stretch.
The Bucs, however, did not take advantage in the first of 13 straight against those last-place teams, succumbing, 6-3, in front of 36,423 at Wrigley Field on Friday afternoon.
The highlight of the day for the Pirates came soon after Wayne Newton had delivered the ceremonial first pitch. Gregory Polanco stroked the actual fourth pitch into center to keep alive his club-record, career-long hitting streak, now at 10 games.
As for that schedule, manager Clint Hurdle cautioned, "You have to take a closer look at those teams. Their records today ... they don't think of themselves as last-place teams. The Rays ... you certainly don't think of them like that. We just play the schedule we're given. You would like to take advantage if some teams are down."
The Cubs are down and rising; that may sound contradictory, but even after their 12th win in 19 games, they remain nine games below .500.
Conversely, Charlie Morton's key pitches on Friday were up. Considerable attention had been paid to what began as the season's fourth confrontation between Morton and the Cubs' Edwin Jackson. The emphasis was misplaced. It instead should have been on another Morton confrontation with Starlin Castro.
Morton's chief asset is being able to keep the ball in most ballparks. Wrigley Field is not one of them. He endured his second two-homer game of the season, and both have come here and featured Castro. On April 8, the Chicago shortstop took care of both long balls, and on Friday he had the game-breaking three-run homer in the third before Chris Coghlan had the other.
"Breaking balls left up in the zone, both," Hurdle noted.
So, in the span of 10 at-bats, Castro has become the first player with three career homers off Morton, who in his career has faced 478 different batters.
"He's hit me tough," Morton said, softly. "One [of the home runs] was a four-seamer that was up. The other two were on curves that just hung. The one today was probably the best location of those three, but he still hit it."
Hurdle had been one of those intrigued by yet another face-off between Morton and Jackson.
"Seeing who shows up with what," Hurdle had said before the game, "never gets old."
For one thing, both showed up with their bats, oddly.
Morton, hitting .048, singled sharply to center in the top of the third inning.
Jackson, hitting .077, singled sharply to almost the same exact spot in the bottom.
Touché.
There was a big difference. While Morton's knock went for naught, Jackson's ignited a five-run rally, two scoring on Anthony Rizzo's bases-loaded double ahead of Castro's 11th homer -- on an 0-2 pitch.
"You could break them down by at-bats," Morton said of those two Cubs' good track records against him, "but those just weren't good pitches that I threw today."
One advantageous swing tried to get the Bucs back in the game. Jordy Mercer followed four-pitch walks of Josh Harrison and Pedro Alvarez in the fifth with a blow into the Wrigley bleachers. The momentum from Mercer's fifth homer was wrested back by the leadoff hitter in the bottom of the inning, Coghlan, who pulled his second homer down the right-field line to reset the Cubs' lead at 6-3.
Morton wound up going six and allowing eight hits and six runs, with two walks and six strikeouts. In eight road starts, he has had two in which he has given up more than four runs, both here.
Jackson was done after five, charged with three runs on five hits and two walks, while striking out eight.
"He has a wipeout slider," Hurdle said of Jackson. "When you see it out of his hand, it looks like a strike, and it ends up in a place you wish you hadn't swung at."
"Honestly, I felt like they had no chance. That was just the mind frame I was in," Jackson said. "This is a tough team, and they had beaten me before, and I felt like I came out today and the ball was in my court pretty much the whole game."
Tom Singer is a reporter for MLB.com and writes an MLBlog Change for a Nickel. He can also be found on Twitter @Tom_Singer. This story was not subject to the approval of Major League Baseball or its clubs.