Cubs power past Pirates to continue fun in sun
Five-run third helps secure 11th June win; Jackson solid, but cramps up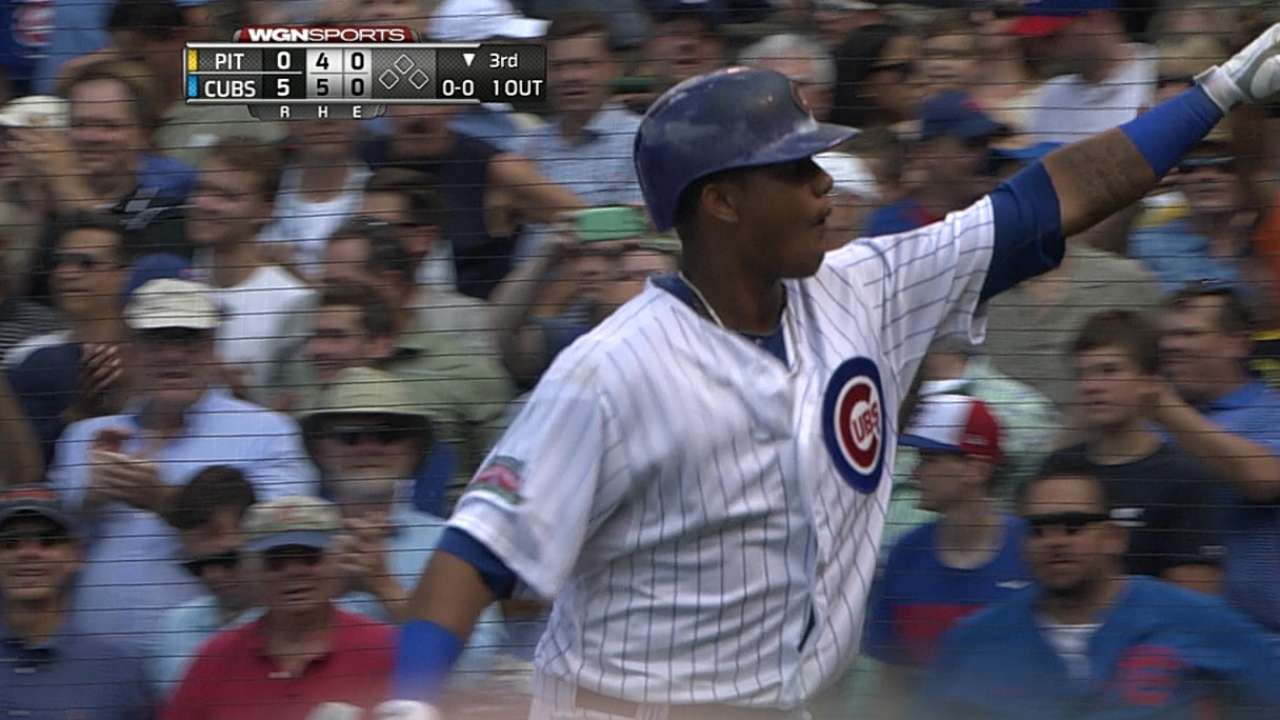 CHICAGO -- The talk of the town for the Cubs aren't even in town. While many focus on the Cubs' future -- headlined by No. 2 prospect Kris Bryant -- and potential trades before the July 31 Trade Deadline, the club's present doesn't look to shabby, either.
Starlin Castro clubbed a three-run homer as part of a five-run third inning, and Edwin Jackson delivered five solid innings before exiting with calf cramps as the Cubs beat the Pirates, 6-3, Friday afternoon before 36,423 at Wrigley Field. The win improved the Cubs to 18-13 since May 17, tops in the National League, and 11-7 in the month of June. Those 11 victories match their win total from May.
"This is the best I've felt about this team since I've been here," said first baseman Anthony Rizzo. "Everyone is just kind of starting to expect to win games now. We always did, but everybody's starting to come in with that swagger."
The Cubs flexed their offensive muscles in the third. Chicago loaded the bases on singles by Jackson and Luis Valbuena and a walk by Chris Coghlan before Rizzo doubled home a pair, and Castro followed with his blast off Bucs starter Charlie Morton to put the Cubs ahead, 5-0.
The club's offense over the past month has started to catch up with its pitching, which has been solid all year. Such resurgence from the bats has been led by Rizzo and Castro, who from the Nos. 3 and 4 spots, came through with a combined five RBIs and two runs scored on Friday.
"For any club, when you have your guys in the middle of the lineup coming through, it's big," Cubs manager Rick Renteria said. "Fortunately for us, it seems like even lately we've had some guys from different parts of the lineup picking us up. But it's big. These guys have really been doing a very nice job, bearing down on their at-bats in big situations and able to drive in some runs."
Coghlan, who hit in front of Rizzo in the two-hole, also came through with a big day. He finished 2-for-3 with a solo homer, triple, walk and two runs scored, along with an outstanding catch in left field.
The five-run third was enough support for Jackson, who needed 86 pitches to get through five innings. He allowed four hits through the first three inings, all singles, and would have gone longer had his calves not cramped up in the fifth, the severity of which was uncertain after the game.
Jackson walked Josh Harrison and Pedro Alvarez to start the fifth, and Jordy Mercer followed with a three-run homer to left that made it 5-3. Jackson then retired the next three, two on strikeouts, to finish his outing.
Jackson won for the first time in four tries against the Pirates this season -- all of those starts coming against Morton -- and lowered his season ERA against the Bucs to 6.00.
"Honestly, I felt like they had no chance. That was just the mind frame I was in," Jackson said of how he felt before the fifth. "This is a tough team, and they had beaten me before, and I felt like I came out today and the ball was in my court pretty much the whole game.
"They had some hard-hit balls, but the way I was able to get in a rhythm with [catcher John] Baker and really being able to command the strike zone, mixing it up, I felt like I was going to go pretty deep in that game."
The Cubs added a run in the bottom half of the fifth on Coghlan's leadoff homer.
In the ninth, Hector Rondon came in for his first outing since Monday in Miami and first save opportunity since June 6 against the Marlins, which he blew. Friday, he struck out two in a perfect ninth for his eighth save in 10 chances.
Jackson was also helped out by good defense. In the first, the Cubs cut down a runner at home on an outfield relay-turned-rundown that resulted in Castro getting Ike Davis at home, a call that stood after a Pittsburgh challenge and replay review.
"Those are the types of plays that save ballgames," Jackson said. "That's what great teams do."
The Cubs may have not yet achieved "great team" status, but their recent run does show they can put together all facets of the game.
"I think everything in this game is contagious, whether it's positive, negative, hitting, defense, offense," Coghlan said. "I think we're having more team at-bats, if that makes sense. I think you see guys grinding them out, and I think the confidence is getting higher just because of more offensive output. I think the pitching has been really dominant the whole year, and I think offensively we've been more consistent and allowed us to win more."
Joe Popely is an associate reporter for MLB.com. This story was not subject to the approval of Major League Baseball or its clubs.