Dozier walks off with Twins' second straight win
Escobar slides past catcher for game-winning run on two-out single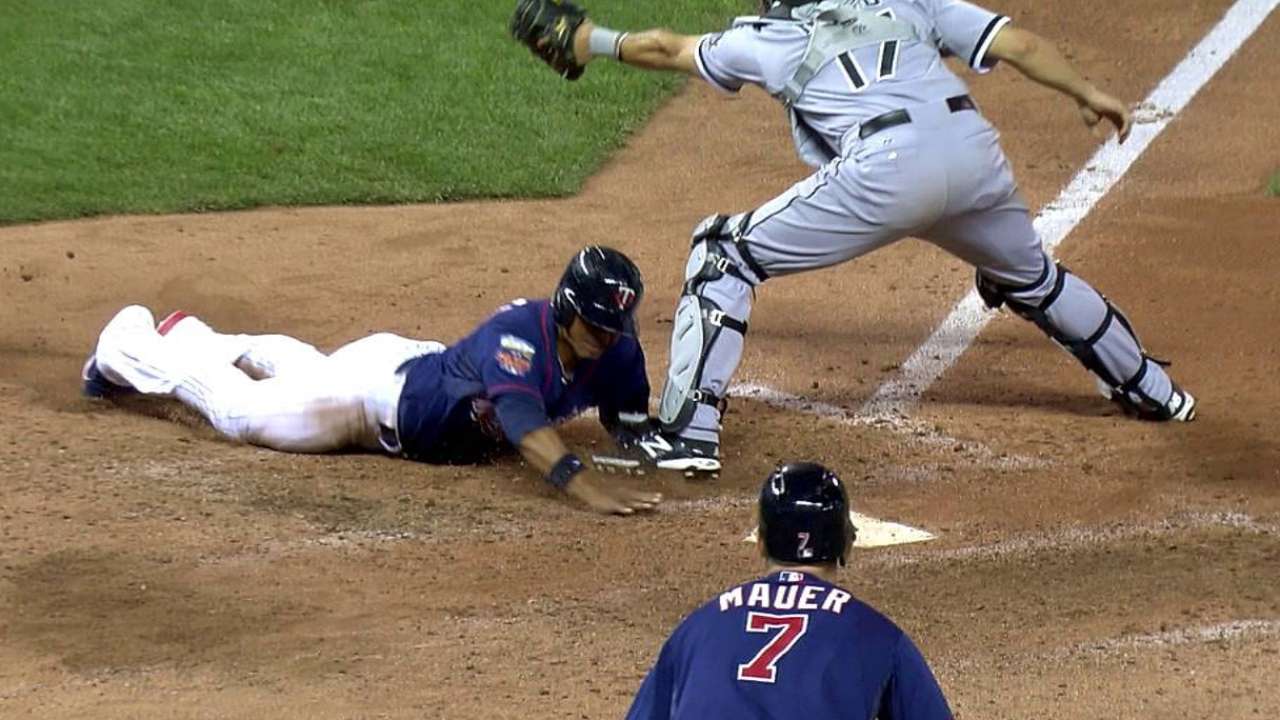 MINNEAPOLIS -- After scuffling on their nine-game road trip, that saw them finish with five straight losses, the Twins headed back to Target Field in desperate need of some home cooking.
They snapped their losing streak with Thursday's 4-2 win against the White Sox and looked poised to win by the exact same score Friday night. But closer Glen Perkins uncharacteristically blew his third save by allowing two runs in the ninth inning.
But Perkins got out of a bases-loaded jam by getting an inning-ending double play and Brian Dozier came through with a walk-off RBI single off of Ronald Belisario with two outs in the ninth to give Minnesota a 5-4 win.
"It felt good," Dozier said. "It was a much-needed win. Belisario is a guy I don't like facing, to be honest with you. He has very good sink and probably some of the best sink in the league. I took a big swing at the first one that went out of the zone, but the second one was up in the zone."
Dozier's game-winning single to left was set up by back-to-back walks from Eduardo Escobar and Sam Fuld against reliever Daniel Webb with one out.
The Twins rushed onto the field to celebrate the victory, but did have to pause, as Escobar's nifty slide into home plate was reviewed by umpires. But after a review that lasted 63 seconds, it was determined Escobar's right hand touched the plate and the Twins were awarded the win.
"I honestly didn't think he could reach back with his other hand and touch the plate," White Sox catcher Adrian Nieto. "So you've got to tip your hat off to that. He did a great job touching with his other hand."
With a two-run lead in the ninth, Perkins allowed a hard-hit ball to deep left field by Dayan Viciedo that hit off of Josh Willingham's glove for a one-out triple. The misplay came back to haunt the Twins, as Paul Konerko laced an RBI single up the middle to bring Chicago to within 4-3 before Tyler Flowers singled to center to set the stage for a game-tying RBI double from Adam Eaton.
"We thought we had a safe one there," Twins manager Ron Gardenhire said. "We had a tough play go right off the glove and then just hit it in the right spots against Perkins. That doesn't happen too often.
After the double, the Twins then intentionally walked Gordon Beckham to load the bases and set up the double play, and the strategy worked with Perkins getting Conor Gillaspie to ground into an inning-ending 4-6-3 double play. Dozier said he was more proud of the double play he turned than the walk-off hit.
"The walk-off hit is what it is, but that was one of the best feelings I've had in a long time," Dozier said. "The play from Gardy is that I play halfway, so if it's a slow-hit ball I go home and if not, I try for a double play. But this was a high chopper in between and the only ball I didn't want."
Twins right-hander Ricky Nolasco was stuck with a no-decision as a result of the blown save. He struggled in the first inning, giving up a one-out solo homer to Beckham before surrendering a solo blast to Jose Abreu just seven pitches later. But those were the only runs Nolasco allowed over his 5 1/3 innings.
"I thought I was pretty terrible," Nolasco said. "No fastball command. Thought I kind of got lucky to just give up two runs to that lineup tonight with the kind of stuff I had."
The Twins broke out for three runs in the second against White Sox right-hander Hector Noesi, keyed by a one-out double from Kurt Suzuki after Kendrys Morales walked. Oswaldo Arcia was hit by a pitch to load the bases for Escobar, who came through with a two-run double to right field to tie the game. Fuld provided the go-ahead RBI with a sacrifice fly to right field to bring home Arcia.
Minnesota added another run in the third on an RBI infield single from Suzuki. It was Suzuki's 32nd RBI, which matched his season total from last year and ranks third among American League catchers.
It was part of an offensive effort that saw the Twins score at least five runs for the first time since Saturday.
"We kind of ran into a buzz saw this week with some good arms, but I think everything is starting to go good," Dozier said. "I think we're going to make hay here before the All-Star Game."
Rhett Bollinger is a reporter for MLB.com. Read his blog, Bollinger Beat, and follow him on Twitter @RhettBollinger. This story was not subject to the approval of Major League Baseball or its clubs.