Bookend rallies not enough to stave off defeat
Two-run rally in ninth ties game; Beckham, Abreu go deep in first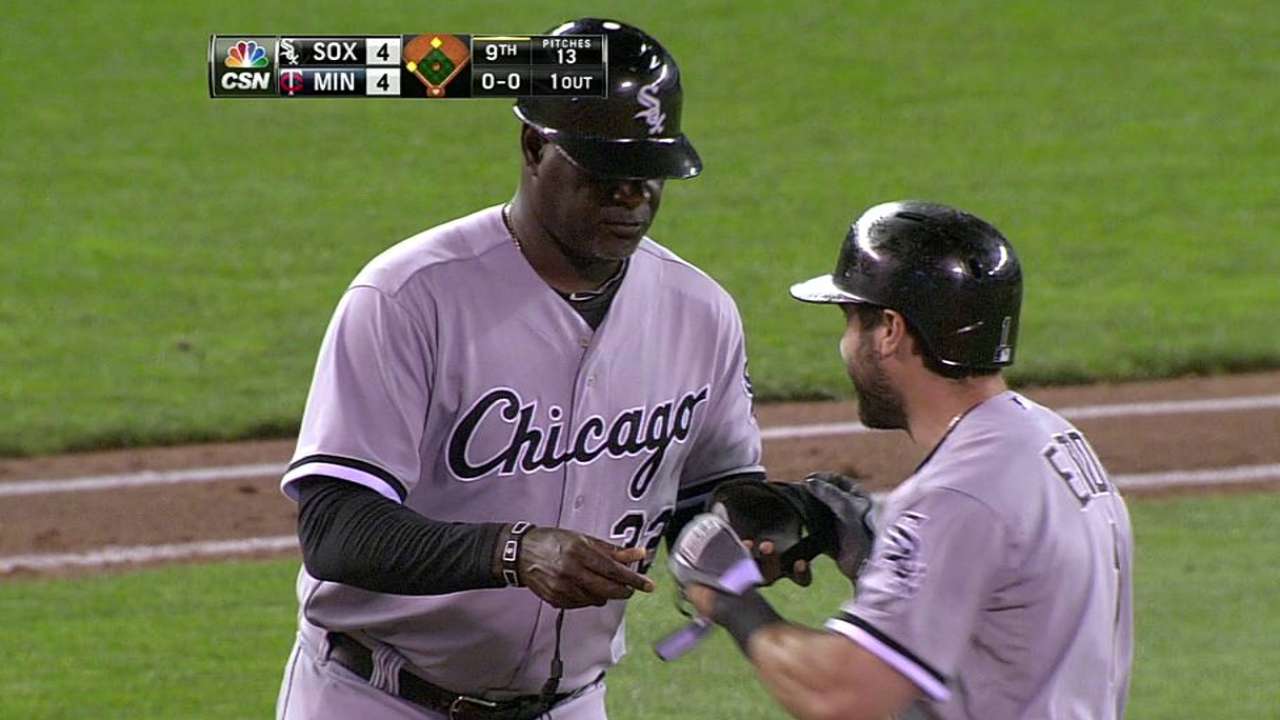 MINNEAPOLIS -- The 2014 White Sox have become a fun team to watch, empowered by a never-say-die attitude that was on display during the top of the ninth inning of Minnesota's 5-4 victory Friday night at Target Field.
Trailing by two runs and with just four singles to their name since the first inning, the South Siders rallied for two runs on four hits against Minnesota closer Glen Perkins (3-0). They had a chance to take the lead with the bases loaded and one out, but Conor Gillaspie hit into an inning-ending double play from second baseman Brian Dozier to shortstop Danny Santana to first baseman Joe Mauer.
As much entertainment as the White Sox have provided through 74 games, they remain an incomplete team. General manager Rick Hahn knows it. Manager Robin Ventura knows it. The players probably know it as well, although it has been ingrained in them since Day 1 wearing the uniform to win now and win as frequently as possible.
Records don't lie, as much as the White Sox would like that fact to be false. They have been slightly above or at .500 for most of this campaign, with their 35-39 record following Friday's setback matching their low-water mark of the season.
"Everyone always thinks they're more than what their record shows," said White Sox center fielder and leadoff man Adam Eaton, who has reached base in 15 straight games. "We have pieces in place that we can compete. And I think we've shown it."
Eaton quickly has become one of those pieces. He doubled home the tying run in the ninth inning after Dayan Viciedo tripled off of the glove of left fielder Josh Willingham, pinch-hitter Paul Konerko singled on the first pitch he saw and Tyler Flowers singled on a 1-2 pitch to center.
There's also the Herculean offensive force that is Jose Abreu, whose solo homer off of Ricky Nolasco came two batters after Gordon Beckham went deep and gave the White Sox a 2-0 lead in the first. Abreu has 21 homers, tying him with Alexei Ramirez for seventh on the franchise's single-season rookie long ball list.
But for every step forward, there seems to be an overall hurdle to overcome.
Rookie Daniel Webb (4-1), who has closer-type stuff, also leads the Majors in walks among relievers. He walked Eduardo Escobar and Sam Fuld with one out in the bottom of the ninth Friday, with Escobar eventually coming around to score the game-winner on Dozier's single to left off of Ronald Belisario.
That play was challenged by Ventura, but the call of safe was confirmed by instant replay. Escobar's slide allowed his right hand to touch the back of the plate before Adrian Nieto tagged him.
"I honestly didn't think he could reach back with his other hand and touch the plate," said Nieto. "So you've got to tip your hat. He did a great job touching with his other hand."
"He just ran it in, and kind of jammed me a little bit," said Dozier of Belisario's pitch on the game-winner. "But just enough to die it down behind [Ramirez's] head. That's fine with me. I'll take 100 of them."
Hector Noesi once again pitched well enough for the White Sox to win, with the Twins (34-38) erasing the first-inning deficit by scoring three in the second and one in the third. He allowed six hits over seven innings, marking the right-hander's sixth start in which he worked at least six.
From the fourth through the seventh, Noesi gave up just two singles. He struck out four, walked two and threw 108 pitches.
Noesi was a waiver claim pushed into the White Sox rotation because of Felipe Paulino's balky shoulder and Erik Johnson's ineffectiveness. The White Sox also have lost right fielder Avisail Garcia (for the season), and relievers Nate Jones and Matt Lindstrom to injury, which would make a definite difference in how the White Sox look.
This loss was the club's fifth straight on the road and sixth straight against an American League Central opponent, both intangibles needing to be fulfilled by a frontline team. Once again, they showed elements of a team definitely moving in the right direction, but it remains a .500 team under current construction.
"We won a big series against Detroit, we won a big series, I think, against KC, we won the first one against the Twins," Eaton said. "We definitely can compete. We just need to find that consistency somewhere, and once we grab it, hopefully we can run with it."
"They will grind. That's a nice thing to have," Ventura said. "You just have to be able to put it all together. You are lacking in one spot one night and you will end up losing."
Scott Merkin is a reporter for MLB.com. Read his blog, Merk's Works, and follow him on Twitter @scottmerkin. This story was not subject to the approval of Major League Baseball or its clubs.