Pipeline preview: Gulf Coast, Arizona leagues start
Trio of Brewers picked in Draft's first two rounds among players set for pro debuts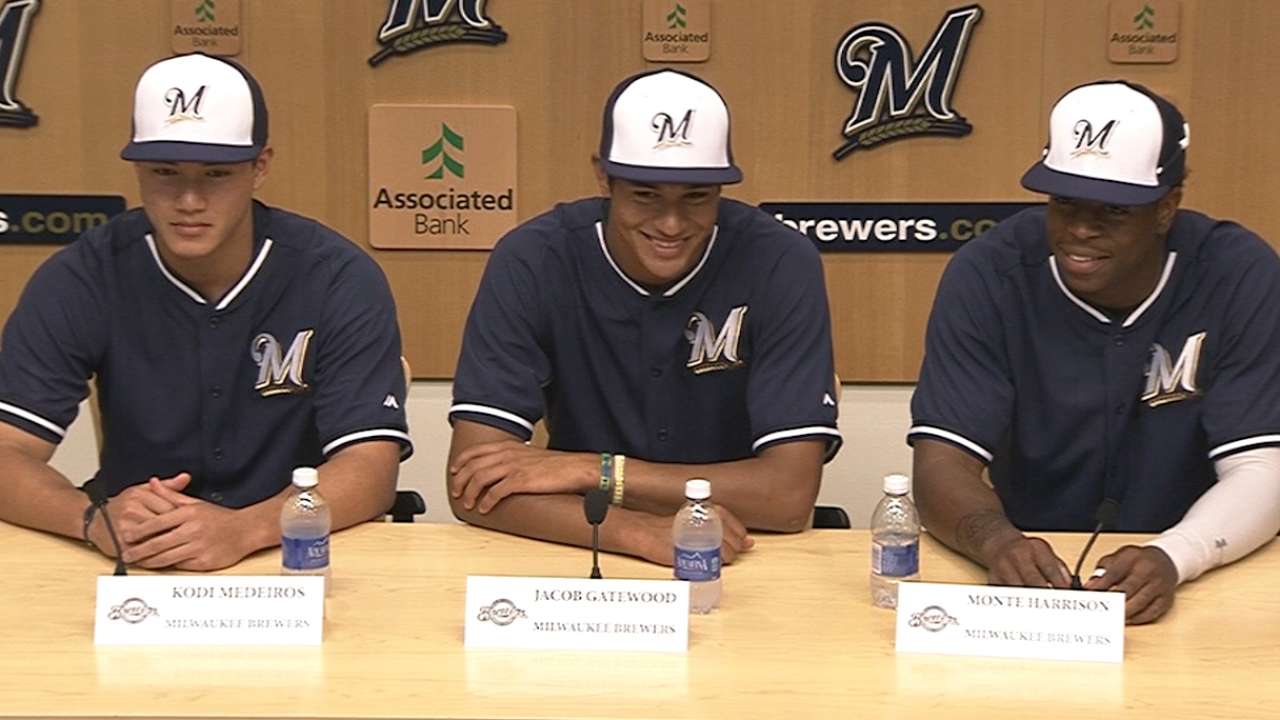 Friday marks the final Opening Day of the season in the Minor Leagues, as the Gulf Coast League and the Arizona League begin their seasons at Spring Training complexes around Florida and Arizona.
The Gulf Coast League games all begin at 12 p.m. ET, while the Arizona League gets underway at 10 p.m.
The leagues are the lowest rung in America on the Minor League ladder, but there are still plenty of exciting prospects on rosters throughout the leagues. They are typically populated with players from the most recent First-Year Player Draft, as well as the latest international signing period. This year is no different, as the Opening Day rosters are dotted by players who were selected in the 2014 Draft two weeks ago. Eventually, most players who sign will make their way to either Florida or Arizona for their professional debuts.
After using their top three Draft picks -- all in the top 50 overall -- on three high school players earlier this month, the Brewers will have one of the most exciting rosters in the Arizona League. Left-hander Kodi Medeiros, shortstop Jake Gatewood and outfielder Monte Harrison, the Nos. 12, 41 and 50 overall picks, will now begin their careers in the league together at the Brewers' complex in Maryvale, Ariz.
The 2013 Daft class will also be well represented, highlighted by left-hander Hunter Green, the Angels' No. 4 prospect and their top pick in 2013. Green was just 17 years old when the Halos made him the 59th overall selection last year, and he pitched sparingly in the Arizona League after signing. Other well-regarded members of the 2013 Draft class in the leagues include right-hander Dustin Driver, the A's No. 20 prospect, left-hander Travis Seabrooke, the Orioles' No. 20 prospect, and outfielder Jordan Paroubeck, the Padres' second-rounder.
Among the top international players in the leagues will be right-hander Jose Mujica, the Rays' No. 17 prospect, and left-hander Jacob Constante, the Reds' No. 18 prospect. Mujica, a Venezuelan native, won't turn 18 until next Saturday, but he made his professional debut in the Gulf Coast League last year. He posted a 3.09 ERA and a 20-to-3 strikeout-to-walk ratio in 32 innings. Constante, a Dominican native, was 19 years old when the Reds signed him in 2013, older than most international free agents. Cincinnati liked his overall skillset and will now get to see how it plays in the Arizona League as he makes his U.S. debut this summer.
Higher up the Minor League ladder, several pitchers are scheduled to start who are ranked on MLBPipeline.com's Top 100 Prospects list, including Jon Gray (No. 13), Aaron Sanchez (No. 19), Henry Owens (No. 26), Mike Foltynewicz (No. 46), Anthony Ranaudo (No. 95) and Sean Manaea (No. 100). Fans can watch all five on MiLB.TV, beginning with Owens and Double-A Portland hosting Altoona at 7 p.m. ET.
Top prospect probables
Chris Beck (White Sox No. 8), Birmingham at Jacksonville
Zachary Bird (Dodgers' No. 13), Great Lakes vs. Dayton
Zach Efflin (Padres' No. 11), Lake Elsinore vs. Lancaster
Mike Foltynewicz (Astros' No. 5), Oklahoma City at Reno
Michael Fulmer (Mets' No. 15), St. Lucie vs. Fort Myers
Ami Garrett (Reds' No. 19), Dayton at Great Lakes
Grayson Garvin (Rays' No. 19), Montgomery vs. Mobile
Jon Gray (Rockies' No. 1), Tulsa at Northwest Arkansas
Josh Hader (Astros' No. 14), Lancaster at Lake Elsinore
Kyle Hendricks (Cubs' No. 14), Iowa vs. El Paso
Mike Kickham (Giants' No. 17), Fresno at New Orleans
Jairo Labourt (Blue Jays' No. 12), Vancouver vs. Spokane
Sean Manaea (Royals' No. 4), Wilmington at Myrtle Beach
Cody Martin (Braves' No. 9), Gwinnett vs. Louisville
Keury Mella (Giants' No. 19), Augusta vs. Asheville
Jon Moscot (Reds' No. 20), Pensacola vs. Huntsville
Henry Owens (Red Sox's No. 1), Portland vs. Altoona
Ariel Pena (Brewers' No. 17), Nashville at Las Vegas
Anthony Ranaudo (Red Sox's No. 8), Pawtucket at Scranton/Wilkes-Barre
Cody Reed (Royals' No. 14), Lexington at Delmarva
Aaron Sanchez (Blue Jays' No. 1), Buffalo vs. Rochester
Antonio Senzatela (Rockies' No. 20), Asheville at Augusta
Zeke Spruill (D-backs' No. 10), Reno vs. Oklahoma City
Teddy Stankiewicz (Red Sox's No. 17), Greenville vs. Savannah
Lewis Thorpe (Twins' No. 6), Cedar Rapids at Kane County
Tom Windle (Dodgers' No. 7), Rancho Cucamonga vs. Inland Empire
Sam Wolff (Rangers' No. 18), Myrtle Beach vs. Wilmington
Teddy Cahill is a reporter for MLB.com. Follow him on Twitter at @tedcahill. This story was not subject to the approval of Major League Baseball or its clubs.