Miller fine after a couple of injury scares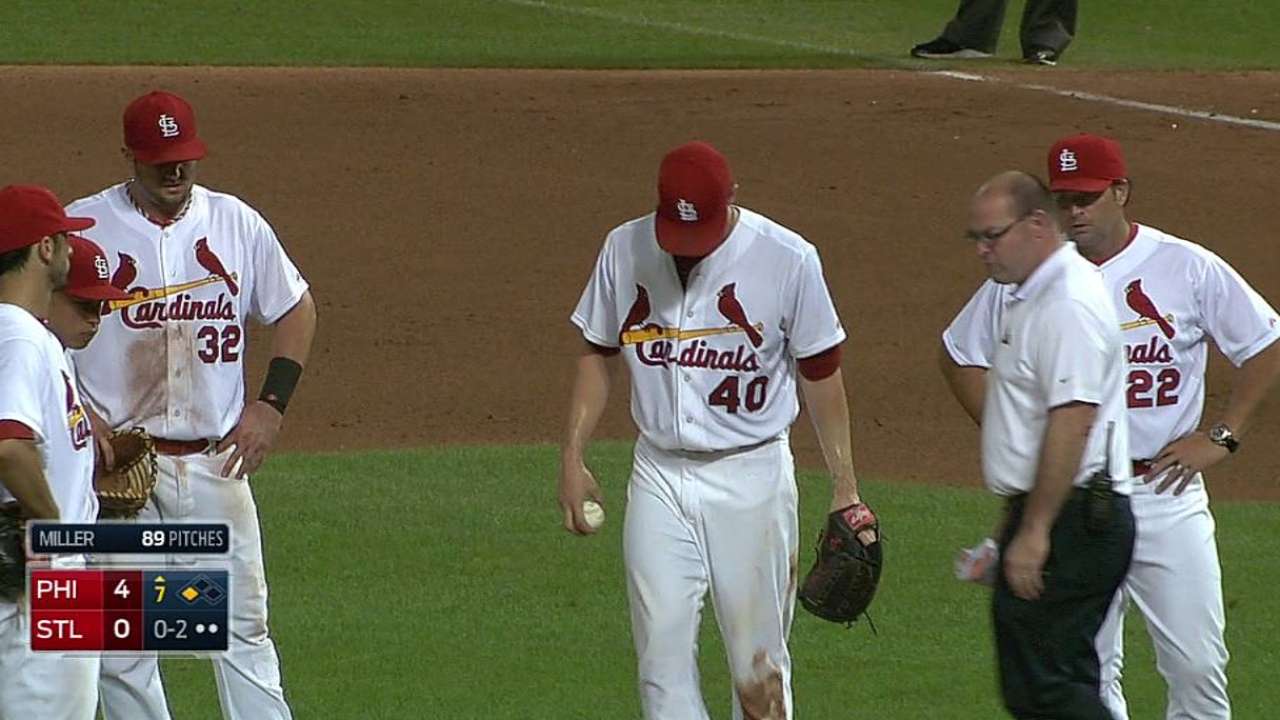 ST. LOUIS -- Knocked around for four runs in the Cardinals' 4-1 loss to the Phillies on Thursday, Shelby Miller also left his 15th start of the season a bit beaten up.
He scraped his arm on a sliding play in the fifth and later left the game in the seventh, a few pitches after feeling a pinch in his hip. The issues were unrelated to each other, but both seemingly preventable.
It was Miller's late break to cover first base that led to a sliding play that left Miller fortunate only to suffer a few scrapes. Matt Adams made a terrific play to stop Reid Brignac's hit down the first-base line, and Miller recorded the out by beating Brignac to the base as both slid.
"I'd rather see Shelby over there on time. That's the issue," manager Mike Matheny said afterward. "You can't let a fantastic play by your first baseman surprise you. Their defense is that it's a ball they don't think is going to be fielded. It's not a good enough defense. We have to be better than that."
Miller was checked on by head trainer Greg Hauck, but it was Brignac who left with a true injury. He reacted to Miller's slide by starting one of his own and hit the bag awkwardly with his left leg.
"There really wasn't much room for me to touch the bag," Brignac said. "I probably, if I would have stayed on my feet, would have stepped on him or stepped further on the bag, which is not normal. Things could have been worse."
He hobbled off the field with a high ankle sprain. Miller met him on the way to apologize for getting in the way.
"I don't think I would have beaten him if I didn't slide. I don't think I caused the play; I think he hit the bag wrong."
Hauck was back out on the field in the seventh, when Miller landed awkwardly on an 0-1 pitch to Carlos Ruiz. Miller said afterward he fell too far off the left side of the mound, which resulted in a pinching sensation near his hip. Miller talked his way into remaining in the game and then threw four straight pitches out of the zone. His night ended there, as did any discomfort.
"That's all it was -- just that one pitch, just bad mechanics," Miller said.
The Cardinals consider it to be an isolated issue, not something that will need to be monitored.
"He's going to be fine," Matheny said. "When your mechanics fall apart like that and you're swinging and you're falling down like that after you throw, it should hurt. That's what happened. The trainers have already seen him. He looks fine. It was just a pinch from poor mechanics."
Jenifer Langosch is a reporter for MLB.com. Read her blog, By Gosh, It's Langosch, and follow her on Twitter @LangoschMLB. This story was not subject to the approval of Major League Baseball or its clubs.