MLB.com Columnist
Jonathan Mayo
Short-season leagues offer first taste of pro ball
Setting also provides clubs with initial look at players' ability to adapt to new conditions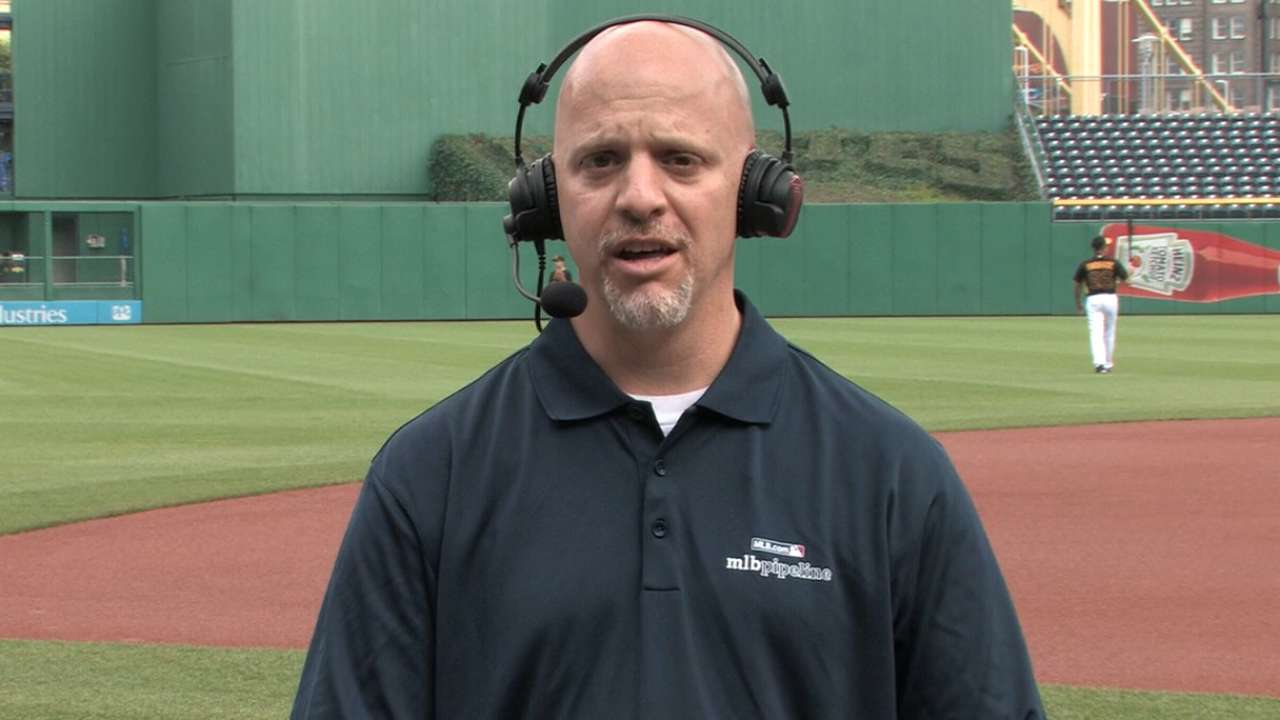 They are the lowest levels of professional baseball. But the short-season leagues, which have started in the past week or are getting going today, are an extremely important part of the player development process.
If there was going to be a motto for these leagues, which run from now until the end of August, it might be, "Come get your feet wet." Whether it's the more advanced New York-Penn and Northwest Leagues, rookie levels like the Pioneer and Appalachian Leagues, or even the lowest rung that is the Gulf Coast and Arizona Leagues, this is where players often get their first tastes of professional ball.
Some -- especially the younger high school draftees or international signees -- spend multiple summers, moving one step at a time. Others, often advanced college players, use a short-season stop as a quick springboard to the higher levels. Case in point: This year's No. 4 overall Draft pick, Kyle Schwarber. The Cubs' top selection signed quickly and was able to start with Boise in the Northwest League. After five games that featured four homers, 10 RBIs and a .600 average, the Cubs had seen enough and moved the University of Indiana product up to the full-season Midwest League.
2014 Draft selections in short-season leagues
| Pick | Club | Player | Team | League |
| --- | --- | --- | --- | --- |
| 4 | Cubs | Kyle Schwarber* | Boise | Northwest |
| 5 | Twins | Nick Gordon | Elizabethton | Appalachian |
| 8 | Rockies | Kyle Freeland | Grand Junction | Pioneer |
| 12 | Brewers | Kodi Medeiros | Brewers | Arizona |
| 13 | Padres | Trea Turner | Eugene | Northwest |
| 20 | Rays | Casey Gillaspie | Hudson Valley | NY-Penn |
| 21 | Indians | Bradley Zimmer | Mahoning Valley | NY-Penn |
| 24 | Pirates | Cole Tucker | Pirates | Gulf Coast |
| 28 | Royals | Foster Griffin | Burlington | Appalachian |
"I want to get the baseline, see what it takes to be a professional," Schwarber said shortly before his promotion. "I need to work on a lot of things offensively and defensively. There's always room for improvement. I'm happy to have the opportunity with the Cubs and work with great coaches and players."
Hot start aside, Schwarber seemed to understand right away what the short-season experience is all about. Producing is always nice, but it's really more about getting that first sense of making a living on the field.
"It's that first transition from playing baseball to 'This is your career, what does that mean?'" Pirates assistant general manager Kyle Stark said. "There are the newly drafted guys, new to the system, in their first taste of pro baseball. The second group of players are guys already in the system, and it's their first time getting a taste of competition either in the United States or under the lights. It's a transitional thing for both into thinking, 'Hey, this is going to be my career.'"
"Under the lights" has several meanings. There's the literal one, of course. If a player spent a summer or more playing in the GCL or AZL, the complex leagues, they only competed in afternoon games. Dominican Summer League games are played in the morning. So heading to Boise in the Northwest League or Hudson Valley in the New York-Penn League is actually the first time those players will get the chance to play night baseball.
The phrase has a deeper meaning, though. It also implies a greater sense of pressure and expectations. In the complex leagues, players live in dorms at Spring Training facilities and play all their games at those facilities, without any fans present. A move to short-season for those players is a big step in terms of independence and freedom. The same holds true for a player going from high school or college to one of these circuits.
"There's the adjustment to night baseball, the adjustment to fans, the adjustment to different stadiums, the adjustment to no longer being babysat at the dorms," Stark said. "How do they deal with that freedom, balance those things needed to be a professional? That first jump, we tell our guys, 'We trust you. We'll see what you can do.'"
As much as it's a first taste for the players, that's a two-way street. Getting players signed and out to one of these leagues is the first time the organization gets to see what their newest acquisitions can do in such a setting. That usually means just letting them go out and play, worrying about things like long-term defensive position later. Schwarber, for example, saw time behind the plate and in the outfield with Boise, and the Pirates were having comp-round pick Connor Joe play the outfield in the New York-Penn League, with plans to get him work behind the plate later on at instructionals.
"We don't touch the hitter until they come to us," said Cardinals Minor League field coordinator Mark DeJohn, who has managed several years at the short-season level. "That first year, we try to let them play. If he's struggling and he says I need some help, then we'll try to help him. We try to do the same with pitching.
"Let's see what the scouts saw in you and then we'll go from there. Let them play, introduce them to the organization, make them feel as comfortable as possible so they can perform at a high level."
Doing that in the New York-Penn or Northwest Leagues doesn't guarantee long-term success. The converse is also true. DeJohn managed the 2006 State College Spikes, a team where a young Allen Craig made his pro debut and hit .257/.325/.400. But it laid a foundation for Craig in terms of learning what it took to be a professional. Other transitions aside, that is often the toughest hurdle to clear: understanding the preparation needed to compete on a daily basis. A college player, DeJohn points out, will have played about 65 or so games during the past amateur season. Then he hits pro ball and gets to play approximately 75 more, but without the breaks that come in the college schedule.
"It's the grind part," Schwarber said. "That's been the biggest adjustment. I wanted to sign early, the Cubs wanted me to sign early, to get out there to see what it was going to be like as my career progresses. It's a big thing playing at this level, taking care of your body. It takes a toll. You have to be ready for that daily grind."
Jonathan Mayo is a reporter for MLBPipeline.com and writes a blog, B3. Follow @JonathanMayoB3 on Twitter. This story was not subject to the approval of Major League Baseball or its clubs.