Braves continue dominance of Nats with shutout
Floyd spins gem before injury; Johnson drives in all three runs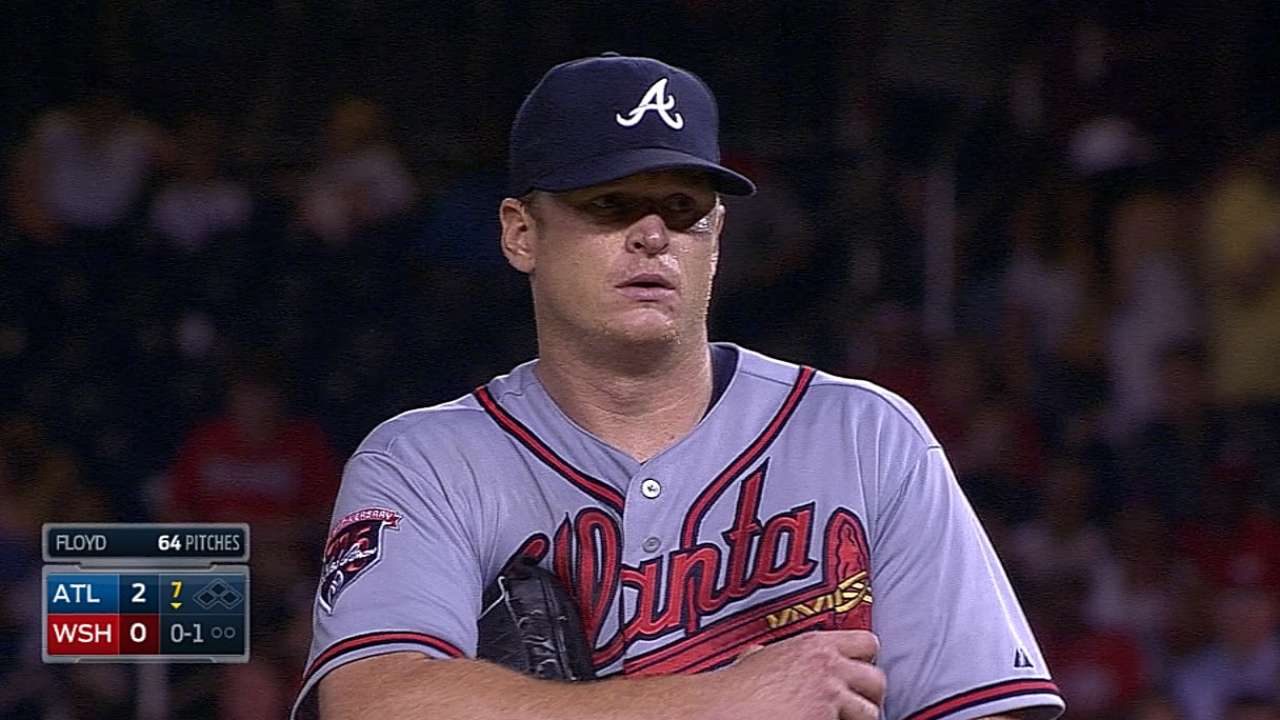 WASHINGTON -- The Braves have spent most of the past two months playing like a last-place club. But if they continue to extend their head-to-head dominance of the Nationals, they could be back on top of the National League East standings before the end of this weekend.
There was certainly a sense of familiarity as the Braves opened a four-game series with Thursday night's 3-0 win over the Nationals. Chris Johnson provided all of the necessary support with a couple of timely hits and Craig Kimbrel notched the final three outs in successful fashion. But there was also an unfortunate development as Gavin Floyd suffered a right elbow fracture while tossing six scoreless innings.
"[Floyd] was pretty filthy tonight," Braves first baseman Freddie Freeman said. "He was cruising. We had some runs on the board for him. I just feel so bad for him. He was probably pitching the best game of the year so far."
There was a mixture of emotions as the Braves gathered in the clubhouse after the game and learned that Floyd had fractured the olecranon, the prominent bony portion of his right elbow, with the first-pitch curveball he threw in the seventh inning. But as they sympathized with Floyd, the Braves also felt good about distancing themselves from the frustration felt on Wednesday, when they were swept at home by the last-place Phillies.
"To come out here and get the win and get momentum back on our side, it's definitely a big start to this series," the recently rejuvenated Freeman said after opening this series with a three-hit night that included a pair of doubles and two runs scored.
The Braves entered Thursday with the Majors' fourth-worst winning percentage (.404) dating back to April 28. But with their 19th win in the 26 games played against the Nationals since the start of the 2013 season, they now stand just a half-game behind the first-place Nats in the NL East.
"They're a really good team," said Johnson, whose three RBIs matched his total from his previous 17 games. "We came off a really tough series at home. I think we wanted to get it going against anybody we were facing. It just happened to be these guys."
Nationals starter Jordan Zimmermann had allowed just one hit before Freeman notched the first of four consecutive one-out singles in the fourth inning. Evan Gattis contributed one of those singles to extend his career-best hitting streak to 18 games. Johnson capped the sudden flurry when he connected with a 3-1 fastball and sent it through the middle of the infield for a two-run single.
"You never think you're going to get that many hits off a guy like Zimmermann," Johnson said. "In my opinion, he's the ace of their staff. He's their most consistent guy. You don't ever think you're going to put a crooked number up against a guy like that. So to be able to do that, it definitely got the momentum going for us."
After Zimmermann limited his damage to the two runs through seven innings, Johnson added an eighth-inning single that scored Freeman and provided some cushion for Jordan Walden and Kimbrel. Walden struggled when he came off the disabled list last week. But his perfect eighth against the Nationals was his fourth consecutive scoreless appearance.
Floyd faced the minimum through the first two innings and did not need more than nine pitches to complete the third, fourth or fifth innings. He had retired 11 straight batters before surrendering Denard Span's two-out double in the sixth.
After throwing just 63 pitches through the first six innings, Floyd entered the seventh with visions of going the distance. But his outing ended when he felt his elbow pop as he threw a first-pitch curveball to Jayson Werth.
These six scoreless innings against the Nationals served as the best of the nine starts Floyd made since returning from Tommy John surgery on May 6. He will fly to Atlanta on Friday to be further evaluated by Braves doctors.
"You don't want to see anybody get hurt," Nationals manager Matt Williams said. "It's a long road back. So we hope everything's all right. You never want to see anybody leave the mound. Never want to see anybody get hurt. Everybody competes. Everybody wants to win. But you don't want to see injuries either."
Mark Bowman is a reporter for MLB.com. This story was not subject to the approval of Major League Baseball or its clubs.