Gomez extends on-base streak to 32, matches Yount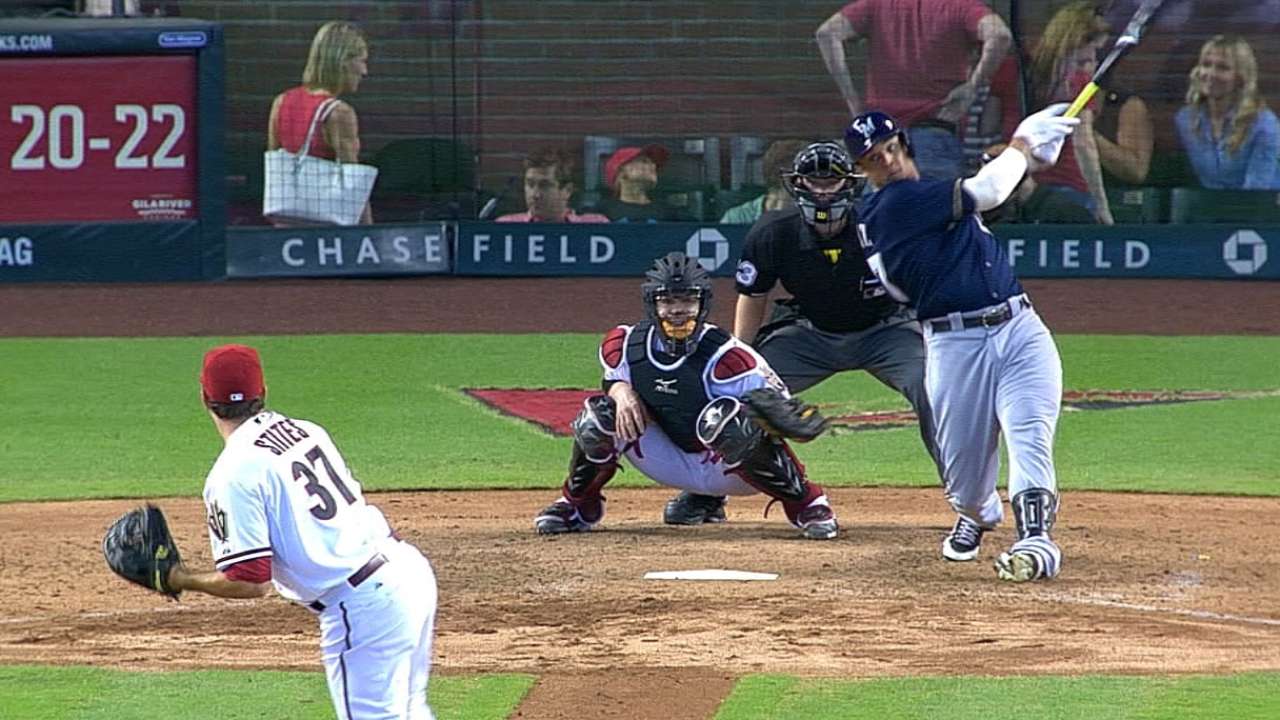 PHOENIX -- Carlos Gomez struck out three times Thursday before he blooped an eighth-inning single, extending his hitting streak to a career-best 15 games and his streak of reaching base to 32 games. The latter is the longest current streak in the Major Leagues, and tied Gomez with Robin Yount's 1989 run for the sixth-best in Brewers history.
Gomez is one game shy of tying Prince Fielder's 2007 streak of reaching base, and two games shy of the longest run by a Brewer since Scott Posednik set a club record by reaching safely in 47 consecutive games in 2003.
Consecutive games reaching safely by a Brewer
| Rank | Player | Year | No. of Games |
| --- | --- | --- | --- |
| 1 | Scott Podsednik | 2003 | 47 |
| 2 | Fernando Vina | 1996 | 40 |
| 3 | Paul Molitor | 1987 | 39* |
| 4 | Ronnie Belliard | 1999 | 36 |
| 5 | Prince Fielder | 2007 | 33 |
| T-6 | Robin Yount | 1989 | 32 |
| | Carlos Gomez | 2014 | 32 |
"If it happens it happens, but I'm not thinking about it," Gomez said.
Rather, he said he was focused on winning games, which the Brewers did again Thursday, 4-1 over the D-backs. It was Gomez's second game back after missing two starts with a sore left hamstring.
According to the Baseball Almanac, Ted Williams set the Major League record when he reached safely in 84 consecutive games in 1949. When Gomez faced the prospect of pinch-hitting on Monday, he asked Brewers manager Ron Roenicke for that bit of trivia.
When Roenicke answered, Gomez laughed and said, "I'm not going to break that, so use me [off the bench]."
When Roenicke first saw a still-developing Gomez in 2011, did he think he was capable of such consistency?
"You really want me to answer that?" Roenicke said. "No, he wasn't that consistent guy. We had great games from him and then he would get wild with his swinging. He's at a point now where you can see at-bat to at-bat, if he gets a little crazy, the next at-bat you can see he's really concentrating and trying to make sure he gets a good pitch to hit.
"Those streaks -- it's nice to have a hitting streak, but on-base is what counts. He continues to get on base, but obviously we want him to continue driving the ball, too. That's big."
Adam McCalvy is a reporter for MLB.com. Read his blog, Brew Beat, and follow him on Twitter at @AdamMcCalvy. This story was not subject to the approval of Major League Baseball or its clubs.