Wheeler's three-hit shutout, Wright's HR lift Mets
Day after one-year anniversary of debut, Mets righty throws first CG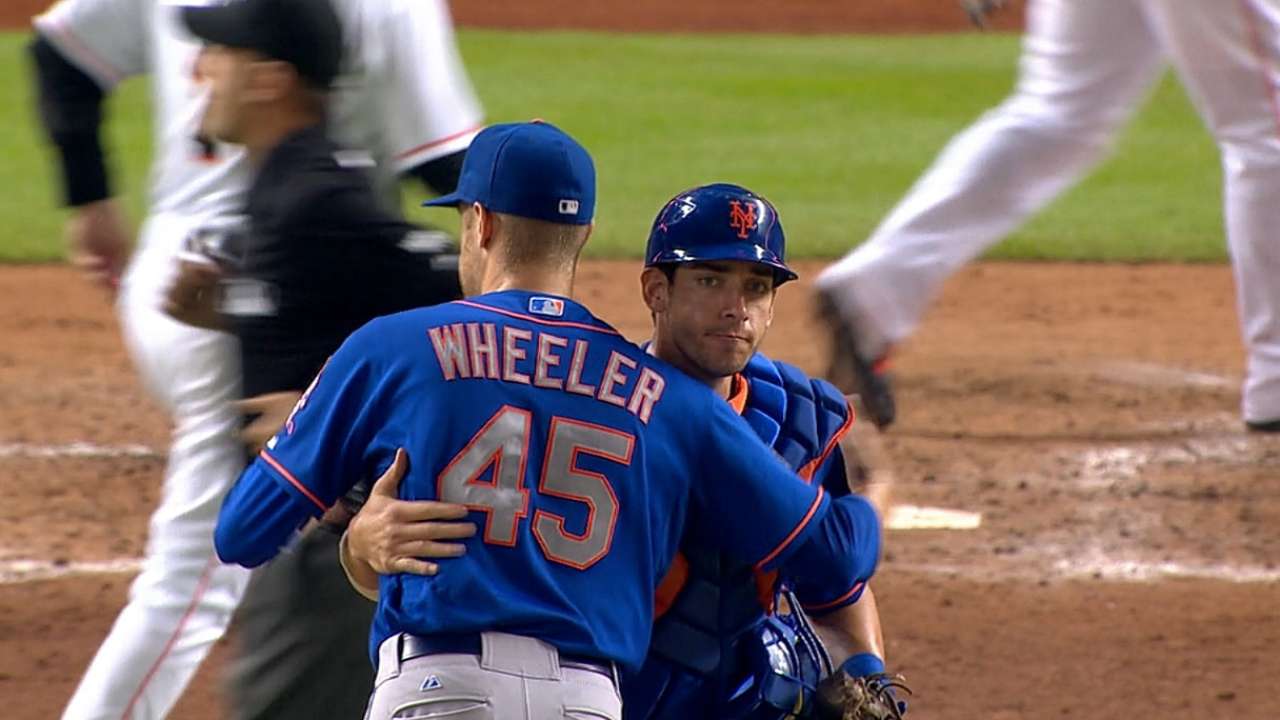 MIAMI -- On June 18, 2013, the Mets' Zack Wheeler made his Major League debut in a doubleheader against the Braves. He tossed six scoreless innings, struck out seven and grabbed the first win of his career.
One year and one day later, Wheeler went the distance for the first time in his career -- and he was almost flawless in doing so, scattering three hits and facing one batter over the minimum in a 1-0 win over Miami at Marlins Park on Thursday night.
"I know I can do it every time out," Wheeler said. "I know I have the stuff. Kind of feels good to go out there and do it and be efficient."
Wheeler had faced the minimum before allowing a two-out single to pinch-hitter Reed Johnson in the ninth. The righty retired the next hitter three pitches later, preserving the shutout and recording the Mets' first 1-0 complete-game shutout since R.A. Dickey did it against the Phillies on Aug. 13, 2010.
The last time a Mets pitcher threw a complete game was against the Phillies, too, only that feat was accomplished by Jon Niese on Aug. 27, 2013. That was also a shutout.
But on Thursday in South Florida, no one had come in expecting Wheeler to throw a gem. He was coming off a start against the Padres in which he'd given up four runs in five innings, dropping his record to 2-7 on the season. He'd had success against the Marlins, recording a 1.42 ERA in three no-decisions, but he also hadn't gotten a win since May 29 vs. Philadelphia. And in three starts since, he'd given up eight runs in 15 1/3 innings.
Manager Terry Collins, however, said before Thursday night's game that he'd been impressed with Wheeler's between-starts bullpen sessions, that he was doing well preparing himself for his next starts. To him, Wheeler's record meant little because of how much he's matured since his debut last year.
"I'm really proud of him," Collins said. "That's the kind of guy we know we've got."
Wheeler's previous career high was seven innings, which he matched three times last year. This season, his longest outing was 6 2/3 innings.
While 20,334 watched Wheeler record some personal history, the crowd had been there to watch MLB.com's top-rated lefty pitching prospect Andrew Heaney make his Major League debut for the Marlins. What they ended up seeing was a pitchers' duel that emerged soon after David Wright homered in the first inning for the lone run of the game.
Wright hammered the fifth pitch he saw into the home-run structure beyond center field, which cued his teammates in the dugout to start waving towels as he rounded the bases. Wright has six hits in his last 10 games, including one double and two homers.
"That ball was crushed," Collins said. "You gotta mash 'em here. He's starting to come out of this little funk he's been in."
And after that, it was up to Wheeler to dazzle the Marlins. Which he did, striking out eight in the three-hitter.
Thursday's performance was much different from Wheeler's last start when he threw 100 pitches against San Diego. He didn't even reach 85 pitches against the Marlins until the end of the seventh inning.
Thanks to three double plays and an incredible command of the strike zone, the four baserunners (two of whom were Casey McGehee, who is now 3-for-6 with three walks against Wheeler) didn't go anywhere. It took the righty just 76 pitches to get through the lineup twice.
Wheeler finished the night with 111 pitches. The most he's ever thrown was 118, which he did twice this season -- once against the D-backs in 6 2/3 innings and once against the Yankees in 4 1/3 innings.
"It was his night," Collins said. "That's why I just said, 'I'm gonna run him back out there, I don't care what his pitch count is.' He deserves it. He's earned it."
Not even the Marlins' strongest hitter, Giancarlo Stanton, could touch Wheeler, as he struck him out swinging twice.
"Threw a lot of fastballs, which we expected," Marlins catcher Jarrod Saltalamacchia said. "But he didn't leave anything over the plate. You've got to tip your cap to a guy who pitched a great game."
In his own right, the Marlins' Heaney did well too. After the homer to Wright, the Mets couldn't get back on the board. They did all they could to get to Heaney, running up his pitch count to 60 by the third, but he retired the last nine batters he faced and left after the sixth.
"He's exactly what we heard about him," Collins said. "He knows how to pitch. He works both sides of the plate extremely well. Pretty impressive kid."
Wheeler, who was in Heaney's shoes this time last year, can relate. But now that it's been 366 days since he made his own debut, Wheeler's got the rest of his career on which to focus.
"It feels a little bit shorter than a year. It's flown by," Wheeler said. "I've had my ups and downs, and hopefully it'll go up from here."
Maria Torres is an associate reporter for MLB.com. This story was not subject to the approval of Major League Baseball or its clubs.