Solid Heaney outdueled in debut by Mets' Wheeler
Marlins muster just three hits, shut out for second time in eight games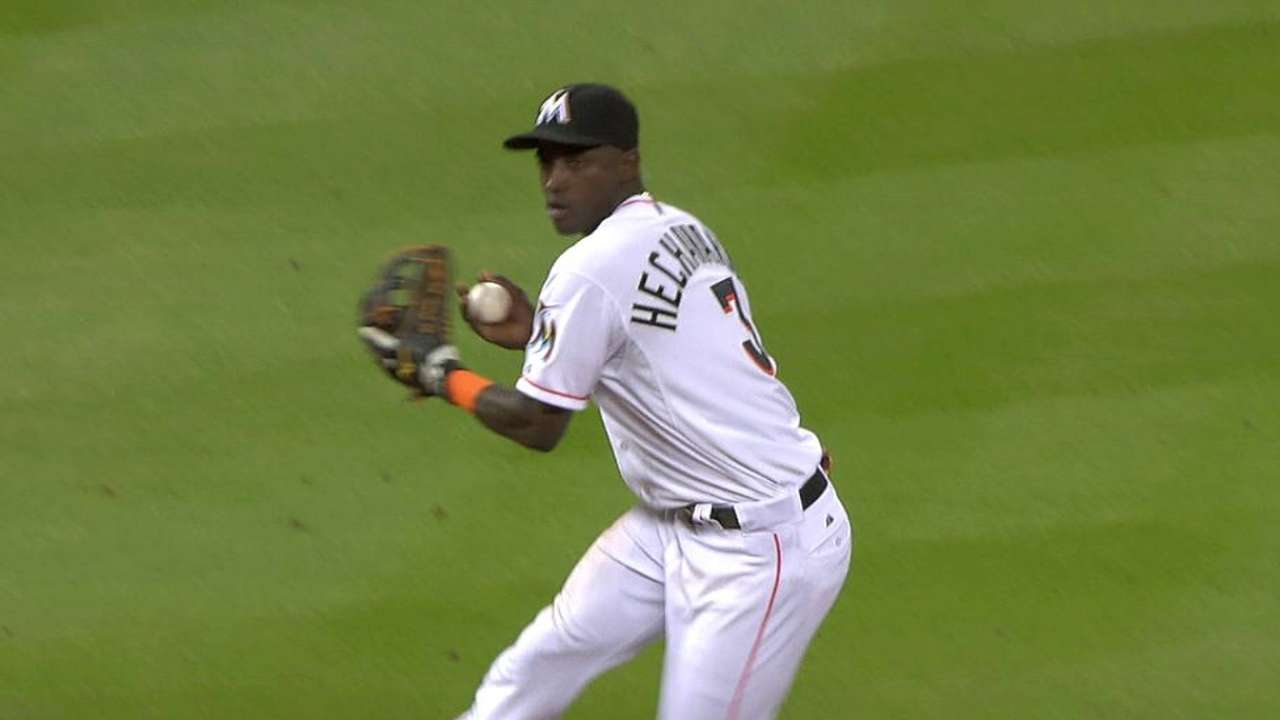 MIAMI -- As advertised, Andrew Heaney showed on Thursday night in his MLB debut why he is so touted.
But Heaney and the Marlins had their night spoiled by an All-Star third baseman and a young hard-throwing right-hander.
David Wright belted a first-inning home run, and Zack Wheeler faced one over the minimum in a three-hit shutout, fanning eight in the Mets' 1-0 win over Miami at Marlins Park.
"Heaney did a nice job. He gave us a chance, kept us in the game," Miami manager Mike Redmond said. "One pitch to a really good hitter that he hit for a home run, and that was it. Other than that, he executed his pitches."
Promoted from Triple-A New Orleans on Monday, Heaney settled after a shaky first inning in which he threw 23 pitches. He scattered four hits while striking out three and walking one in six innings, finishing up with 91 pitches.
"He got his pitch count up, but then settled in, had a couple quick innings," Redmond said. "All in all it was a good start for him. We just didn't do anything offensively to help him out. That ended up being the difference -- one hit."
Heaney became the sixth pitcher in franchise history to throw six or more innings while allowing one or no runs in his MLB debut. He's also the fourth first-rounder drafted by the club to make his debut as a Marlin, joining Jose Fernandez (2013), Josh Beckett (2001) and Marc Valdes (1995).
"He's exactly what we heard about him," Mets manager Terry Collins said. "He knows how to pitch. He works both sides of the plate extremely well. Pretty impressive kid."
The Marlins have now dropped five of seven on their 10-game homestand, and they fell to .500 (36-36) for the first time since they were 28-28 on June 1.
Miami was blanked for the fourth time this season. Wheeler's gem came seven games after Yu Darvish went the distance against Miami on June 11 at Texas.
Wheeler upstaged Heaney's debut, tossing his first complete game. But from the Marlins' perspective, it was a promising performance by a talented young lefty.
"The first three innings were a little bit of a struggle," Heaney said. "I was kind of all around the zone, falling behind guys. I felt like offspeed wasn't crisp, wasn't sharp. I stuck in there."
The ninth overall pick in the 2012 First-Year Player Draft, Heaney is ranked by MLB.com as the 25th-best overall prospect in the Majors, and the top lefty. The 23-year-old Oklahoma State alum didn't disappoint.
While impressive, Heaney still found himself overshadowed by the strong pitching of Wheeler, who faced the minimum through eight innings. Three times Miami had a baserunner, and in each instance, a double play wiped him out.
In the second inning, Casey McGehee singled, but Garrett Jones lined sharply into a double play at first. Wheeler didn't allow another runner until McGehee walked in the fifth. But Marcell Ozuna tapped into a 6-4-3 double play.
In the sixth inning, Jarrod Saltalamacchia singled, but Adeiny Hechavarria tapped into a 4-6-3 double play.
Wheeler had faced the minimum after 26 batters, but a two-out, pinch-hit single by Reed Johnson in the ninth inning brought Rafael Furcal to the plate for the final out, a sharp liner to center. So Wheeler pitched to 28 batters.
Heaney's first big league pitch was a 91-mph fastball taken for a strike by Eric Young Jr., who worked an eight-pitch at-bat before chopping an infield single to short.
But the Miami lefty erased the early runner by getting Daniel Murphy to bounce into a 4-6-3 double play.
"You could tell he might have been a little bit nervous at the beginning, just kind of cutting some pitches off," Saltalamacchia said. "All in all, he did a great job. He made a lot of big pitches, mixing his slider and changeup in really, really well. That's a good hitting ballclub over there. Keeping them to one run is impressive."
The big damage in the inning came on Heaney's 18th pitch, which was driven by Wright over the wall in center for a home run.
"I just remember throwing a fastball right down the middle, and he hit it really far," Heaney said.
In each of the first three innings, Heaney had to work. The 23-year-old was at 60 pitches through three, but settled after that.
Heaney retired 14 of the final 16 he faced. He did give up a single to Murphy in the sixth, but the inning ended on Wright's 6-4-3 double play.
"I didn't really talk to him too much," Saltalamacchia said. "He's got great composure. He knows how to pitch. He goes out there and sticks it down in the zone, mixes his offspeed pitches in. All in all, it was really impressive."
Joe Frisaro is a reporter for MLB.com. He writes a blog, called The Fish Pond. Follow him on Twitter @JoeFrisaro. This story was not subject to the approval of Major League Baseball or its clubs.