Offensive funk continues in West Coast opener
Pedroia hits two-run homer; Peavy allows four runs over 6 1/3 innings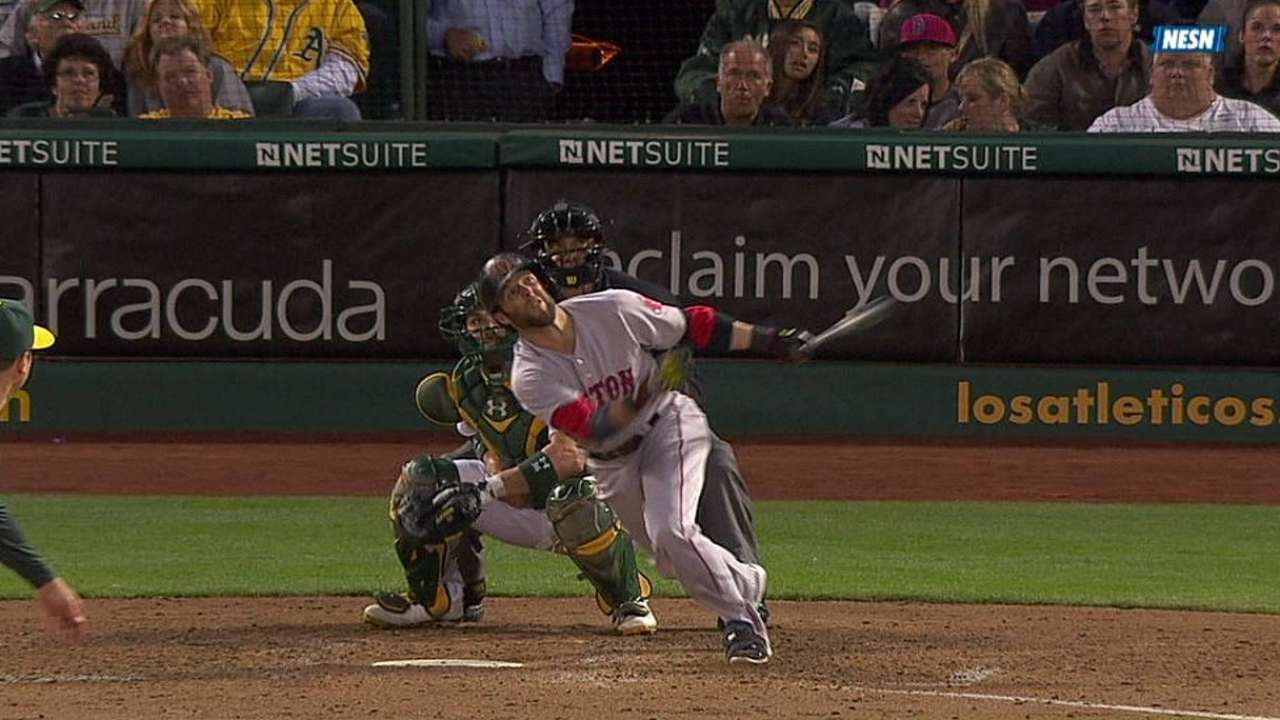 OAKLAND -- The Red Sox may have swept the Twins earlier this week while scoring just five runs, but the Oakland A's, owners of baseball's best record, are not so forgiving.
That became clear on Thursday, when a scuffling Sox offense ran into one of the hottest pitchers in baseball, left-hander Scott Kazmir, and dropped the opener of a four-game series, 4-2.
With two outs in the ninth and the tying run at the plate, A.J. Pierzynski lifted a fly ball to deep center field off Dan Otero. But Coco Crisp jumped at the wall and caught it, ending the game and robbing the Red Sox of a much-needed offensive jolt.
"The guy jumped up at the top of the wall and caught it," Pierzynski said. "What can you do? Just frustrating, you know?"
The Red Sox scored two runs or fewer for the ninth time in 11 games, a span during which they are averaging 2.5 runs.
"We faced a tough pitcher," said Dustin Pedroia. "To be honest with you, I think our at-bats weren't that bad. We had some guys hit some balls at people. We just didn't score more than them. We've got to try to find a way to have a big inning and get some momentum."
Pedroia's two-run homer in the sixth cut a 3-0 deficit to one and improved him to 22-for-47 (.468) with four home runs in his career against Kazmir.
"It was a pitch that we went there a couple times the at-bat before," Kazmir said of the home run. "I had a good feeling he was really looking toward that location and I just left a pitch up. He put a good swing on it."
It was the lone bright spot for the Red Sox, as Kazmir held Boston to two runs over seven innings.
A's relievers Luke Gregerson and Otero added the finishing touches.
"Kazmir's got a heck of a year started halfway through," manager John Farrell said. "You see what he's put up, not just against us tonight but throughout the course of the season so far, and once again we're scrambling to try to create some opportunities."
Jake Peavy kept his team within reach, allowing one run apiece in the second, third and fourth innings before exiting the game with one out in the seventh. The right-hander gave up four runs (three earned) on five hits and three walks, and he threw 117 pitches, his highest since Sept. 5, 2013.
But as has become standard fare for Peavy, the Boston bats did not give him much help. He entered Thursday receiving just 3.2 runs of support per game -- second-lowest in the American League to Baltimore's Ubaldo Jimenez -- and once again his offense was unable to bail him out.
"Just physically I didn't feel very good, to start," said Peavy. "Just not in sync. It's no excuse, but I'm just stating the facts. Physically, I wasn't good and on point there for a bit."
Peavy took his fifth consecutive loss dating back to May 1, matching the longest losing streak of his career.
"I don't feel sorry for myself one bit," he said. "I've got to get better and find a way to win. That's all there is to it."
The A's first run off Peavy was unearned, coming in the second inning after third baseman Xander Bogaerts made an errant throw to first on an attempted 1-5-3 double play. The next batter, Stephen Vogt, hit an RBI groundout to second.
"If I go to second base on the double play ball, we probably don't give up that unearned run," Peavy said. "When you're not scoring a ton of runs, those little plays mean everything."
A solo shot by Yoenis Cespedes in the third made it 2-0, and Vogt added another RBI in the fourth on a soft single over Stephen Drew's head. John Jaso gave the A's an insurance run in the seventh with an RBI single, increasing Oakland's lead to 4-2.
Pierzynski provided a glimmer of hope with one swing in the ninth, but Crisp snatched it away.
"I've hit a couple balls here recently that I thought were home runs, and for some reason they're not going out of the park," Pierzynski said. "Usually when you hit one they go here. You hit a ball good and just hope it goes out, and unfortunately it didn't."
Instead of a tie game in the ninth, the Red Sox were left continuing to search for answers.
And so it goes for Boston's offense.
"That's a good question," said catcher David Ross when asked what it will take to get the bats going. "I don't know."
Aaron Leibowitz is an associate reporter for MLB.com. This story was not subject to the approval of Major League Baseball or its clubs.