Star trek: Kazmir continues to stay red-hot
Lefty yields just two runs over seven frames; Cespedes goes deep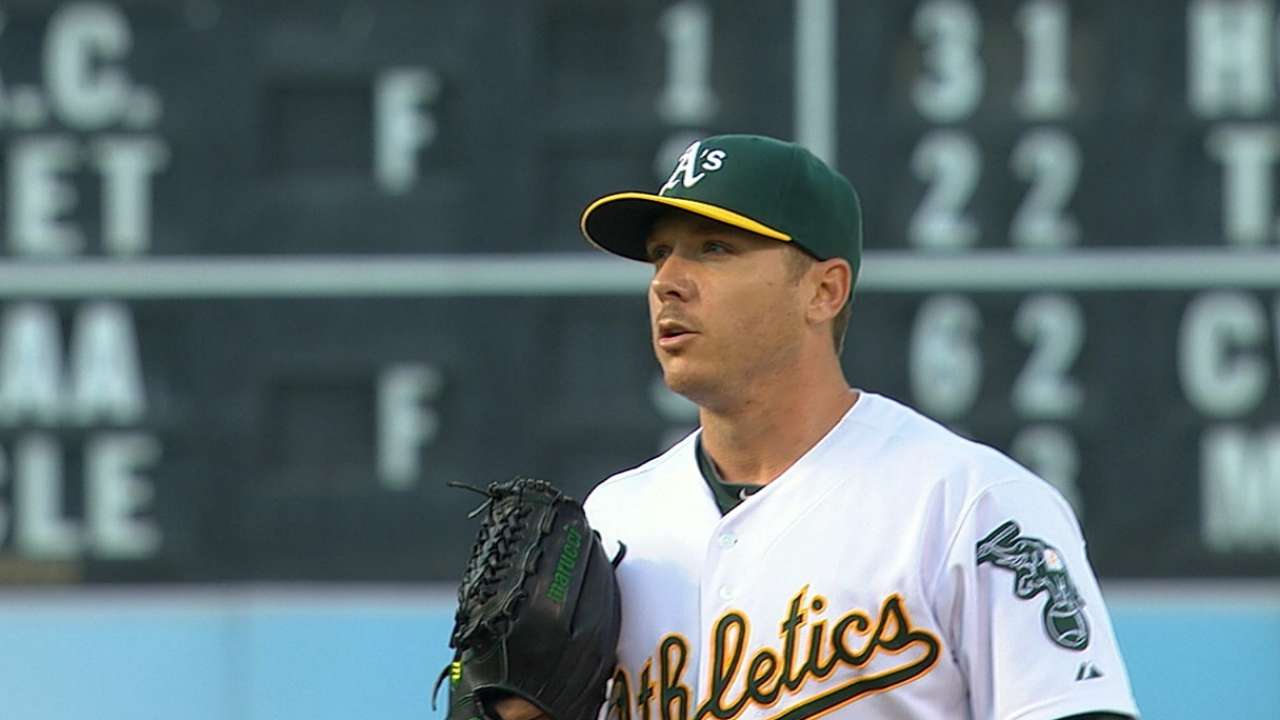 OAKLAND -- A's lefty Scott Kazmir tossed another gem on Thursday night, and American League All-Star manager John Farrell had a good view of this one.
The southpaw exited the 4-2 series-opening victory over the Red Sox with his ninth win and a 2.08 ERA, credentials that seemingly make him an obvious pick for next month's Midsummer Classic. Kazmir, who will likely make three more starts before Farrell makes his selections, has been invited to two in his career, but his last was in 2008.
Since, Kazmir's left the game -- and returned to it in fine form.
"I feel like I'm able to throw any one of my pitches at any given time in any count," Kazmir said. "I have a lot of confidence. I felt good today. Probably one of the best I felt this year."
On Thursday, Kazmir allowed a two-run homer to Dustin Pedroia but just three other hits over seven stellar innings in helping the A's punch their Major League-best 45th win.
Kazmir didn't walk a batter and racked up eight strikeouts, giving him 80 in 95 innings on the year. Kazmir also tallied a season-high 111 pitches, the most he's thrown in a game since June 4 of last year.
Toss out the game he got ejected after just 1 1/3 innings, and Kazmir's completed at least six innings in 13 of his 14 other starts and at least seven innings in seven starts.
"I had heard last year maybe this is a 100-pitch guy top, six innings maybe," said manager Bob Melvin. "He's been anything but -- and a bulldog, too. When I talk to him between innings, he wants to go back out.
"Really, I can't say enough about what he's done, not only his performance, but he's been a clubhouse leader. He's a veteran presence for so many of the younger pitchers. He's been absolutely terrific."
Yes, Farrell has taken notice.
"Kazmir's got a heck of a year started," Boston's manager said after the game. "Halfway through, you see what he's put up not just against us tonight but throughout the course of the season so far."
Kazmir's lone mistake was a 2-1 changeup to Pedroia in the sixth, launched just over the reach of Yoenis Cespedes past the left-field wall to plate Brock Holt for a two-run homer and narrow Oakland's three-run lead.
Cespedes hit his own homer in the third, a loud shot to left-center off righty Jake Peavy, who was touched for four runs (three earned) on five hits and three walks with four strikeouts in 6 1/3 innings.
Stephen Vogt collected two RBIs while offering some spiffy defensive work in right field, and John Jaso provided a bit of breathing room in the seventh with a run-scoring base hit in advance of yet another scoreless appearance in the eighth from Luke Gregerson, his 12th in a row.
Dan Otero pitched the ninth for his first big league save, with closer Sean Doolittle watching from the bullpen after pitching on consecutive days.
"Everyone down there's throwing the ball well," said Otero. "Our starters are still doing a great job. That's the key to the whole thing. The offense is scoring runs, the defense is making plays. The team is just playing so well right now."
That's why Kazmir's focus isn't on an All-Star nod, though that would be nice too, he admitted.
"It would mean a lot, it would," Kazmir said. "At the same time, there's only really one thing on my mind. That's getting to the postseason and going as deep as we can. I feel like we have the team to do it. We just have to stay healthy and stay focused."
"They've got a great team," said Pedroia. "Pretty tough to stop."
Jane Lee is a reporter for MLB.com. This story was not subject to the approval of Major League Baseball or its clubs.