Miller can't contain Howard or rolling Phillies
Offense can only manage one run vs. rookie starter Buchanan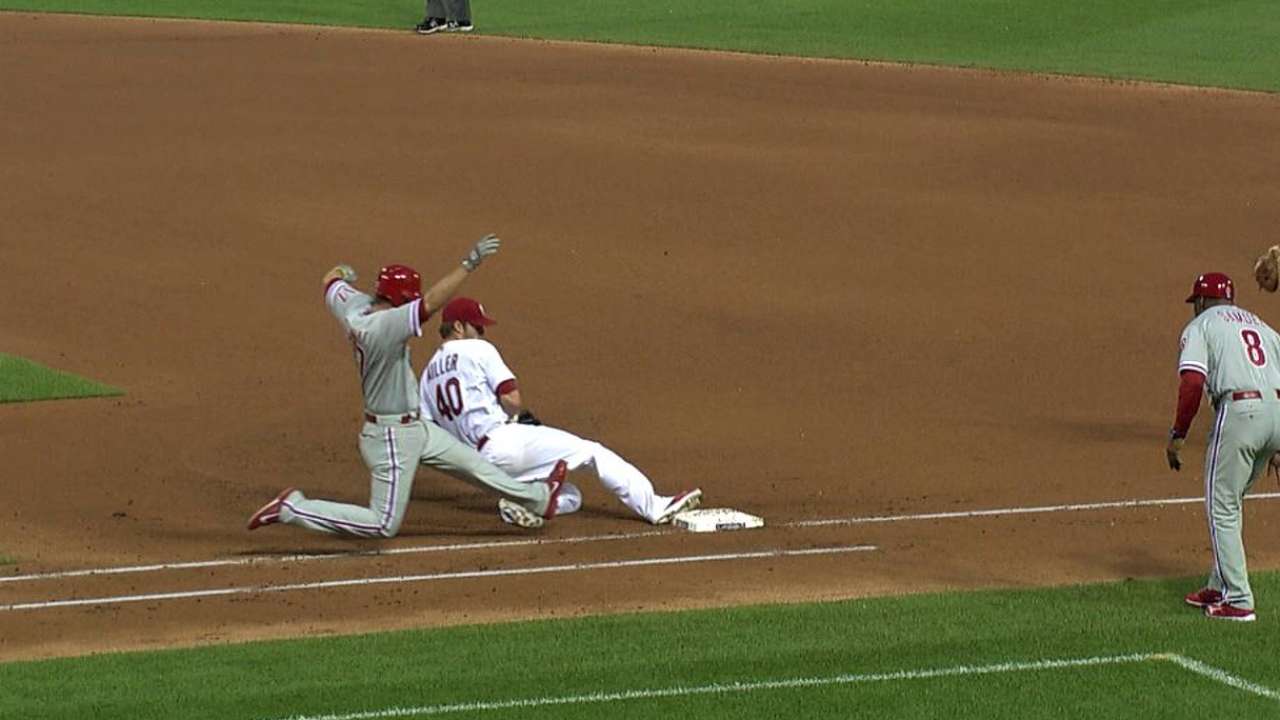 ST. LOUIS -- His words, though manager Mike Matheny preferred they not be, were prescient on Thursday, when, hours before the Cardinals opened a four-game series against the Phillies, he warned of how one St. Louis-area native could change a game with one swing of the bat.
It turned out to be two, but Ryan Howard's homecoming was nevertheless a nuisance to the Cardinals, who watched the first baseman drive in three runs in Philadelphia's 4-1 win, their fourth straight. The Cardinals, playing in front of a Busch Stadium crowd of 42,106, needed a two-out RBI single from Matt Carpenter in the eighth to avoid being shut out by a rookie right-hander pitching the game of his career.
"He continues to make us pay," Matheny said afterward of Howard.
Phillies starter David Buchanan limited the Cardinals to four hits in his 7 2/3-inning start, the longest of his six Major League outings. His trouble was minimal and brief. When the Cardinals used a successful hit-and-run to place runners on the corners with one out in the second, Buchanan answered with a strikeout of Jhonny Peralta. Kolten Wong then grounded out to end the threat.
A leadoff double by Cardinals starter Shelby Miller in the sixth was wasted when Buchanan breezed through the top part of the lineup on five pitches, although Miller moved to third with two outs.
"I think he rose to the occasion," Phillies manager Ryne Sandberg said of his starter. "He seems to be showing improvement and he seems to be adjusting as he's gone along. For him to go four times through the lineup, that says something about the stuff that he had."
It was stuff the Cardinals didn't entirely expect.
Though the Cardinals watched plenty of video in preparation for facing Buchanan, it didn't fully convey the late movement the hitters ended up seeing in person. Buchanan's cutter was a particular weapon, especially when paired with the changeup and curve.
"He hit his spots and kept us off balance," said Wong, who was hitless on the night. "When you can throw strikes with three pitches, he's definitely tough to beat."
Buchanan outdueled Miller, who served up all four of the Phillies' runs before exiting the game with two out in the seventh. Three consecutive hits -- the third of those an RBI single from Howard -- sparked Philadelphia's two-run fourth.
In his next at-bat, Howard took a fastball from Miller and dropped it just over the wall in left field for a two-run homer. The fact that it snuck over the wall surprised pitcher and hitter.
"I didn't think he got it all," Miller said. "Obviously, he's a power hitter, and the ball is up. He hit it at the right spot."
"I wasn't sure if the ball was going to stay fair or not," added Howard. "Off the bat it started to slice and then I wasn't sure if it was going to go out. I was a little surprised, but I'm not mad at it."
The blast was Howard's third in four games and swelled his success in St. Louis, where he was born and raised until leaving as a fifth-round Draft pick in 2001. In 27 career games at Busch Stadium, Howard is batting .374 with 10 homers and 38 RBIs.
"You always have to respect the guys who have played at the caliber that he has for such a long time," Matheny had said pregame. "You realize that the power is one of those things that could pop up at any time and it could hurt us."
Miller, bitten by the home run ball 11 times now this season, finished his outing somewhat banged up. He scraped up his left arm in the fifth when he took a feed from first baseman Matt Adams and slid into the base to beat Reid Brignac for the out. Brignac left with a sprained ankle from the same play.
Matheny and head trainer Greg Hauck checked on Miller again in the seventh, this time related to a hip-flexor pinch that came about because of loose mechanics. Miller convinced them he could continue, but walked Carlos Ruiz and was then immediately removed.
"It had its ups and downs," Miller said of his start. "I felt good, but at the same time, I didn't make the best pitches at some points. I kind of left the ball over the middle of the plate at times and they got some good hits on those."
Miller (7-6) entered the night having allowed just one earned run in his previous 15 2/3 innings.
After scoring at least four runs in four consecutive games, the Cardinals have now tallied a combined three on 10 hits in back-to-back losses.
Jenifer Langosch is a reporter for MLB.com. Read her blog, By Gosh, It's Langosch, and follow her on Twitter @LangoschMLB. This story was not subject to the approval of Major League Baseball or its clubs.