Quintana delivers solid start, left with empty feeling
Righty goes seven, but White Sox only runs come on Gillaspie single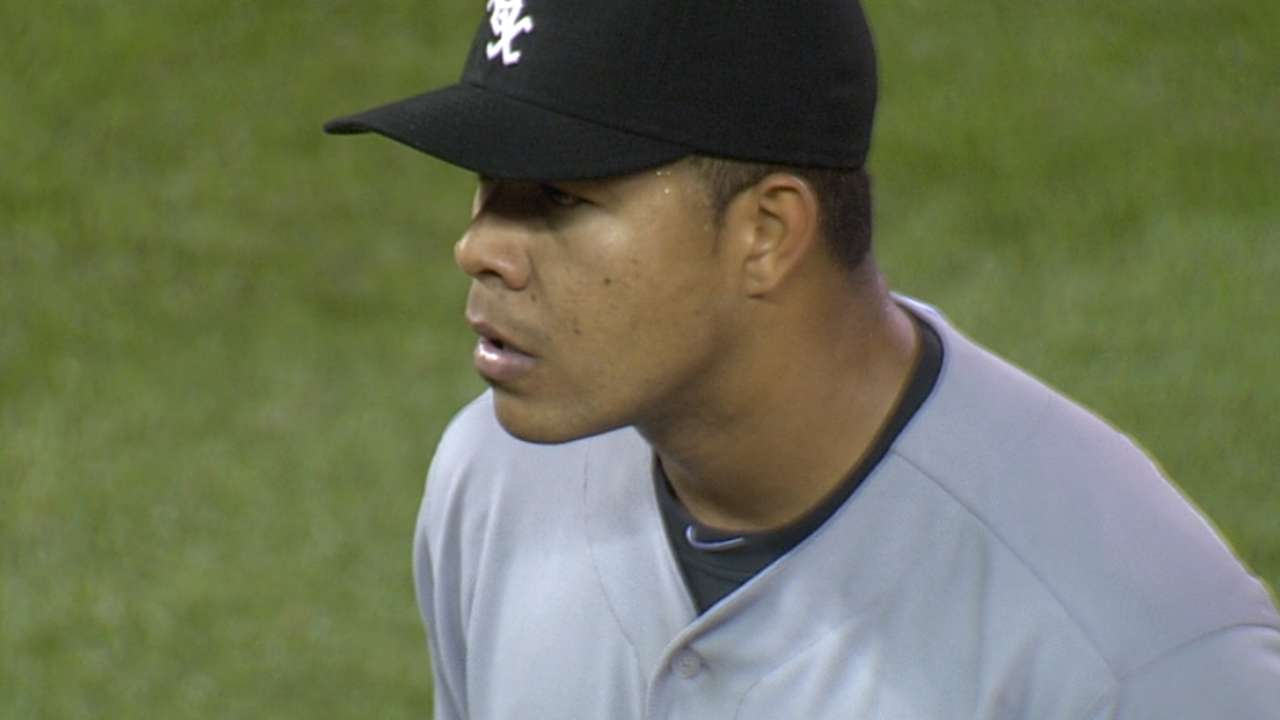 MINNEAPOLIS - During Yohan Pino's Major League debut in the Twins' 4-2 victory over the White Sox Thursday night at Target Field, the right-hander pitched well enough to win but had to settle for a no-decision.
Welcome to the world of Jose Quintana.
The White Sox southpaw yielded just two runs on six hits over seven innings, striking out six and walking one. But he departed after 108 pitches with the game deadlocked at 2-2, meaning his Major League-leading no-decisions since '12 rose to a total of 32, although Quintana did have a decision in his seven previous starts dating back to May 5.
It would be nice for Quintana to get a little more offense behind him. Then again, Quintana has grown accustomed to the situation with the 4.14 run support he has received per game since '12 falling in as second worst to Indians right-hander Justin Masterson's 3.63 during that time.
"You don't have to say anything to him," White Sox manager Robin Ventura said. "He's just as frustrated as anybody else but he just continues to pitch. I don't think he sits there and begs for runs, but I'm sure he'd like some runs."
"I say the same every time," said Quintana with a sort of resigned smile. "I don't have control about that."
Minnesota's only runs against Quintana came on Josh Willingham's titanic home run leading off the first and Joe Mauer's two-out single scoring Danny Santana in the third. Quintana caught a break in the third when Willingham launched another monster blast just foul down the left-field line with Mauer on base and then flied out near the wall in center field to end the inning.
Quintana even extended his chance for victory by throwing only seven pitches during a perfect sixth and 11 in a perfect seventh. But the offense couldn't pick him up.
Most important to Quintana was getting back into the quality start mode. Quintana had allowed 10 runs on 15 hits over his last 10 1/3 innings before this effort, with his stuff looking a bit shorter than usual. Quintana pointed to control with his changeup on Thursday as one of the biggest adjustments.
"My fastball was good to both sides and the changeup was working really good," Quintana said. "I no have command [of the changeup] the last time. But tonight, it was working really good."
"Pitch-wise he was up there a bit but as far as being aggressive in the zone, that's what he usually is," Ventura said. "It's just frustrating. You get to another point where you don't get him enough runs."
Conor Gillaspie singled home the White Sox two runs in the third off Pino, who fanned seven and walked one. But that rally was cut short when Gordon Beckham rounded second too far on Gillaspie's shot to center and was thrown out from center fielder Sam Fuld to second baseman Brian Dozier.
"Yeah, it's just not a good run play," said Ventura of Beckham's gaffe, followed by a Jose Abreu strikeout. "It's right in front of you."
From Gillaspie's single up until Abreu's against Glen Perkins (18th save) with one out in the ninth, the White Sox had one hit in 18 at-bats. Minnesota (33-38) won the game in the bottom of the eighth off reliever Jake Petricka (0-2) when Mauer doubled home Santana as part of a two-run rally.
That uprising came too late to make a winner of Pino, with Casey Fien (4-4) picking up the winning decision.
"[Pino's] presence on the mound was like he'd been up here doing this for a long time," Twins catcher Kurt Suzuki said. "Just to see his face after his outing, I went over and talked to him on the bench and he was so happy. That's the kind of stuff you like to see as a catcher."
Sounds a little like the White Sox description of Quintana over the years. Surprise stood Thursday as the overriding emotion for Quintana and the White Sox (35-38), as in surprised that this game was played after a 2:06 rain delay and a first pitch at 9:16 p.m. CT. Quintana was ready and worked like the frontline starter that he is, even if he didn't get the W.
His results were not as bothersome as the team losing for the fourth straight time on the road.
"This was a long day," said Quintana, who has thrown seven innings and allowed three earned runs or less 20 times in his career, but has a 5-4 record with a 1.84 ERA in those 20. "But if you throw a good game and your team doesn't win, it's not good because it's for the team, not for you."
Scott Merkin is a reporter for MLB.com. Read his blog, Merk's Works, and follow him on Twitter @scottmerkin. This story was not subject to the approval of Major League Baseball or its clubs.