Mauer's breakthrough lifts Twins past White Sox
Struggling first baseman hits go-ahead RBI double in bottom of eighth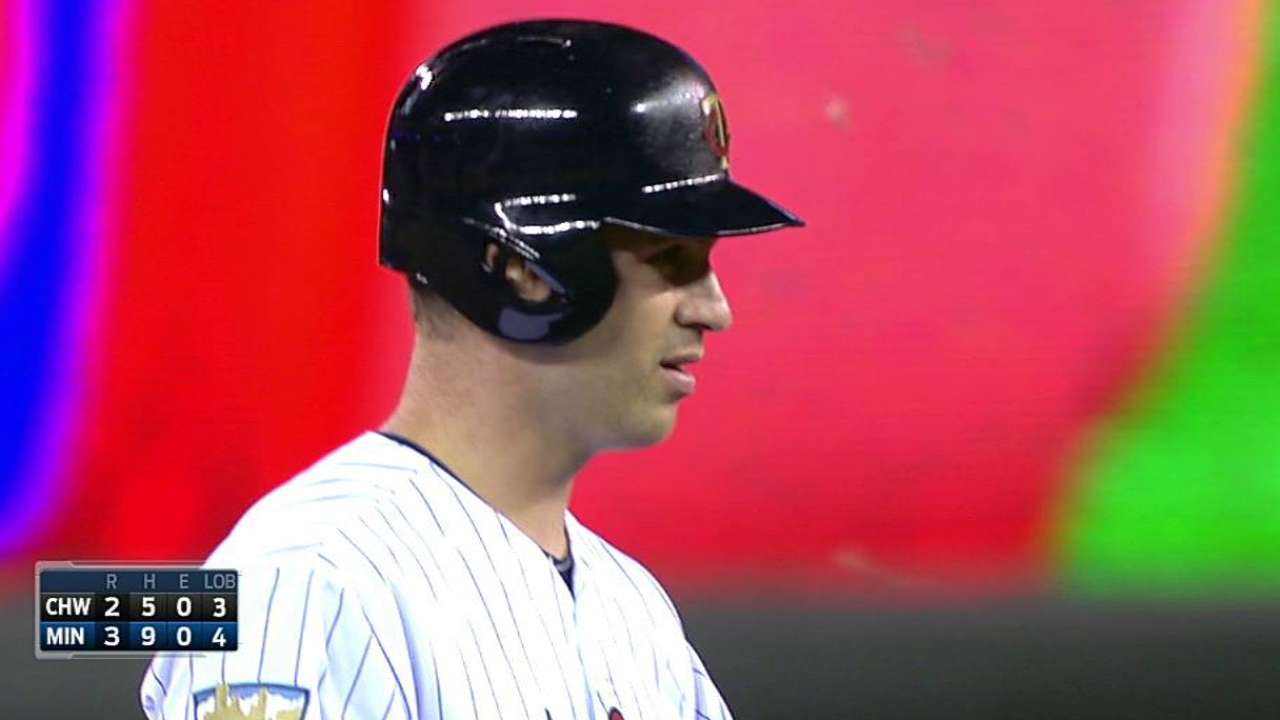 MINNEAPOLIS -- Joe Mauer finally broke through in Thursday night's 4-2 victory over the White Sox at Target Field.
The slumping first baseman tied the game in the third inning, and then doubled in the eighth to score the go-ahead run for his first multi-RBI game since May 3, and third total this season.
"I've been hitting the ball pretty good the last few weeks, and not having a lot to show for it," Mauer said. "But I was happy to come through. Had a couple chances to drive guys in, and I was happy to do it."
The Twins were glad to halt a five-game losing streak, a feat made possible by an excellent performance from 30-year-old pitcher Yohan Pino, who started his first career Major League game after spending 10 years in the Minors.
When a rain delay stalled his debut by an extra 126 minutes, Pino remained composed. He struck out the first two batters he faced -- Adam Eaton and Gordon Beckham -- and then coaxed a groundout from Conor Gillaspie to get his Twins career off to a perfect start.
"We didn't know too much about him," Chicago manager Robin Ventura said. "He's got a little unusual delivery, but it's deceptive. It makes his offspeed stuff a little better."
The Minnesota offense helped out early with a towering shot to left field by Josh Willingham, his sixth of the year. The left fielder turned on a 2-2 two-seam fastball from Jose Quintana and crushed it 419 feet between the second and third decks.
But the 1-0 lead didn't last long. Pino gave up a pair of singles to Alejandro De Aza and Eaton, and then walked Beckham to load the bases with one out. After a long meeting on the mound, Pino allowed a line-drive single to Gillaspie that scored De Aza and Eaton. Beckham was tagged out after overrunning second, and then Pino struck out Jose Abreu to end the threat.
That's when Pino began to catch fire.
He retired 12 of the next 13 batters he faced, including a two-strikeout seventh inning. By the time Casey Fien took over the eighth, Pino had left a trail of flummoxed Sox hitters who couldn't seem to solve the rookie's array of pitches as the game wore on.
"It was fun," he said through a translator. "I waited 10 years. I feel happy. I didn't feel nervous. I just wanted to do my job today."
Catcher Kurt Suzuki noted Pino's impressive demeanor on the rubber.
"His presence on the mound was like he'd been up here doing this for a long time," Suzuki said. "Just to see his face after his outing, I went over and talked to him on the bench and he was so happy. That's the kind of stuff you like to see as a catcher."
Twins pitchers put in three excellent performances in Boston earlier this week without a peep from the Twins bats.
That changed Thursday night.
Danny Santana got the Minnesota offense going in the bottom of the third with a double, and then Mauer collected his 17th RBI of the season with a line single to left field. Willingham nearly untied the game with another monster shot to left, but it sailed just wide of the foul pole and off the third deck of the party porch. He then made a loud out to the center-field warning track for the third out.
After several quiet innings, the offense revved up again the eighth. Santana was the catalyst once more, singling off Jake Petricka to open the frame. Brian Dozier followed that with another single to right, which pushed Santana to third.
With the game tied and no outs on the board, Mauer -- who entered the game with a career-low .254 batting average -- stepped up to the plate.
"That guy that was throwing last, that was the first time I'd seen him, so I was just trying to stay short and hit the ball hard," Mauer said.
The six-time All-Star dribbled a double past Sox third baseman Gillaspie and down the left-field line to score Santana and put the Twins up 3-2. Suzuki quickly followed with a sacrifice fly to center field to score Dozier.
"It's been a frustrating month, I guess," Mauer said. "I've been hitting the ball pretty good, trying to be consistent, but not having the results. Tonight, I had the results. So hopefully, that continues."
In the ninth, Glen Perkins gave up a single to Abreu, but didn't run into any other trouble and picked up his 18th save of the year.
Alex Smith is an associate reporter for MLB.com. This story was not subject to the approval of Major League Baseball or its clubs.