Ramirez solid, but Mariners can't hold late lead
Righty throws six shutout innings before Padres rally with four-run 7th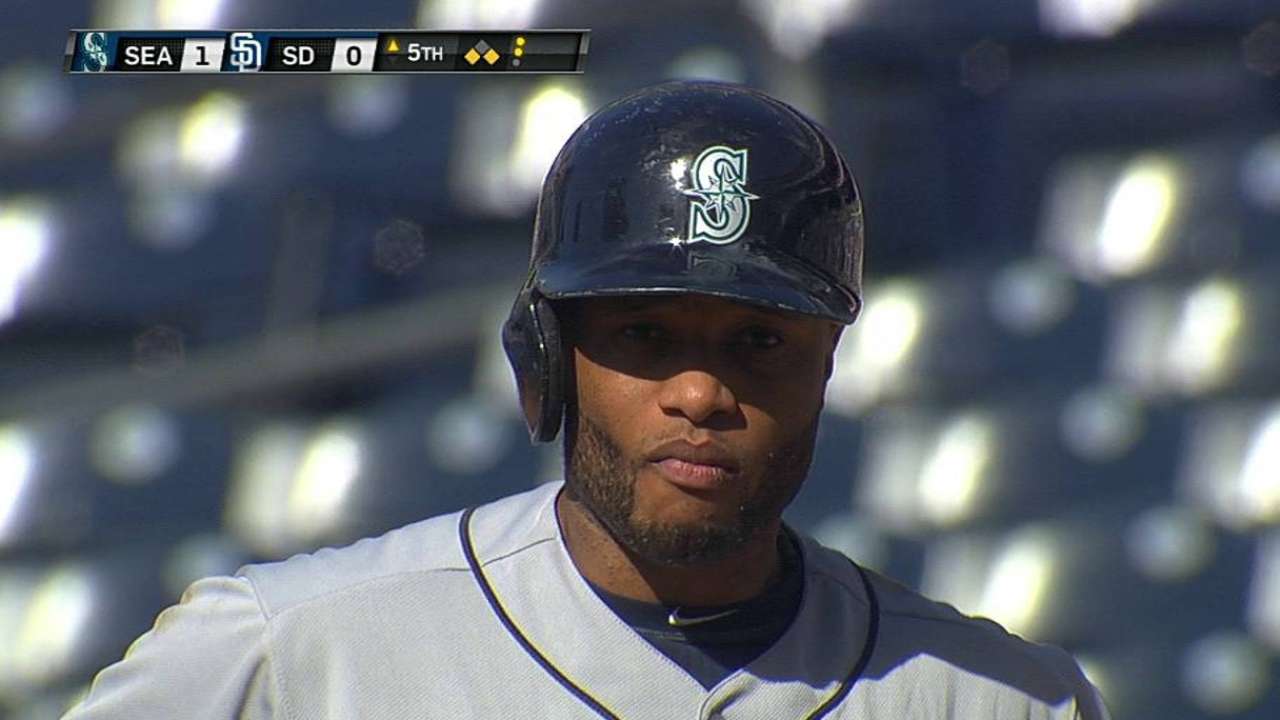 SAN DIEGO -- For the second game in a row, the Mariners squandered an outstanding outing from their starting pitcher on Thursday as they dropped a 4-1 decision to the Padres. But this time it was Erasmo Ramirez, not Felix Hernandez, getting only one run to work with as Seattle lost both games in a quick series at Petco Park.
Ramirez has had his struggles this season, but the 24-year-old right-hander pitched six scoreless innings and then watched as the normally stout Mariners bullpen couldn't hold the lead.
Ramirez held San Diego to two singles and two walks in a 70-pitch outing before manager Lloyd McClendon pinch-hit for him in the top of the seventh in the Interleague game with a 1-0 lead.
Ramirez wound up with a no-decision when the Padres quickly jumped on rookie reliever Dominic Leone for four runs in the seventh. McClendon felt good about turning the game over to a bullpen that had the lowest ERA in the American League at 2.70, but this time it didn't work.
"I think we've all been through this and lived it," McClendon said of replacing Ramirez at that point. "He's struggled to this point and we're finally starting to turn a corner with him. If we can get him out of there on a positive note and continue to build and continue to build, that's what we're going to do. Our bullpen just didn't hold it."
Ramirez certainly didn't balk at being pinch-hit for by Stefen Romero, even after the young outfielder grounded out on a day the Mariners managed only an unearned run in seven innings against Padres rookie Jesse Hahn.
"We have to respect the manager's decision," Ramirez said. "I'm not the best hitter on the team, so that was a good idea. Nothing happened, but that was the idea. I remember when I was against the Braves [on June 3], Romero pinch-hit for me and got the [three-run] homer to tie the game. That kind of situation, you never know what's going to happen. That's baseball."
But the Padres did appreciate seeing a new pitcher on the mound, and they jumped on Leone with back-to-back triples, a single and a walk leading to his four runs in just a third of an inning.
"We just couldn't get to Ramirez," said Padres skipper Bud Black. "Whether we were behind the fastball or ahead of the change, he and [catcher John Buck] had us going back and forth all day. He had us in the vice grips. But they made a pitching change and it got us going."
Leone was fourth among all AL relievers coming in with his 1.19 ERA, though that jumped to 2.35 after his rough outing. The hard-throwing 22-year-old surrendered triples to Tommy Medica and Cameron Maybin and an RBI single by pinch-hitter Chris Denorfia before Joe Beimel came on and allowed two more of Leone's baserunners to score on a single to center by Everth Cabrera.
"It's going to happen. That's why you play 162 of these," said Leone. "You just go out and learn from it. Everything was a little up today, just bad execution on my part. They did what they're supposed to do, which is put good swings on it."
McClendon wasn't about to over-analyze his pitching in this one, knowing the real problem was his team scoring just one run in consecutive games and leaving his hurlers with precious little wiggle room.
"It's baseball," he said. "The guys came out, made some pitches and they got hit. We move on and get ready for tomorrow. [Leone] got hit. It happens to everybody."
Ramirez still hasn't won his since his first start of the season back on April 1, as he remains 1-4 with a 4.62 ERA in 10 outings. But the Mariners were pleased to see progress from the youngster, who self-corrected this time after walking two to lead off the second.
After that point, he retired 15 of the last 16 batters he faced.
"The second inning was the one that helped me come back to being myself," Ramirez said. "I walked two guys and after that, I just focused on getting ahead, getting ahead, no matter what pitch. I put it in my mind that I've just been working so hard every day on every pitch I've got. Why be scared to throw the ball in the middle of the plate? That's what I did today. The changeup, slider, fastball, curveball, everything was working."
Buck said Ramirez has been experimenting with a new two-seam fastball that has a lot of movement, so he did better this game when he quit trying to work the corners.
"He did awesome," said Buck. "At the beginning, it was the same old things I'd seen where he was nibbling at the edges again. I got in his ear a little bit and he made the adjustment right away. That's another step forward for him because that's a huge adjustment."
The Mariners had taken a 1-0 lead with an unearned run in the fifth on Robinson Cano's run-scoring single, his 40th RBI of the year. Cano went 3-for-4 to raise his average to .333, which is 24 points above the career average of .309 he posted in nine years with the Yankees.
But that was all the offense Seattle could muster. Hahn, making just his third Major League start, got the win for San Diego as the Padres (31-42) dropped Seattle to 37-36 and evened the season series at 2-2.
Greg Johns is a reporter for MLB.com. Follow him on Twitter @GregJohnsMLB as well as his Mariners Musings blog. This story was not subject to the approval of Major League Baseball or its clubs.