Blue Jays can't solve their Bronx blues in finale
Hutchison yields four runs in 4 1/3 innings, while defense is spotty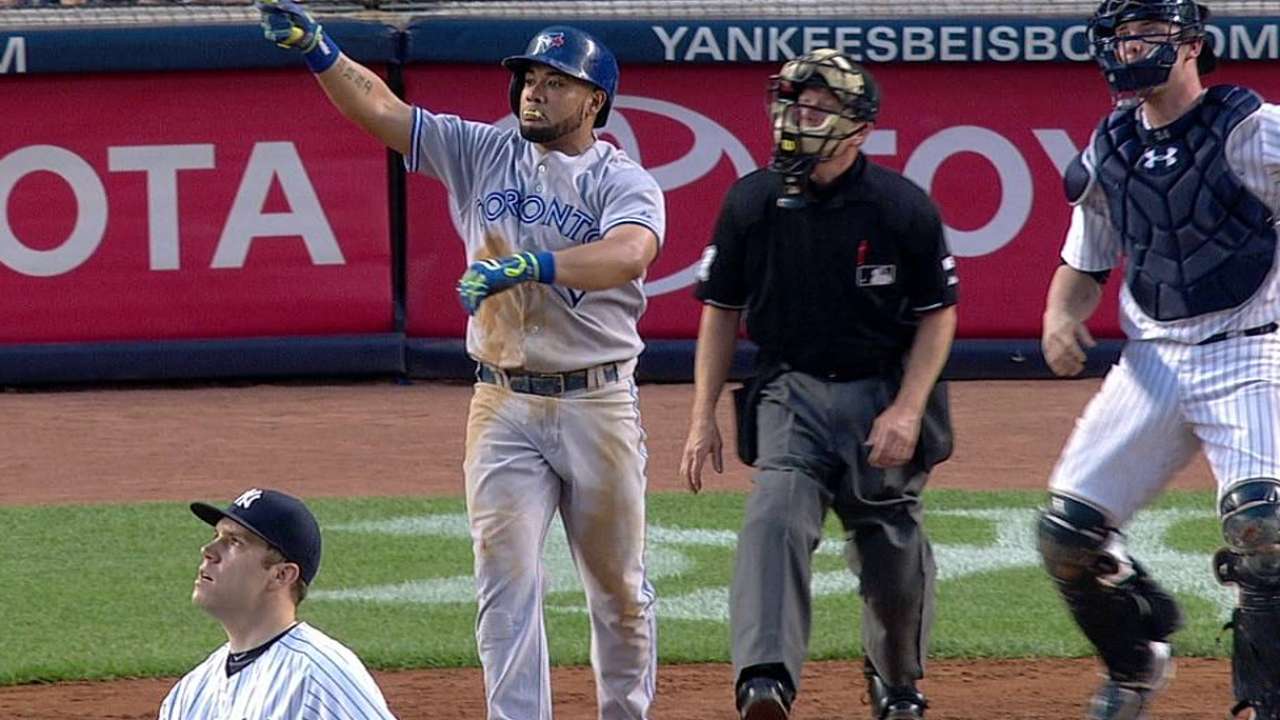 NEW YORK -- The Blue Jays made a quick exit out of the Bronx on Thursday night, but their departure likely couldn't have come soon enough for a lot of players on the team.
Yankee Stadium has become a House of Horrors for the Blue Jays in recent years and their first series of 2014 was no different. It has gotten to the point where Toronto's prolonged skid has reached historic proportions.
The Blue Jays found themselves in familiar territory as they were once again swept with a 6-4 loss to their American League East rivals. Toronto's losing streak in New York has reached a franchise-record 16 games and dates all the way to 2012.
"Yeah, I would say so," Blue Jays manager John Gibbons said when asked if he was happy to be leaving town. "Hey, if you can play in primetime, you have to perform on the big stage and we didn't do it. We're fully capable of doing it, we just didn't do it. So, yeah, it'll definitely be good to move on."
The 16 losses mark the longest road losing streak by any Major League club vs. a single opponent since the Orioles dropped the same number of games against Toronto from Aug. 8, 2009 to June 15, 2011. It's also the longest home winning streak for the Yankees since they won 19 in a row against Cleveland from June 10, 1960 to April 21, 1962.
Toronto's record in New York gets even worse when dating to 2011 with a total of two wins in 27 games. The Blue Jays have lost 10 consecutive season series on the road in New York, with a 29-66 record over that span. According to the Elias Sports Bureau, New York's all-time record vs. Toronto at the current Yankee Stadium (38-11) is the best for any Major League team vs. an opponent at any stadium -- minimum 30 games.
These are all factoids that the Blue Jays would like to see come to an end, but they won't have a chance to reverse their fortunes until the next series on July 25-27.
"It's a big stage here, you have to perform here," Gibbons said. "Whether you like it or not, whether you're struggling or not, you have to be able to scratch out a win somehow because that's what the great teams, the teams that go on to win, do. The next time we come to town, we have to change that around a little bit."
Reliable fielding has been a strength for Toronto all season, but it was a noticeable weakness in the series finale. The Blue Jays were unable to make some routine defensive plays and not only did it increase the pinch count for starter Drew Hutchison, but it led to a run in almost every situation.
In the first inning, Juan Francisco was unable to make a play on a slow grounder to third. In the second inning, second baseman Steve Tolleson dropped a routine ground ball and had to settle for a fielder's choice. In the third, catcher Erik Kratz couldn't make the pick on a short hop from left fielder Melky Cabrera.
Hutchison compounded the issues with some control problems and by the fifth inning three runs were in, and he found himself closing in on the 100-pitch mark. The right-hander departed with two runners on, one out, and saw his pitching line come to a close when left-hander Aaron Loup surrendered an RBI double to Carlos Beltran. Hutchison was charged with four runs on six hits and four walks over 4 1/3 innings.
"That's just baseball," Hutchison said. "You talk about the double-play ball, but I walked the leadoff guy to put him on in that situation. Those are things you can't do to be successful either. It's just baseball, you have to keep grinding and finding ways to win."
The positive the Blue Jays can take away from Thursday night's game is that the power in their lineup returned. Cabrera hit his 11th of the season in the third and Edwin Encarnacion added his 21st in the eighth. Both were two-run shots and came following a stretch when Toronto had two homers in a span of eight games.
Encarnacion's late home run also was the only thing that saved the Blue Jays from scoring three runs or fewer for the 10th time in 13 games. This time it was Yankees right-hander David Phelps who got a quality start after allowing two runs over seven innings to complete the sweep and climb within 1 1/2 games of the first-place Blue Jays.
"They did a really good job," Yankees manager Joe Girardi said of his pitching staff, which allowed eight runs in the series. "They had a lot to do with our success. We know how explosive of an offense that is over there. That offense has scored more runs than any offense in the American League East and our guys did a really good job."
Gregor Chisholm is a reporter for MLB.com. Read his blog, North of the Border, and follow him on Twitter @gregorMLB. This story was not subject to the approval of Major League Baseball or its clubs.