Sarah's Take: Kershaw nearly perfect vs. Rockies
No-hitter vs. Colorado the high point of young lefty's stellar career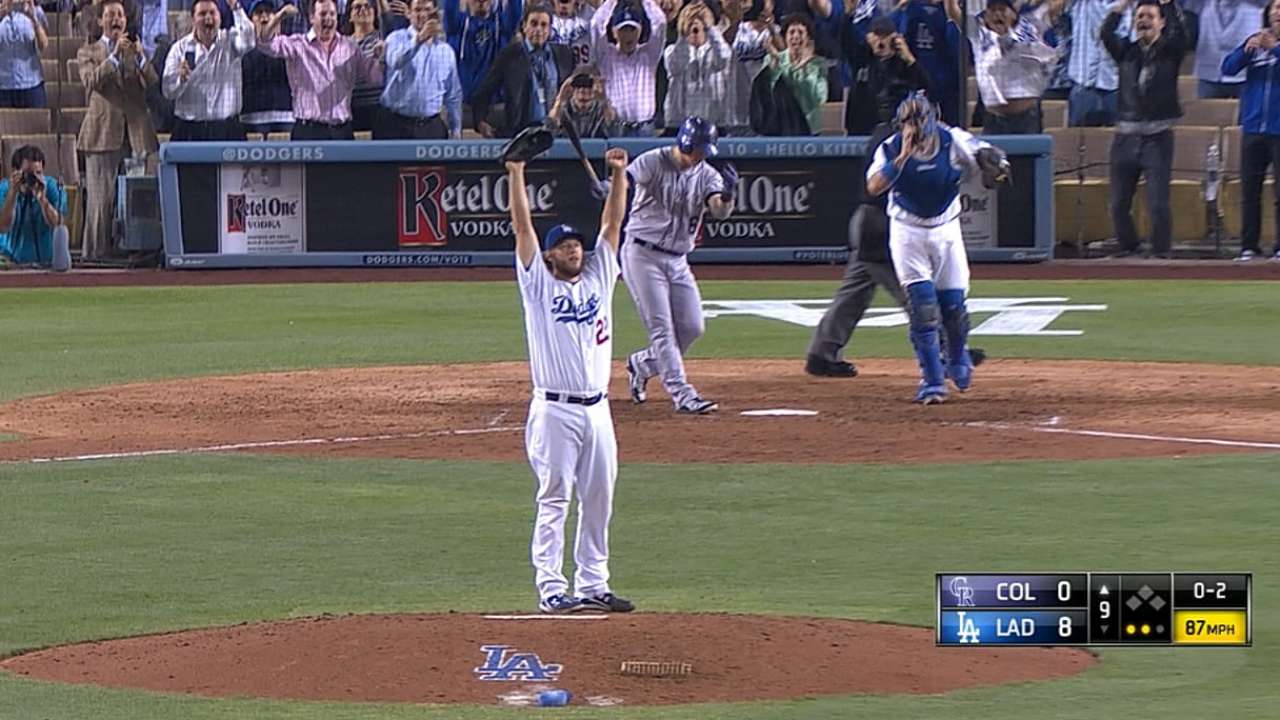 Clayton Kershaw narrowly missed pitching a perfect game Wednesday night against the Colorado Rockies, but he pitched the first no-hitter of his career. Major League Baseball has had two no-hitters this season, and both belong to the Los Angeles Dodgers.
From the minute that Kershaw appeared in his first exhibition game in 2008, many experts believed he someday would pitch a no-hitter, perhaps a perfect game. After winning two National League Cy Young Awards and earning the reputation as the best pitcher in the Majors, the 26-year-old who is wise beyond his tender age accomplished that expected feat, but it didn't lessen the excitement.
The 2014 season has been the most difficult for Kershaw since he has been in the Majors. After signing a long-term lucrative contract to stay with the Dodgers, Kershaw wanted to perform well to justify the Dodgers' commitment to him. What he has done since he has been in the Majors would justify that commitment, but Kershaw is never satisfied with his performance.
Throughout Spring Training, Kershaw struggled because his curveball didn't break like it always has. His control was a problem. His poor performance during Spring Training could be attributed to the high altitude and dry air of Phoenix, but it still frustrated Kershaw. No one else was worried about his performance.
Kershaw pitched brilliantly against the Arizona Diamondbacks on Opening Day in Australia. Even though he didn't throw too many pitches for a typical Opening Day, it was too much for a pitcher who didn't have a full Spring Training. Kershaw developed inflammation in his shoulder blade that caused him to go on the disabled list for the first time in his career. During the month-long stint on the disabled list, Kershaw played soft toss for his rehabilitation. After making two Minor League starts, Kershaw returned to the active roster and the Dodgers' starting rotation.
Kershaw has pitched well despite having the poorest start of his career in May against the D-backs. With each outing, he has become stronger and looks more like his dominant self. For the first time in his career, Kershaw has pitched for an extended period throwing to a catcher other than either Russell Martin or A.J. Ellis. It required an adjustment period, but Kershaw and Drew Butera developed a working relationship.
Last Friday, Ellis returned to the active roster and caught Kershaw's victory over the D-backs. Both Ellis and Kershaw, who are best friends on the Dodgers, are the hardest workers on the team. Ellis was behind the plate Wednesday night enabling Kershaw to relax and concentrate on how he threw pitches instead of on what he threw. Although the media focused on Kershaw's incredible accomplishment, Ellis' superior pitch-calling ability played a major role in Kershaw's memorable game.
From the beginning of the game, everyone suspected it would be a special night for Kershaw. His slow-rainbow curveball was unhittable and froze many young Rockies. Colorado is without Carlos Gonzalez (who had a tumor removed from his finger), Michael Cuddyer (who has a broken shoulder) and Nolan Arenado (who has a broken thumb). Even if the Rockies were at full offensive strength, Kershaw would have had a splendid night.
To open the seventh inning, Hanley Ramirez, playing with an injured ring finger, threw away a routine ground ball for an error, destroying the bid for the perfect game. Typical Kershaw, he immediately gave Ramirez a few words of encouragement after the error. Though throwing a perfect game would have been remarkable, Kershaw is thrilled about throwing a no-hitter.
Dodger Stadium hadn't seen such a magnificent pitching performance since July 1995 when Ramon Martinez threw a no-hitter against the then Florida Marlins. Kershaw's marvelous control, the best during his career, enabled him to use only 107 pitches to get 27 outs. Kershaw recorded a career-high 15 strikeouts, and many Rockies looked at strike three. Colorado appeared to be stunned after the game since it is a great hitting team.
Most pitchers who throw a no-hitter struggle in the ninth inning, battling both nerves and exhaustion. Not Kershaw! Using only six pitches to retire the Rockies in the ninth inning, Kershaw recorded his 15th strikeout for the last out. It was a special and memorable night at Dodger Stadium.
Sarah Morris is a contributor for MLB.com. This story was not subject to the approval of Major League Baseball or its clubs.