D-backs, Anderson bested by nemesis Gallardo
Pair of defensive gaffes leads to two crucial Milwaukee runs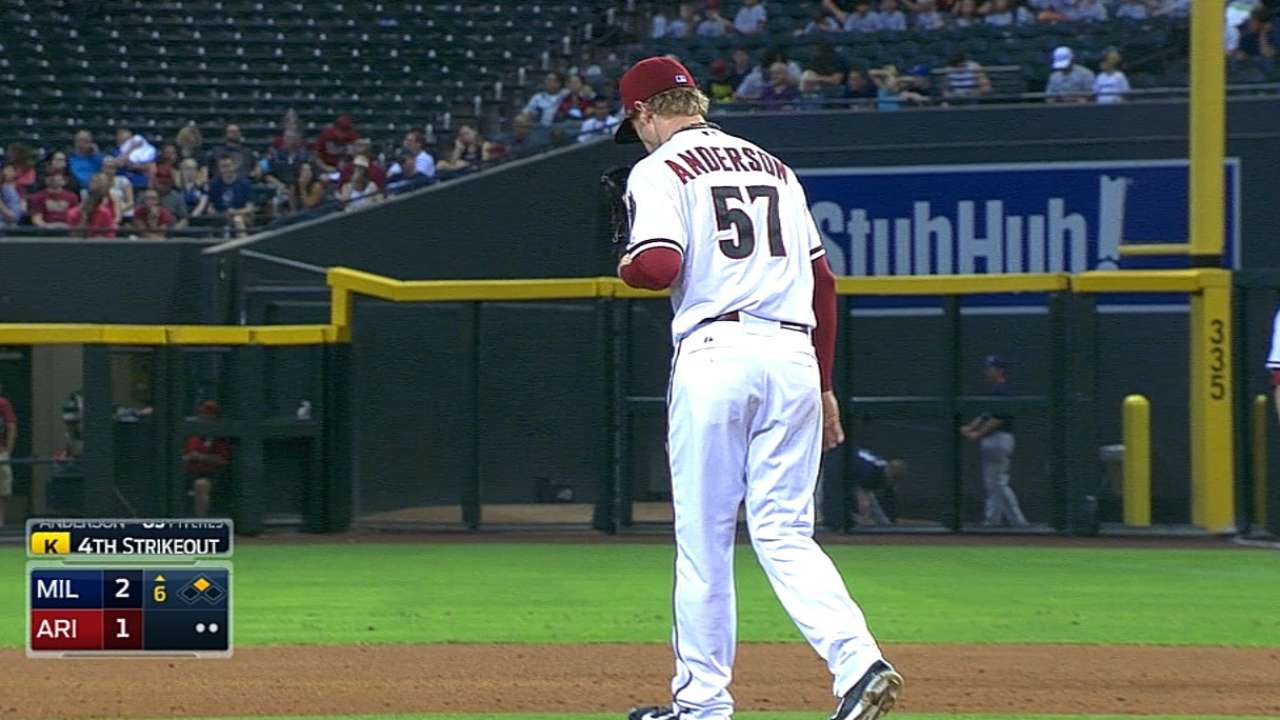 PHOENIX -- The D-backs have never been able to figure out Yovani Gallardo.
The Brewers right-hander came into Thursday's game with a 7-0 record and a 1.80 ERA against the D-backs over career 11 starts, including two in the postseason. He was even better than that on Thursday.
Gallardo gave up only one run in seven innings of work in a 4-1 victory at Chase Field, clinching the four-game set for the Brewers.
"He can spot the ball wherever he wants to," D-backs manager Kirk Gibson said. "He's a good athlete. … We've had him on the ropes several times, but some way he seems to wiggle out of it. Today, he just kind of dominated us."
The D-backs pitcher tasked with going toe-to-toe with Gallardo was rookie Chase Anderson. Gallardo had more starts against the D-backs than Anderson had appearances in the Major Leagues.
But for much of the game, Anderson battled Gallardo and kept it close. Neither pitcher gave up a hit through the first three innings. The D-backs actually got into the hit column first -- shortstop Chris Owings picked up a single in the fourth inning -- but the Brewers were the first to score.
"I felt really good, actually," Anderson said. "That was one of the better days I've felt out there on the mound."
Brewers manager Ron Roenicke added: "I really liked their pitcher and what he did. That's the first time we've seen him and this guy has a good idea of what he's doing."
Anderson pitched an inning longer without a hit, but when he did, the Brewers took advantage of it and broke the game open.
Brewers third baseman Aramis Ramirez led off the fifth with a double, and first baseman Lyle Overbay drove him in with a hit up the middle. Ramirez had no trouble scoring from second on the play, but no D-backs infielder covered second, allowing Overbay to turn his single into an uncontested double.
Gibson said after the game that Owings, who swiped and missed at the bouncing ball as his momentum took him into right field, would have been at second if he could. With him in shallow right, it was third baseman Didi Gregorius -- who was making his first start at third base -- who was supposed to cover the bag.
Overbay's extra base allowed him to score the second run of the inning on a bloop single to center from right fielder Elian Herrera.
"They got some good breaks this series, and you do kind of make your breaks," Gibson said. "They outplayed us and they beat us."
The D-backs chipped away in the bottom half of the fifth, scoring a run to cut the Brewers' lead to one, but in the next inning, another miscue led to a run.
Shortstop Jean Segura hit a chopper to the third-base side. Anderson (5-2) tried to nab the speedy Segura at first, but threw the ball away, allowing Segura to reach second and later score on a single by Ramirez to give the Brewers a 3-1 lead.
"I should have just ate it," Anderson said. "I guess I should have known he was a fast runner. … I guess it's just the adrenaline going; you want to throw it and try to get him out. I should know he's a fast runner and not do that."
Like Gibson said, the Brewers made their own breaks. They took advantage of run-scoring situations, going 5-for-10 with runners in scoring position while Gallardo cruised to his fifth win of the season.
"He's been tough against a lot of guys," Aaron Hill said. "He's a really good pitcher, obviously. We haven't managed to do much against him. It seems like we get a few guys on base every now and then, and then he just kicks it into another level."
Adam Lichtenstein is an associate reporter for MLB.com. This story was not subject to the approval of Major League Baseball or its clubs.