Nick of time: Clutch slam powers Indians
Swisher's walk-off homer secures series win; Masterson solid for seven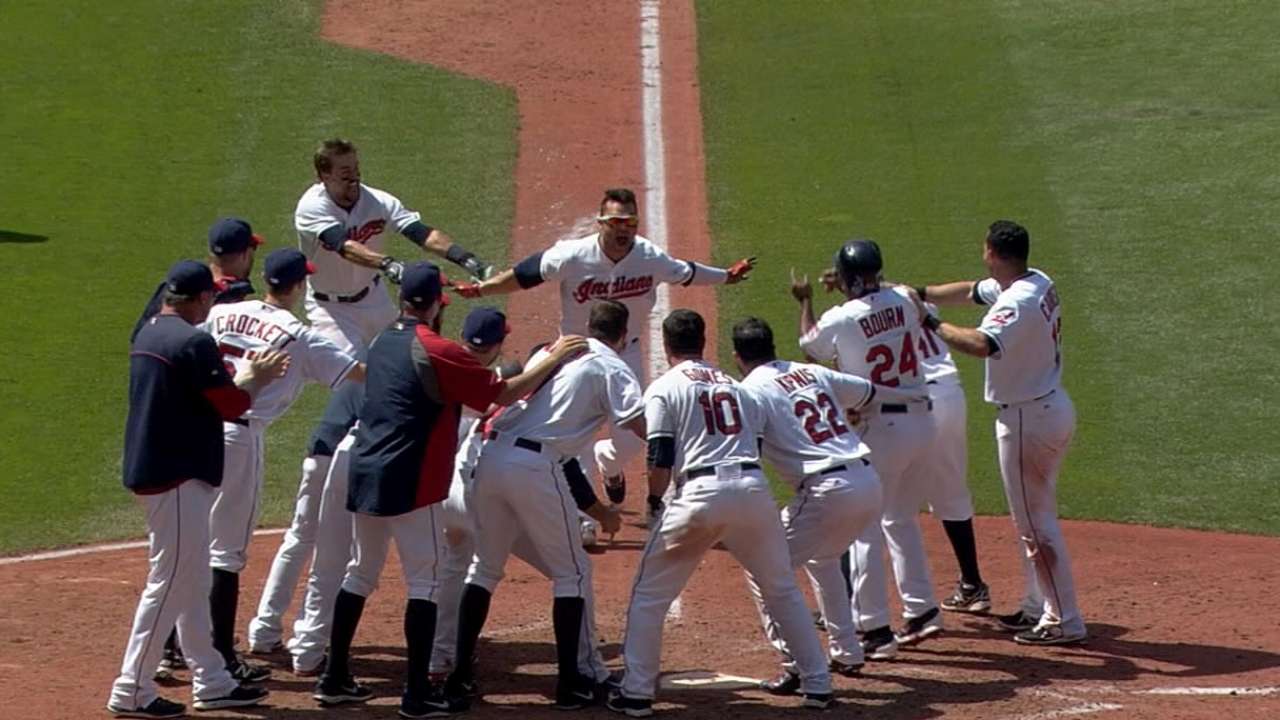 CLEVELAND -- Nick Swisher threw his arms out at his sides, glided around first base and soaked in the cheers that surrounded him. Launching a walk-off grand slam was as satisfying an end to a day as the Indians' designated hitter could have imagined.
On his way to the ballpark Thursday morning, Swisher was caught in a heavy traffic jam that threw off his normal routine. In his first four at-bats against the Angels, he struck out three times and heard boos from the frustrated Tribe faithful. It was all forgotten in the 10th inning of Cleveland's 5-3 triumph.
"One at-bat can turn a whole day around," Swisher said with a wide smile.
This is the Swisher the Indians had in mind when they brought his steady bat and contagious energy to Cleveland prior to last season. Twice in the past four games, he has belted a game-deciding blast for the Indians, giving hints that he might be on the cusp of prying himself from a three-month slump in the batter's box.
Swisher's 11th-inning home run on Sunday in Boston helped the Indians end their last road trip on a high note. His grand slam off Ernesto Frieri in the 10th inning on Thursday took things to another level. After Justin Masterson and Cleveland's bullpen kept the contest close, Swisher's final swing overcame a late Angels rally and upped the Indians' record at home to a Major League-best 23-12.
"I've never hit a walk-off grand slam before," Swisher said. "Man, I'm a little giddy right now."
It marked the sixth walk-off win for Cleveland (37-36) this season. All of them have come within the past 17 home games, during which the Indians have gone 13-4 in front of their fans at Progressive Field. The walk-off grand slam was the first for the Tribe since Travis Hafner's game-winning shot against the Blue Jays on July 7, 2011.
"I don't know what the science is behind it," Masterson said of Cleveland's propensity for heroics at home. "But in sports in general, it's the home-field advantage. We just seem to like it that much more, feel a little extra comfortable."
Cleveland's comfort level helped the club brush off the Angels' late push.
In the top of the 10th inning, Angels slugger Albert Pujols beat the Tribe's pull-oriented defensive shift with a chopper through the right side of the infield. The base hit off Indians reliever Scott Atchison scored both Kole Calhoun and Mike Trout, giving his squad a 3-1 advantage. As Pujols ran up the first-base line, he pumped his fist as he looked to the visitors' dugout.
After Masterson and Angels lefty C.J. Wilson were each masterful for seven innings, it looked like the Angels finally had their break. All they had managed against Masterson was a lone run on a wild pitch, while Cleveland's only breakthrough against Wilson came via a run-scoring groundout from Michael Bourn. There were plenty of baserunners, though the two clubs stranded a combined 15.
"It was just a battle the whole time for everybody," said Masterson, who allowed four hits, walked three, hit one batter and threw 116 pitches.
That struggle just made Cleveland's comeback more dramatic.
---
"I love being in those spots. Either you're going to get a hit and be the hero, or you're going to be the goat. One of the two. It was nice to come out on top and be the hero."
-- Nick Swisher
---
Facing Angels reliever Cam Bedrosian, Bourn led off with a walk. After Asdrubal Cabrera struck out, Jason Kipnis delivered a double -- one that required an all-out sprint to stretch it into an extra-base hit -- that sliced into the left-center-field gap. Carlos Santana then worked a walk to load the bases for David Murphy with one out.
"Bourny was very patient, had a really good at-bat," Indians manager Terry Francona said. "Kip with a really good at-bat, and better baserunning. He got us in position where if we could get a hit, we could keep playing. The guys just kept on making [Bedrosian] throw strikes."
At that point, the Angels handed the ball to Frieri, who forced Murphy to fly out to left field.
"I just assumed Murphy was going to [win it]," Swisher said with a laugh.
Heading into his final at-bat of the day, Swisher was mired in a 2-for-24 funk with 10 strikeouts and no walks since coming off the disabled list after a left knee injury. Following his third strikeout of the afternoon in the sixth inning -- one that stranded a pair of runners -- he heard some catcalls from the Progressive Field crowd.
"Hey, that's what happens being a baseball player," said Swisher, who has hit just .200 through 55 games this season. "Sometimes that's going to happen. You've just got to keep going out there fighting, grinding, scrapping and just know that good things are going to happen."
Francona has kept the faith, too.
"He'll still impact us offensively," the manager said. "There's guys, when their baseball card's that long and they're not hurt, they'll hit."
Or, in this case, they will hit it out -- in style.
"I love being in those spots," Swisher said. "Either you're going to get a hit and be the hero, or you're going to be the goat. One of the two. It was nice to come out on top and be the hero."
Jordan Bastian is a reporter for MLB.com. Read his blog, Major League Bastian, and follow him on Twitter @MLBastian. This story was not subject to the approval of Major League Baseball or its clubs.