Royals' remarkable run ends at 10 in tight finale
Duffy deals despite tough-luck fourth; club heads home with confidence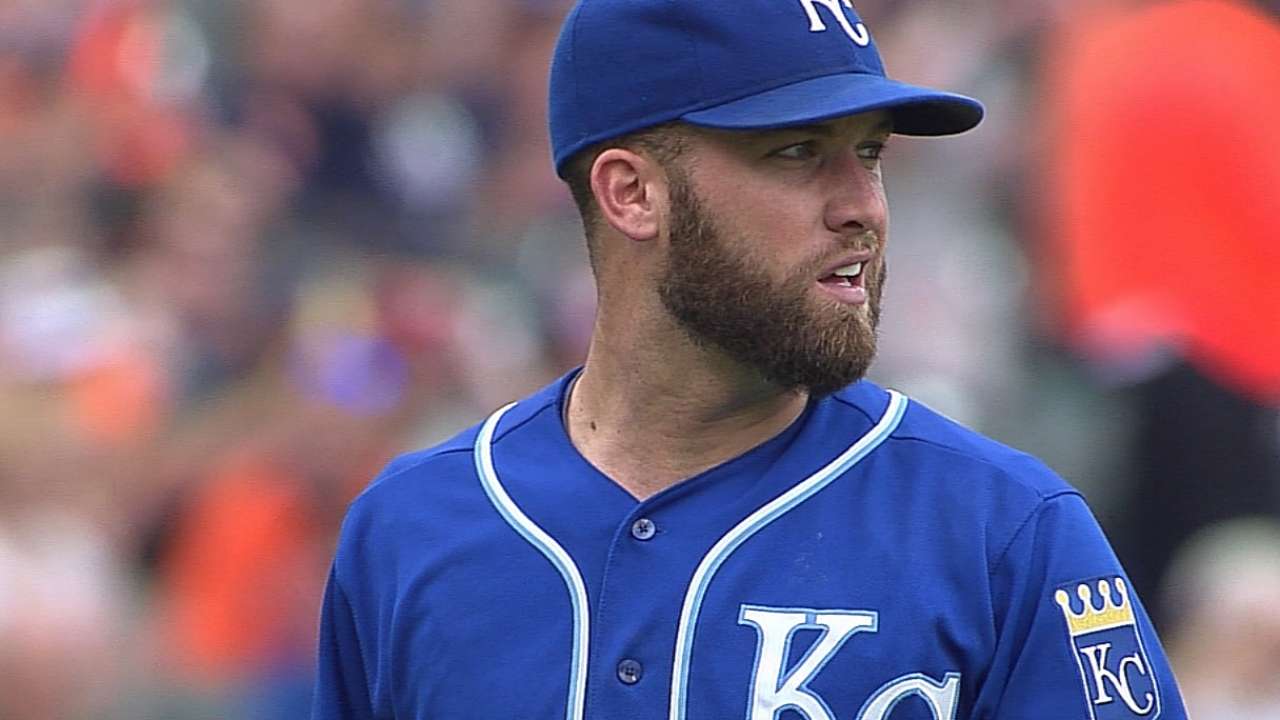 DETROIT -- The streak is over.
The Detroit Tigers, despite wobbling after losses in the first three games of this series, ended Kansas City's 10-game winning streak with a 2-1 victory to delight a hometown crowd of 35,715 on Thursday afternoon at Comerica Park.
The Royals' streak was the longest going in the Major Leagues and matched the third longest in franchise history. The 1977 club had a 16-game streak, and the pre-strike 1994 Royals won 14 straight. There were 10-game streaks also in '77 and '78.
Despite the loss, the Royals retained first place in the American League Central, leading the Tigers by a half-game.
"The streak's over, but we're still playing some tremendous baseball," said designated hitter Billy Butler.
The Royals finished a 6-1 road trip and returned to Kansas City for a nine-game homestand against the Mariners, Dodgers and Angels.
"We're going to go home with a lot of confidence," Butler said. "We're going home in first, and we think the fans are excited. And we're going to take it to Seattle."
The primary problem on Thursday was the Royals ran into right-hander Anibal Sanchez, who always gives them fits. Not in any of his six starts against them have the Royals scored more than a single run.
"Every time we see him, we see him on top of his game," Butler said. "Granted, he didn't have any strikeouts today. That's just the offense putting balls in play, and we're hitting balls hard. We hit some balls today that just didn't find holes."
Sanchez, who once struck out 17 Braves to set a Tigers record, had zero strikeouts in a game for the first time in his career.
The only run came in the first inning on doubles by Nori Aoki and Butler. Sanchez was backed by Joba Chamberlain's scoreless eighth inning and a three-strikeout ninth by closer Joe Nathan.
Also effective in his seven innings was Royals left-hander Danny Duffy. Both Tigers runs came in the fourth, which began with Austin Jackson's single, something of a lucky hopper.
"It hit off the lip in front of home plate, where the grass and the dirt meet, and bounced over my head," said third baseman Mike Moustakas.
Jackson scored immediately on Miguel Cabrera's double to the left-center-field wall. Victor Martinez flied out and Cabrera was doubled off second base, the result of an instant replay challenge.
But J.D. Martinez spoiled things, permanently as it turned out, by lofting a home run over the right-field wall. That was the winning run.
"I threw a fastball when I probably should have thrown something offspeed, and the dude went down and got it," Duffy said. "It was down and in, even out of the zone, and he went down and golfed it."
But Duffy made few mistakes. He gave up just three hits and walked one.
"They keep asking, 'Has Duffy arrived? Is Duffy there yet?' " Royals manager Ned Yost said. "After today, I'm like, 'OK, I think he's there.' Because his last four or five starts have been really, really good."
Duffy retired the last 10 batters he faced. Aaron Crow finished up with a scoreless eighth.
As the Royals packed up to leave, Yost was asked if the 10-game winning streak and the ascension to first place had made him feel better about his team.
"No better," he said. "Because I trusted my players two weeks ago like I trust them now. I knew that it's a long, long season, and over the course of a season I knew we would get to where we needed to be and get to a point where we could compete. And that's where we are now."
At any rate, the players seemed to trust themselves a bit more, adding some additional swagger to their makeup. They've won 15 of their last 20 games.
"We know what we can do. We can rattle off some wins," Duffy said. "It's been a lot of fun, and we want to keep it fun, keep it rolling like it is."
It was rather clear how the Tigers felt about their guests.
"I'm kind of happy they're gone," J.D. Martinez said.
Dick Kaegel is a reporter for MLB.com. This story was not subject to the approval of Major League Baseball or its clubs.