Pipeline preview: Appalachian League set to start
First-round Draft picks Gordon, Griffin among those making Minor League debut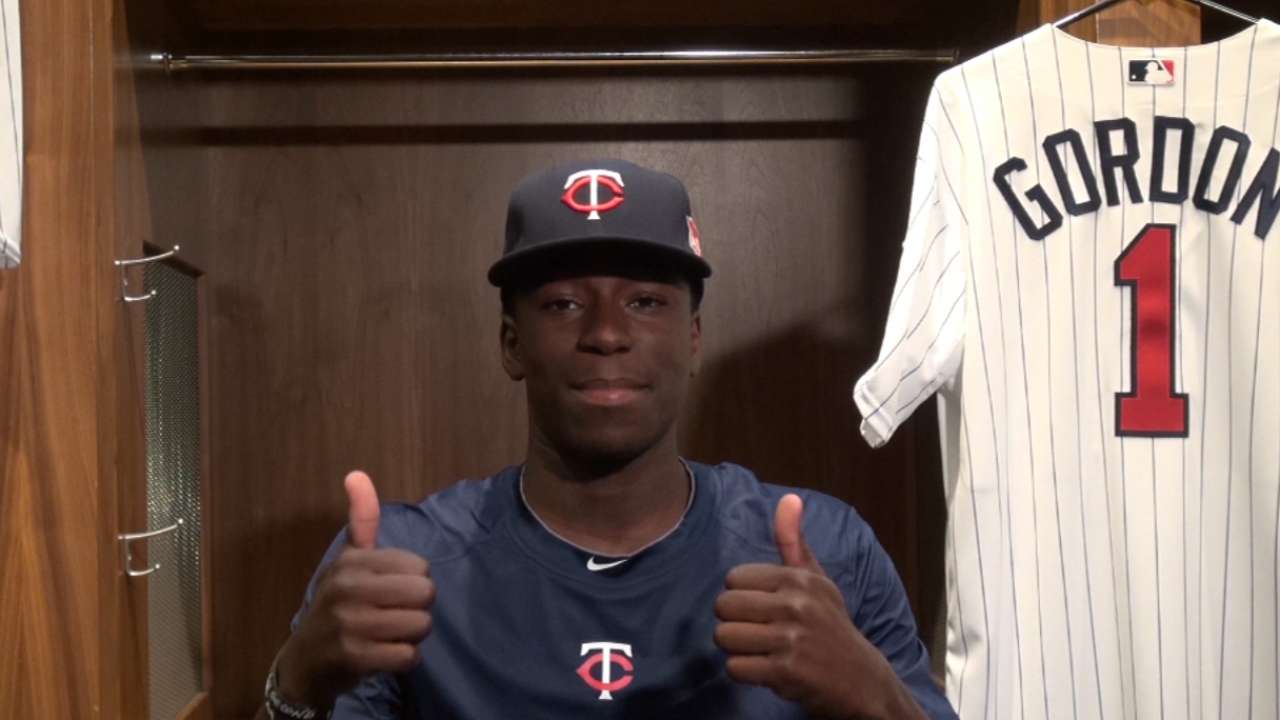 Shortstop Nick Gordon and left-hander Foster Griffin were among the 34 players selected June 5 in the first round of the 2014 First-Year Player Draft. Now, two weeks later, they are set to make their professional debuts.
Gordon and Griffin -- as well as many other young prospects -- will begin the season Thursday as the Appalachian League celebrates its Opening Day. All 10 teams will be in action, beginning with Burlington visiting Pulaski, the defending champions, at 7 p.m. ET.
The Twins made Gordon, the son of former All-Star closer Tom Gordon and the brother of Dodgers second baseman Dee Gordon, the fifth overall selection in the Draft. He now begins his quest to join his father and brother in the big league fraternity. Among Gordon's new teammates are left-hander Stephen Gonsalves and right-hander Luke Bard, who are ranked as the Twins' Nos. 16 and 17 prospects.
Griffin was selected 28th overall by the Royals and has been assigned to Burlington, where he is a part of one of the most prospect-laden rosters in the league. Kansas City doesn't have a team in the Arizona Rookie League this year, making Burlington the lowest rung on its Minor League ladder in the U.S. As a result, the roster is filled with young, talented players such as 17-year olds Marten Gasparini and catcher Chase Vallot. Gasparini, the Royals' No. 20 prospect, is a native of Italy and signed for $1.3 million last summer, a record for a European amateur. Vallot enticed scouts with his power this spring and Kansas City selected him with the 40th overall pick.
The Blue Jays have also sent a strong crop to Bluefield. Its Opening Day roster is led by first baseman Rowdy Tellez, the Toronto's No. 17 prospect. He will share the infield with shortstop Richard Urena, who ranked No. 9 on MLBPipeline.com's Top 20 International Prospects when he signed with the Blue Jays in 2012. Also on the team are outfielders Anthony Alford and Jake Anderson and left-hander Matt Smoral.
Other notable prospects on Opening Day rosters include Danville right-handers Carlos Salazar and Alec Grosser (the Braves' Nos. 12 and 18 prospects), Kingsport right-hander Andrew Church (the Mets' 2013 second rounder) and Princeton catcher Nick Ciuffo and right-hander Riley Unroe (the Rays' Nos. 6 and 16 prospects).
While it is a big day in the Appalachian League, it is also expected to be one in the Cubs organization. Third baseman Kris Bryant and catcher/outfielder Kyle Schwarber, the team's last two first-round Draft picks, were both promoted Wednesday and are expected to debut with their new teams Thursday. Bryant, who is ranked No. 8 on MLBPipeline.com's Top 100 Prospects list, will move up to Triple-A Iowa after a sensational first half with Double-A Tennessee. He leaves leading the Southern League in all three Triple Crown categories (.355 batting average, 22 home runs, 58 RBIs), as well as on-base percentage, slugging percentage, runs and walks. Bryant will team up with Cubs' No. 1 prospect Javier Baez on the left side of the Iowa infield when they take on El Paso at 8:05 p.m. ET on MiLB.TV.
The Cubs made Schwarber the fourth overall pick in the 2014 Draft and sent him to short-season Boise to begin his professional career. He needed just five games there to prove to the Cubs he was ready for a bigger challenge. After going 12-for-20 with four home runs and 10 RBIs with Boise, Schwarber will join Class A Kane County for its game against Cedar Rapids at 7:30 p.m. ET. He is set face right-hander Aaron Slegers, his former teammate at Indiana University.
Thursday's Minor League slate is also highlighted by several pitchers scheduled to start who are ranked on MLBPipeline.com's Top 100 Prospects list, including Taijuan Walker (No. 5), Tyler Glasnow (No. 23), Kyle Crick (No. 27), Zach Lee (No. 54) and Edwin Escobar (No. 81). Fans can watch Walker, Lee and Escobar on MiLB.TV, beginning with Escobar and Triple-A Fresno visiting New Orleans at 8 p.m. ET.
Top prospect probables
Jason Adam (Royals' No. 8), Northwest Arkansas vs. Tulsa
Miguel Almonte (Royals' No. 5), Wilmington at Myrtle Beach
Sean Brady (Indians' No. 17), Mahoning Valley vs. Auburn
Austin Brice (Marlins' No. 18), Jupiter vs. Bradenton
Jamie Callahan (Red Sox's No. 18), Greenville vs. Savannah
Kyle Crick (Giants' No. 1), Richmond at Binghamton
Edwin Escobar (Giants' No. 2), Fresno at New Orleans
Amir Garrett (Reds' No. 19), Dayton at Great Lakes
Grayson Garvin (Rays' No. 19), Montgomery vs. Mobile
Tyler Glasnow (Pirates' No. 3), Bradenton at Jupiter
Severino Gonzalez (Phillies' No. 6), Reading vs. Akron
Jason Hursh (Braves' No. 3), Mississippi vs. Jackson
Luke Jackson (Rangers' No. 7), Frisco at Corpus Christi
Zach Lee (Dodgers' No. 4), Albuquerque at Omaha
Kyle Smith (Astros' No. 18), Corpus Christi vs. Frisco
Taijuan Walker (Mariners' No. 1), Tacoma vs. Colorado Springs
Teddy Cahill is a reporter for MLB.com. Follow him on Twitter at @tedcahill. This story was not subject to the approval of Major League Baseball or its clubs.