Medica's clutch hit lifts Padres on tribute night
Cashner ramps up heat in seven-inning duel with Mariners ace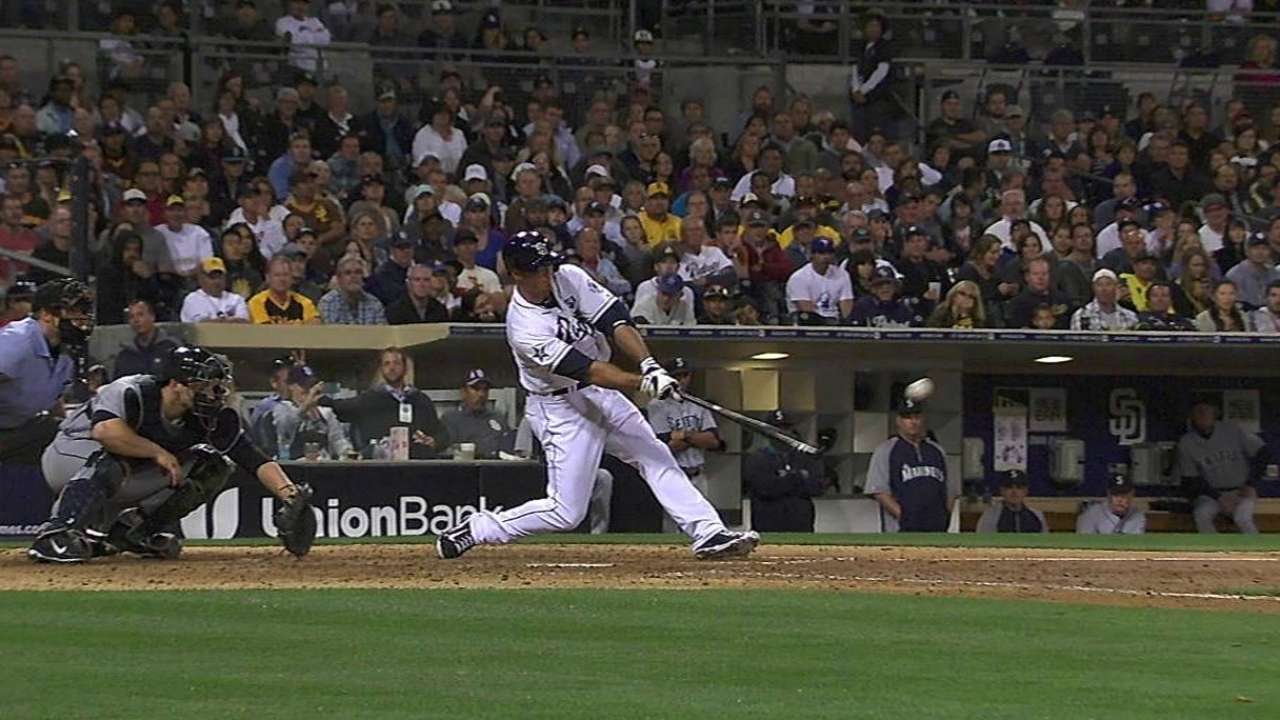 SAN DIEGO -- If there's anything that Andrew Cashner has learned in his transformation from late-inning reliever to starting pitcher, it's that it often pays to save a few bullets.
In a big bind Wednesday night, the Padres pitcher essentially emptied his barrel when he needed to the most.
With a runner on third base, his team trailing by a run, Cashner dialed up the heat to bail himself out of a pickle, a situation that paid big dividends later, as the Padres rallied for a 2-1 victory over the Mariners before a crowd of 27,523 at Petco Park.
"Cash dialed it up and threw some heaters," said Padres manager Bud Black.
Cashner's heat, along with a pinch-hit, RBI single by Tommy Medica in the eighth inning, gave the Padres just their fourth victory in the last 16 games.
"We deserved one of those," Black said of Medica's hit. "We haven't gotten that mishit to fall for us. We haven't gotten our share of those lucky breaks."
It was an emotional night, and not just because the Padres rallied for a victory late. Before the game, the Padres paid tribute to Hall of Fame outfielder Tony Gwynn, who died Monday at the age of 54 after battling salivary gland cancer.
There was a video tribute, a moment of silence that lasted 19 seconds -- Gwynn, of course, wore No. 19 -- and the Padres players and coaching staff stood next to a painted '19' in right field, the position that Gwynn played in his 20 years in the big leagues, all with the Padres.
It was a lot to digest for players, though Cashner certainly managed to keep his emotions in check during the tribute.
"I think one of the biggest things I did tonight was keep my focus," he said.
Cashner certainly needed to, as mistakes would have been mostly unforgivable with Felix Hernandez on the mound for the Mariners (37-35).
Trailing 1-0, and with Hernandez looking impenetrable, Logan Morrison started the sixth inning with a double. He then advanced to third base on a passed ball.
That's when Cashner buckled down.
Mike Zunino saw four fastballs, two of which were 97 mph. He flied out to shallow center field for the first out of the inning. Dustin Ackley saw four 97 mph fastballs, the last of which he scorched right at Alexi Amarista, playing in from second base. That was the second out.
Cashner then intentionally walked Brad Miller to get to Hernandez, who grounded out to end the frame.
"He's obviously got some high velo and it gets on you. It plays up even. He had a good mix, got out of some jams when we did get guys on. He's got some high-octane stuff. He's pretty good," Miller said.
So, too, was Hernandez.
Hernandez, who has a 1.84 ERA in seven career starts in San Diego, retired 15 consecutive hitters Wednesday after allowing a hit to Seth Smith to start the game.
"We've seen him a lot and tonight was as good as I've seen him, as far as pure stuff. He might not have been throwing as hard, but the curve was very good and the split was there," Black said. "You look at what he's done this year ... he's been great."
Hernandez struck out 10 and allowed three hits in seven innings but made one costly mistake -- a wild pitch in the sixth inning that allowed Amarista to score from third base after he got on base with an infield single and advance on a bunt and a groundout.
Cashner, making his third start since returning from the disabled list last month, had some traffic on the bases early in the game but mostly worked free and clear of danger.
"Tonight, I wasn't good at all," Cashner said. "I couldn't get on top of my sinker. I was giving up hits in bad spots. I thought a big play was Alexi hanging in on that ball [in the sixth inning]."
Cashner allowed one run on seven hits with two walks and two strikeouts in seven innings.
Another big play came in the eighth inning against Mariners relief pitcher Charlie Furbush (0-4), when Everth Cabrera reached on a single and then moved to second base.
Medica came off the bench and promptly got behind in the count, though on the fourth successive slider he saw -- and on a 0-2 count -- he poked a single to center field that scored Cabrera with the go-ahead run for the Padres (30-42).
"Whenever you can get a late-inning base hit with a guy on, with our pitching staff, [Joaquin] Benoit and [Huston] Street have been pretty much lights out all year. So when you can get a run that late, it's always a good thing because you know we're probably going to close it out with the guys we have coming out of the 'pen," Medica said.
That's exactly how it played out, as Benoit (3-0) worked a scoreless eighth inning and Huston Street earned his 19th save of the season -- and first in two weeks -- with a scoreless ninth inning.
Corey Brock is a reporter for MLB.com. Keep track of @FollowThePadres on Twitter. This story was not subject to the approval of Major League Baseball or its clubs.