Mariners fall in San Diego after Felix's 10-K effort
Ace works seven sharp innings, retires 15 straight after leadoff hit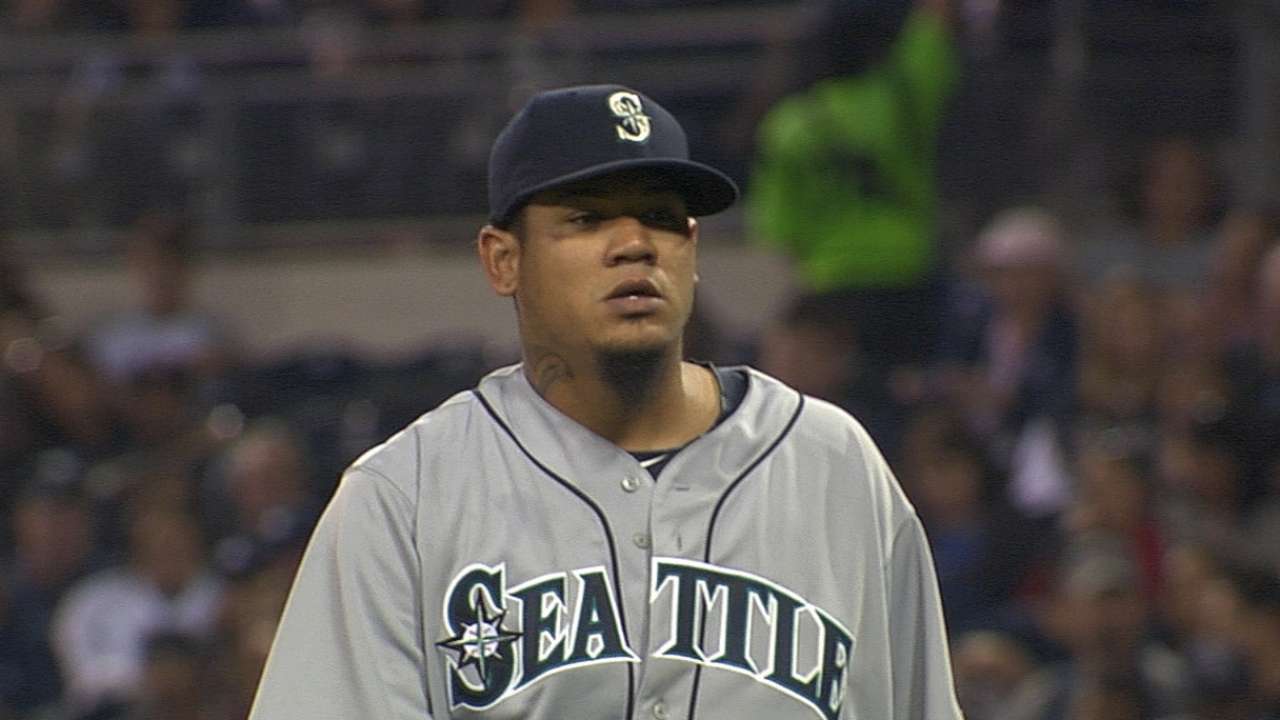 SAN DIEGO -- Felix Hernandez continued his Petco Park dominance but wound up with another difficult no-decision on Wednesday night, as the Padres eked out a 2-1 victory after his departure to snap Seattle's three-game winning streak.
Hernandez acknowledged this one was a "tough loss" after he allowed just one run in seven innings, the lone tally coming on a wild pitch. The 28-year-old ace has surrendered only two runs in 22 2/3 innings over his last three starts, but is 0-1 in those outings to remain 8-2 on the season.
Yet despite all that, Hernandez maintained he was fine with manager Lloyd McClendon's decision to pull him after 97 pitches in a 1-1 tie and was only perturbed this time because the Mariners wound up losing in the end.
"It's always hard for the team," Hernandez said. "I don't care if I get the decision. It's not about winning for me, just as a team."
McClendon maintained the same stance, refusing to get into any "woe is Felix" line of thinking. It was the 28th time in Hernandez's career that he allowed one run or none in seven or more innings and received a no-decision, but the first-year skipper wasn't worrying about that.
"This was a tough game for the Seattle Mariners, not just Felix," McClendon said. "Those things happen. They had their best guy on the mound and we had our best guy on the mound. It was one of those games where you knew it was going to be close. Every time we don't score runs for Felix, we can't say it's a tough game for Felix. It's a tough game for the Seattle Mariners. It was a baseball game. It was unfortunate we came out on the short end of the stick today."
Hernandez gave up just three hits with no walks and 10 strikeouts and lowered his ERA to 2.22 in 16 starts. He's been particularly dominant over his past eight outings, going 5-1 with a 1.19 ERA with seven walks and 67 strikeouts in 60 2/3 innings.
"We've seen him a lot and tonight was as good as I've seen him as far as pure stuff," said Padres skipper Bud Black. "He might not have been throwing as hard, but the curve was very good, the split was there. You look at what he's done this year ... he's been great."
But the Mariners couldn't take advantage of his latest gem and as the Padres pushed across the go-ahead run in the eighth against reliever Charlie Furbush and held on to win for just the second time in their past 10 games.
Pinch-hitter Tommy Medica delivered the winning RBI single with a flare to center, scoring Everth Cabrera from second, after Cabrera had reached on a high chopper that landed between Furbush and third baseman Kyle Seager as the pitcher pulled back at the last second.
"I was going for it the whole way and thought I could make a play, but Seager called me off," Furbush said. "As pitchers, we have to listen to our infielders."
But realistically, it was just a perfectly placed blooper that wound up costing the Mariners when Cabrera was sacrificed to center and then scored on Medica's base hit.
"My thought process was Charlie could have caught it, but he's running away from first base and that's asking a lot for somebody to catch it and spin and throw it on a dime," said Seager. "Looking back, I probably should have let Charlie take a shot at it there, but either way it would have been a really hard play with the way [Cabrera] runs."
In a game that turned on such a small play, the bigger storyline seemed to be McClendon's decision to take Hernandez out after 97 pitches. But he's been consistent with his approach there all season, opting to keep his ace healthy for the long run.
"I have to be careful with all my pitchers, including Felix," McClendon said. "That was a stressful inning [in the seventh] and he gave us everything he had that inning. He probably wanted to go back out, but I have to keep the big picture in mind."
After a leadoff single in the first by Seth Smith, Hernandez retired 15 straight batters until second baseman Alexi Amarista reached on an infield hit in the sixth, advanced to third on a sacrifice bunt and a groundout, and scored on a pitch in the dirt that got past catcher Mike Zunino.
"That was bad," Hernandez said with a grimace. "It was a changeup and I threw it too hard."
Hernandez has never lost in seven starts at Petco, where his record remains 5-0 with a 1.51 ERA, but he deserved a better fate in this one.
"I just shook his hand and told him, 'Great job,'" McClendon said. "It was a brilliant job by him. He did a fantastic job and deserved to win. It was a tough ballgame."
Shortstop Brad Miller drove in the game's first run on a single to left in the second inning, scoring Zunino after Seattle's catcher had been hit with a pitch for the ninth time this season and then moved to third on Dustin Ackley's base hit.
Miller went 2-for-3 with a walk and has hit .281 (16-for-57) over his past 18 games to slowly raise his average from .151 to .187.
Hitting in the Interleague game, Hernandez didn't help himself any at the plate as he stranded two runners in making the final out in both the fourth and sixth innings. But the Mariners' hitters provided little support either, as Seattle has scored just one run in the 22 2/3 innings Hernandez has been on the mound in his last three starts.
Greg Johns is a reporter for MLB.com. Follow him on Twitter @GregJohnsMLB as well as his Mariners Musings blog. This story was not subject to the approval of Major League Baseball or its clubs.