Texas rides Hinojosa's homer to advance in CWS
Hollingsworth's 8 1/3 shutout innings leads Longhorns into Friday matchup with Vandy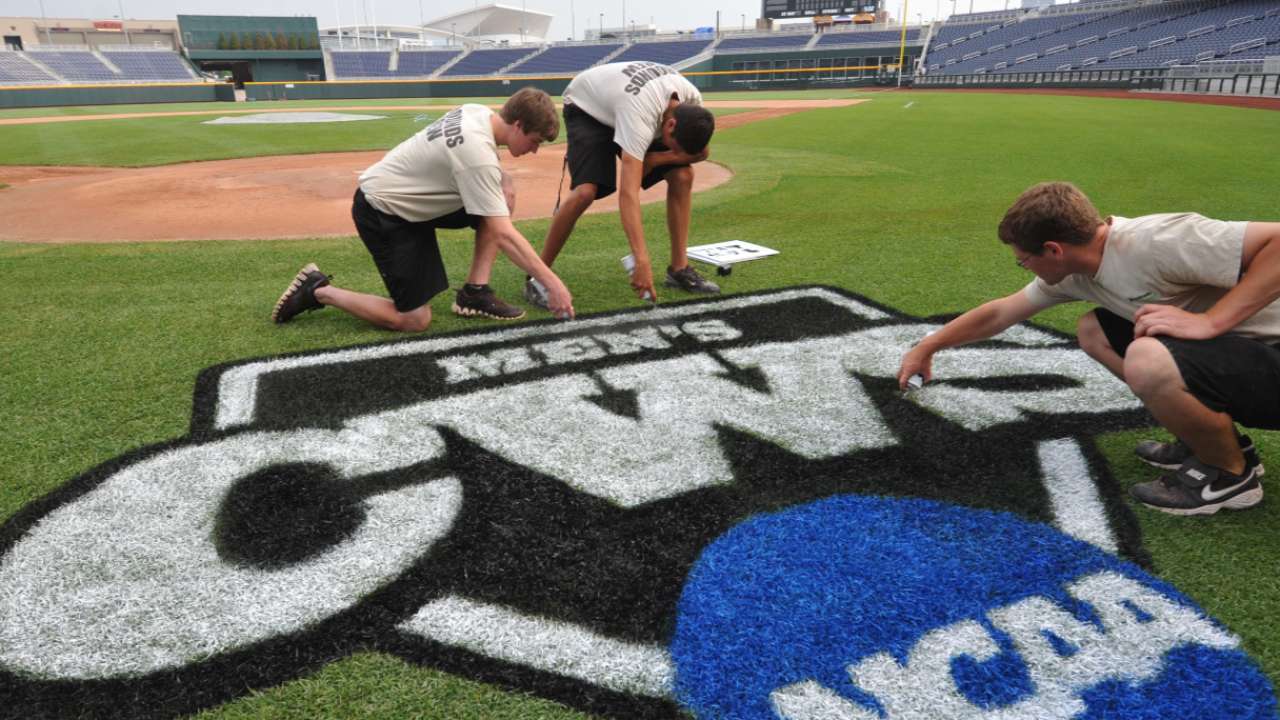 OMAHA, Neb. -- C.J. Hinojosa raised his arm as he rounded second base and watched his seventh-inning blast land in TD Ameritrade Park's left-field bullpen.
In the Texas dugout, where the Longhorns celebrated the first home run at this year's College World Series ...
"Four players fainted," Texas coach Augie Garrido quipped, while later saying he had a "mild heart attack" watching his shortstop's home run clear the fence.
Yes, the first homer in the College World Series since last June 21 -- or in 923 batters, 3,436 pitches and 672 outs -- was quite the streak buster. But more importantly, it kept the Longhorns in Omaha for a least a little while longer.
Hinojosa's homer backed right-hander Chad Hollingsworth's 8 1/3 shutout innings as Texas beat UC Irvine, 1-0, on Wednesday night to set up a Friday afternoon matchup with Vanderbilt.
"I was just trying to see a good pitch," Hinojosa said. "I've seen it good, and I tried to put a good swing on it and it flew out."
UC Irvine starter Evan Manarino, who struck out seven over 6 1/3 innings, said Hinojosa took advantage of a mistake.
"I left it over the plate, and he's a good hitter," Manarino said. "He took advantage of it and drove it to left field, and that was it."
Despite a ball finally leaving TD Ameritrade Park, Wednesday was another quiet offensive night thanks to two brilliant pitching performances.
Hollingsworth scattered four hits and struck out five to set up Friday's meeting at 3 p.m. ET. Texas (45-20) needs to beat Vanderbilt (48-19) twice to advance to the finals, while the Commodores need only one win.
Hollingsworth allowed only two UC Irvine baserunners to reach second, the last coming with one out in the eighth, before he retired the next two batters.
Texas right-hander Travis Duke got the final two outs in the ninth with the tying run on first.
"He was mixing pitches really, really well," said UC Irvine's Connor Spencer, the Yankees' eighth-round pick in the First-Year Player Draft. "He was definitely working both sides of the plate tonight, and the curveball was setting up his fastball really, really nicely."
Hollingsworth also got help from his defense. Hinojosa made a handful of nice plays at shortstop, while center fielder Mark Payton (seventh round, Yankees) made a diving catch in the right-center-field gap in the third inning to rob UC Irvine's Taylor Sparks (second, Reds) of extra bases with a runner on first.
"That's a catch we'll see tonight later on, tomorrow morning, all day long -- we'll see more of that catch than we even want to," said UC Irvine coach Mike Gillaspie, whose team finishes 41-25. "But it was a spectacular, big-time play and a difference maker. The difference maker, quite frankly."
The Longhorns almost had a great scoring opportunity in the sixth, when Ben Johnson drilled a liner to left field and got all the way to third as UC Irvine's Adam Alcantara struggled to pick the ball up. But Texas' excitement and Johnson's triple quickly disappeared, as UC Irvine tagged first base and the umpire ruled Johnson never touched the bag.
Replay showed it was the correct call.
"Tomorrow [at practice] we're doing baserunning," Garrido said as his players laughed. "How to touch the bases. Get back to some of the simple fundamentals."
Wednesday's results
Texas 1, UC Irvine 0
Thursday's game
TCU vs. Ole Miss, 8 p.m. ET*
*denotes elimination game
Cash Kruth is a reporter for MLB.com. Follow him on Twitter at @cashkruth. This story was not subject to the approval of Major League Baseball or its clubs.