Knight channels inner-Vin on 'Express Written Consent'
Actor, singer-songwriter does impression of legendary Dodgers broadcaster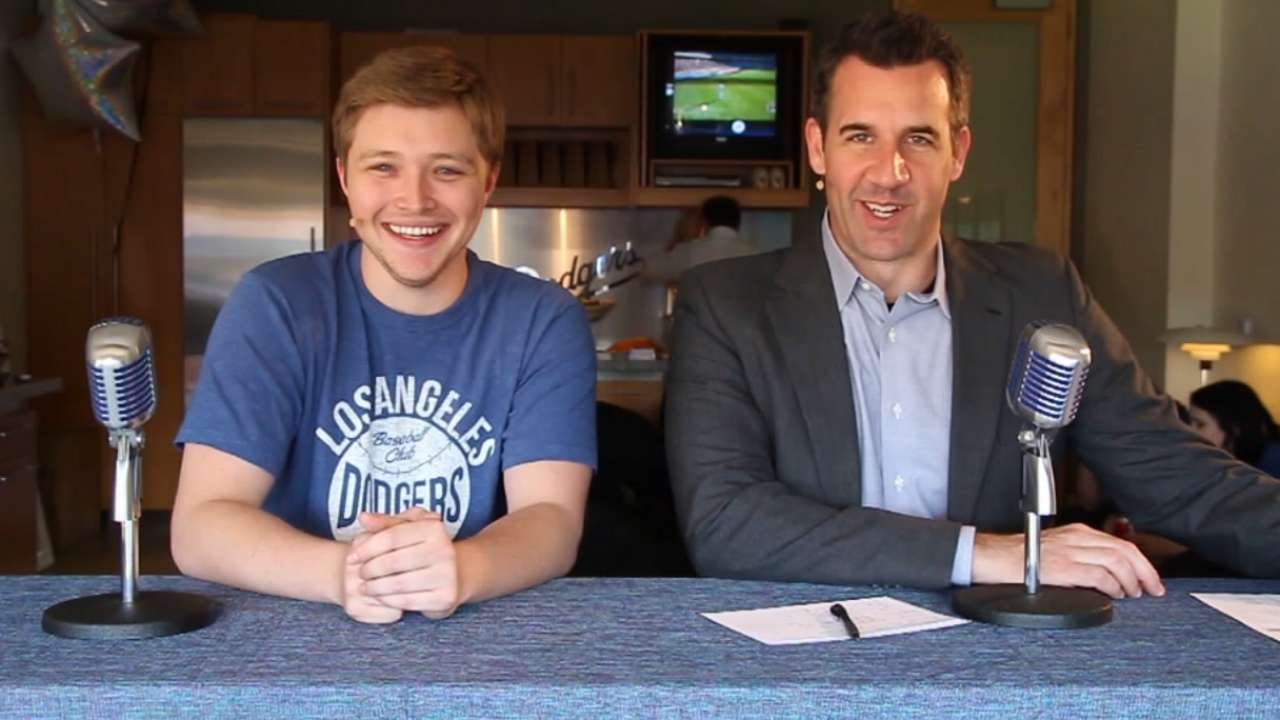 You have to hand it to Sterling Knight. Although he's just 25 years old, and didn't grow up anywhere near Los Angeles, the actor/singer-songwriter does a pretty decent Vin Scully impression.
No, it's not spot-on, but he has a pretty good grasp of the legendary Dodgers announcer's inflections and tone. What he doesn't have, at least when it comes to baseball broadcasting, is Scully's artful gift for gab -- but then really, who does?
After about two lines, Knight admitted he was sort of out of things to say.
"It's a balmy 68 degrees, and the Dodgers are wearing blue, as usual," Knight said, in his best Scully voice.
And...scene.
"Vin's a living legend," Knight said with a chuckle. "That voice is so iconic."
Knight now lives in L.A. as an actor who recently wrapped up a third season of the hit ABC Family show, "Melissa and Joey," where he appears as a guest star as Lennox's boyfriend Zander.
He recently took in a game at Dodger Stadium with MLB.com host Jeremy Brisiel, who chatted with the actor while taping the most recent episode of "Express Written Consent."
During the show, we learned that Knight actually grew up in Houston, but he didn't really root for the Astros. His most vivid memory from his childhood as a baseball fan is not that the Astros won the pennant in 2005, but that they were swept in the World Series less than a week later. That made them, in Knight's view, B-O-R-I-N-G.
Which was OK, considering most of his family is from Georgia and are Braves fans anyway.
"Die-hard Braves fans," Knight said. "I remember they had [Greg] Maddux, [Tom] Glavine, Chipper Jones...they were just stacked up."
How much did he pay attention to the Braves back then? Well...
"They made me follow the Braves," he said. "In '96, I was seven, but it was exciting. When they finally won, everyone went crazy."
Knight is still in the early stages of his career, but he's carved out a niche for himself in the Disney scene since landing his first acting role in an episode of Hannah Montana in 2007.
He played a teen heartthrob in the Disney Channel original movie "StarStruck" in 2010, which he followed with a role in the movie "Elle: A Modern Cinderella Tale."
Knight has also appeared in episodes of "Out of Jimmy's Head" and "Grey's Anatomy," as well as the hit movie "17 Again."
He was invited back to make guest appearances in season four of "Melissa and Joey," which makes him happy, of course, and makes his landlord, as Knight phrased it, "ecstatic."
"It's always good for me, and my rent check," he barbed.
His current project has also been one of the most enjoyable of his young career, partly because it's steady work, of course, but also because of with whom he's working.
He's always been a fan of show's two stars, Melissa Joan Hart and Joey Lawrence. That means he has to show some restraint and hold off from any "selfie" urges he may have.
"It's always weird as an actor to go to work on a show when you're already a fan of the people on the show," he said. "It's kind of a weird, complex thing. You have to be professional and do your job, but, at the same time -- I kind of want a picture with you."
If his career path stays steady, it's likely more than a few folks will be saying the same about him, too. All in good time.
Alyson Footer is a national correspondent for MLB.com. Follow her on Twitter @alysonfooter. This story was not subject to the approval of Major League Baseball or its clubs.