Simon NL's first 10-game winner as Reds rout Bucs
With seven-run third, offense continues to hum since Votto's return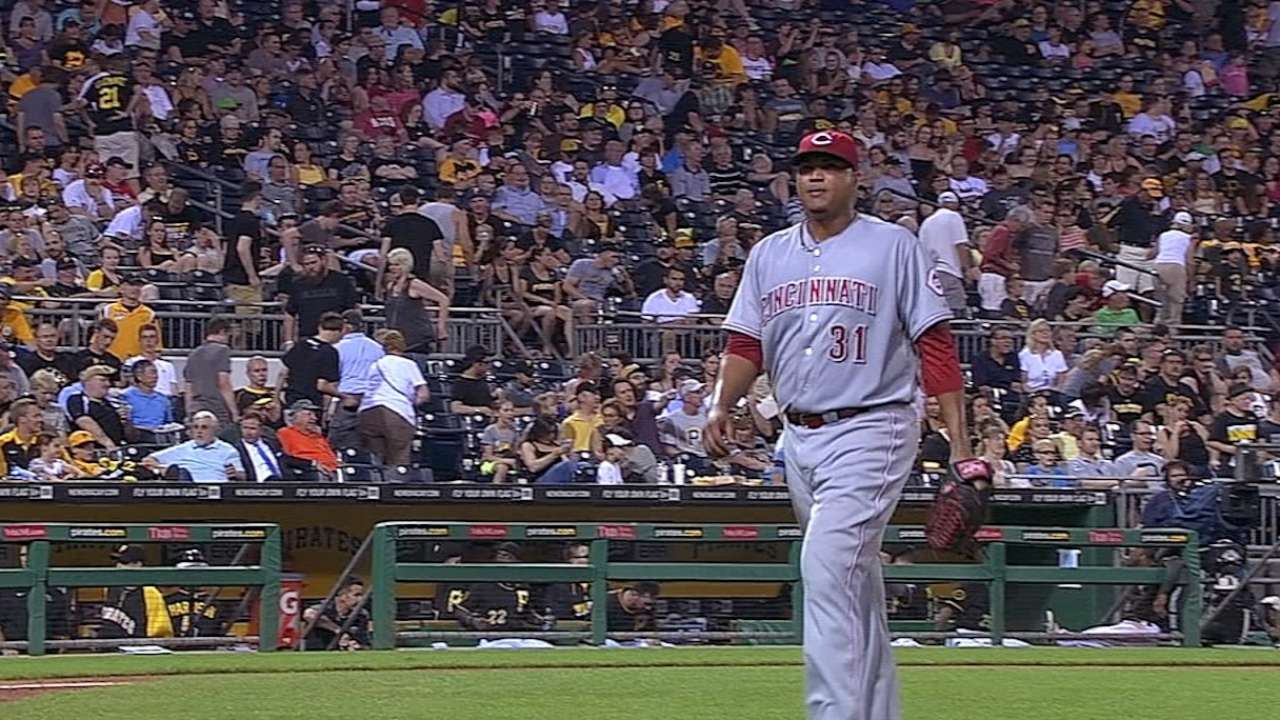 PITTSBURGH -- Everyone was hitting for the Reds on Wednesday -- seriously, everyone.
The Reds churned out nine hits in the first four innings, one hit each by each batter in the starting lineup. They totaled 14 knocks and routed the Pirates, 11-4, to make Alfredo Simon the National League's first 10-game winner and pull the Reds' record to .500 (35-35) for the first time since they were 11-11 on April 24.
"Considering where we've been the first two months of the season, it's a place we had to get to in order to move forward and beyond it," manager Bryan Price said of his Reds, who were six games under the mark three weeks ago. "Certainly, coming into it, it wasn't our goal to be .500 at the middle of June, but considering how we started, we had to get here."
In a game that featured a one-hour, 15-minute rain delay in the seventh inning, the majority of the damage came in a station-to-station carousel of a third inning when Cincinnati scored seven times -- a season best for one frame. Nine straight batters reached base against Pirates starter and former Red Edinson Volquez. Six got aboard via singles, Brandon Phillips had an RBI double and there was one walk and one hit batter.
Even Simon had a hit, albeit a controversial one. With the bases loaded, Simon hit a soft grounder to the left of the pitcher's mound, and Devin Mesoraco appeared to be thrown out on a force play. However, the play went under an umpire review and it was determined Russell Martin violated Rule 7.13, which states a catcher may not block the pathway of the runner unless he has possession of the ball.
The overturned call shocked and angered the PNC Park crowd and everyone in a Pirates uniform, including manager Clint Hurdle, who was ejected for arguing by crew chief Jerry Layne. It also puzzled Mesoraco, a catcher who said he would have defended the play in a similar fashion to Martin.
"He just has to try to catch the ball and keep his foot on the base," Mesoraco said. "It's a force play, I don't know. I don't think that is the intention of the rule -- a force play like that and he's blocking the plate. I wouldn't have done anything different myself."
Somewhat lost in the fallout of the ruling was that it gave Simon an RBI single, and the bases were still loaded for Billy Hamilton. The speedy outfielder promptly struck a two-run single -- the final punch of the third-inning onslaught.
"Things got away from him in third," Hurdle said of Volquez, who was charged with eight runs in 2 1/3 innings. "Fastball command wasn't nailed down from the beginning. He got out of his delivery, maybe tried to do more than he needed to against a team he played for."
Simon gave up three runs in 6 1/3 innings while striking out five and walking three en route to reaching the 10-win plateau. It's an impressive feat for the right-hander, who had 19 career Major League starts entering this season.
"To see him out there consistently [pitching] six, seven, eight innings and giving us a chance to win -- and not only that but we're winning those games, there's something to be said about that," Price said.
Simon's previous season-high in innings was 115 2/3 in 2011, when he made 16 starts and seven relief appearances for the Orioles. He has 88 2/3 innings under his belt after Wednesday's victory, and said he doesn't plan on fatigue factoring in his standout season.
"I feel good, I feel brand new," said the 33-year-old Simon. "I know I can control 200 innings, it's not going to be a big deal for me. I got a great arm and it's not going to be a big deal for me."
On a night when the offense was rather evenly dispersed, Skip Schumaker (two hits and three RBIs) and Hamilton (three hits, three RBIs) stood out. The Reds' cumulative performance came on the heels of their offensive surge Sunday against the Brewers, in which they scored 13 runs on 19 hits, both season highs.
Cincinnati's bats have been more in sync since first baseman Joey Votto returned from the disabled list last week. The Reds have won six of seven, scoring an average of 6.7 runs per game in that span.
"Offensively, with the way we're swinging the bat right now," Mesoraco said, "with Billy really getting on base here in the past couple of games, Joey and Jay Bruce back healthy, Brandon doing his thing, Todd Frazier really swinging it, I think we can really string some wins together."
Stephen Pianovich is an associate reporter for MLB.com. This story was not subject to the approval of Major League Baseball or its clubs.