Rockies no-hit by Dodgers ace Kershaw
Lefty K's 15; Colorado has been no-hit three times in franchise history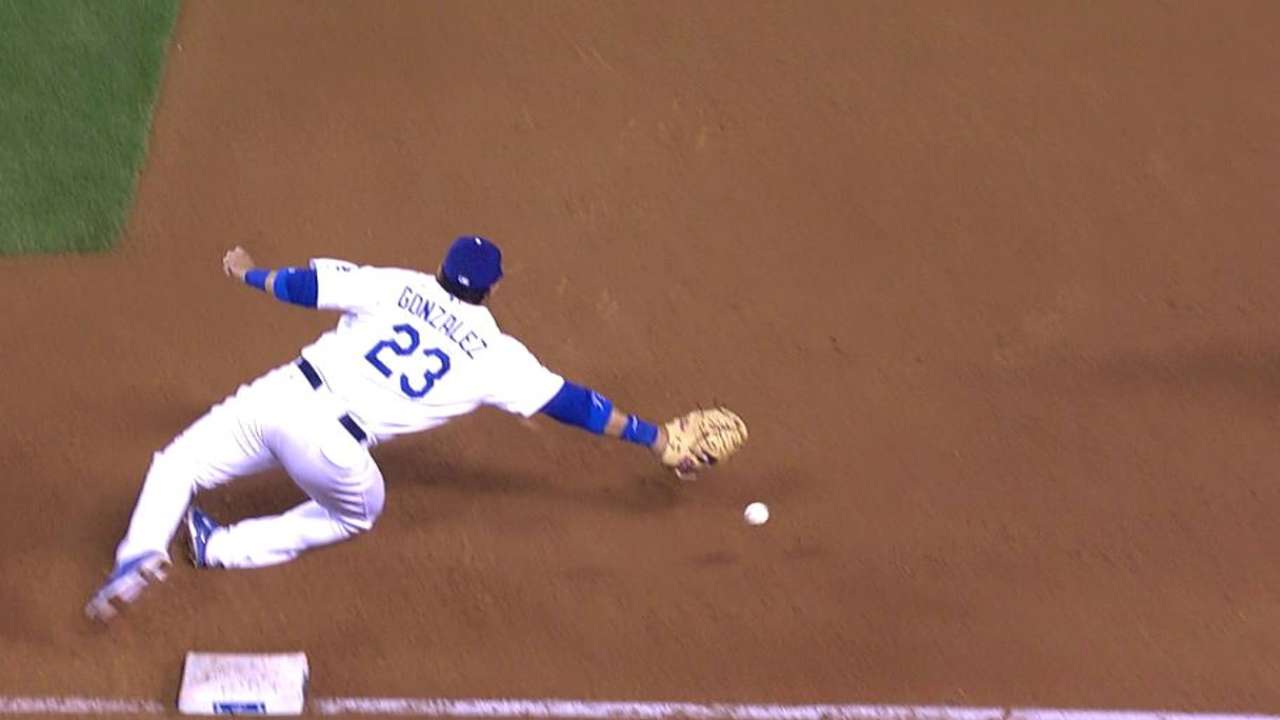 LOS ANGELES -- As the top of the sixth ended, fans behind the home dugout on the third-base side were in on it. They stood and applauded Dodgers pitcher Clayton Kershaw as he walked toward the dugout. Everyone else caught on quickly.
But in truth, the Rockies knew much earlier that Kershaw was special. Like, from the first batter. Corey Dickerson watched an 85-mph Kershaw slider for strike three to open the game. Kershaw was well on the way to the first no-hitter of his career, the 22nd in Dodgers history and their second of the season. It was also the third thrown against the Rockies in their history -- two by Dodgers pitchers.
Kershaw struck out a career-high 15, threw 107 pitches and let just one man reach base as the Dodgers won, 8-0, on Wednesday night in front of 46,069 at Dodger Stadium to complete a three-game sweep of the Rockies.
Dickerson's description of the first strikeout illustrated how baffled the Rockies were.
"I thought it was high, up in the zone," Dickerson said. "Some of his pitches, I thought, were elevated. But when I went back and looked at them on film, they weren't that high. I don't know. I can't really explain how he did that tonight, but it was pretty impressive."
Dickerson ended the game by fanning on an 87-mph slider, and he looked over his shoulder in admiration of Kershaw as he headed to the dugout, where most of the Rockies stayed to take in the celebration.
"He was good, no doubt about it," Rockies shortstop Troy Tulowitzki said. "He's always good. But tonight he was extra-special.
"He has good stuff. He's a bulldog out there. He's one of the best pitchers in this game, if not the best. Sometimes you've got to tip your cap to the other guy."
Kershaw became the first pitcher to throw a no-hitter (not including perfect games) without issuing a walk since the Marlins' Kevin Brown on June 10, 1997, at San Francisco, and the second Dodgers pitcher to throw a no-no without a walk. Bill Singer did it on July 20, 1970, at home against the Phillies.
"As far as individual games, this is pretty special," Kershaw said. "I'll remember this for the rest of my life. Get to do it at home, it's even better. It's amazing."
It was the fifth no-hitter Rockies manager Walt Weiss has witnessed in a big league uniform.
Weiss was a Rockies player the previous two times they were no-hit, both times in 1996 -- by the Marlins' Al Leiter on the road on May 11, and by the Dodgers' Hideo Nomo at Coors Field on Sept. 17. Weiss also opposed Hall of Famer Nolan Ryan, then of the Rangers, during his sixth career no-hitter, against the Athletics on June 11, 1990, and later that month, on June 29, he played behind the Athletics' Dave Stewart as he no-hit the Blue Jays in Toronto, 5-0.
Weiss didn't compare. He just tipped his cap.
"It's tough to say … I've seen some great pitching performances, but it's tough to be any better than Kershaw," said Weiss, whose team started its road trip by sweeping a three-game set with the Giants before being swept in Los Angeles.
Any suspense about who would win the game was gone when Rockies lefty Jorge De La Rosa (6-6), who left his previous start after three innings with lower back stiffness, gave up six hits, five walks and eight runs (seven earned) in 3 1/3 innings.
"It had nothing to do with my back," De La Rosa said. "I walked five guys."
While the question in the ensuing days will be whether De La Rosa is still fighting pain, the fact was no matter what the Rockies' pitcher did, the Colorado batters were no match for the Dodgers' ace.
"Probably a lot of times when he takes the mound, he has no-hit-type stuff, and that was the case tonight," Weiss said. "But to actually do it for nine innings is tough to do."
Kershaw was perfect until Dodgers shortstop Hanley Ramirez rushed in for Dickerson's chopper to lead off the seventh inning and threw wildly past diving first baseman Adrian Gonzalez to allow Dickerson to take second.
Kershaw fanned Brandon Barnes, then benefited from the night's biggest defensive play. Dodgers third baseman Miguel Rojas backhanded Tulowitzki's chopper behind the bag and fired a one-hop throw that Gonzalez scooped about a step before Tulowitzki hit the bag.
"That kid at third made a couple of nice plays in the series," Tulowitzki said. "He's a good defender, and he might've saved a no-hitter."
Weiss removed Tulowitzki after the near-hit. Later, Weiss explained it was just a good time to make a substitution, and the right-middle-toe injury Tulowitzki battled in San Francisco had nothing to do with the decision.
The frame ended with arguably Kershaw's prettiest pitch of the night -- a 74-mph curve that left Wilin Rosario frozen.
Kershaw struck out Rosario three times, and Barnes, Drew Stubbs, rookie Kyle Parker (in his first Major League start), DJ LeMahieu and Dickerson twice each. When Josh Rutledge fanned in the eighth to surpass Kershaw's previous career high of 13 strikeouts on April 15, 2009, at home against San Francisco, it meant every starting position player except Tulowitzki fanned at least once.
"My first at-bat, I was seeing everything he had -- a lot of sliders, breaking balls and, obviously, fastballs," said Parker, called up from Triple-A Colorado Springs on Monday. "You just try to get something you can hit early in the count and put a good swing on it. He's the type of guy that doesn't mess around."
Much of the Dodgers' damage against De La Rosa was due to the pitcher's lack of control, but the big hits were RBI doubles by Gonzalez and Matt Kemp, and a three-run double by Rojas -- all in the five-run third inning.
The Dodgers' other no-hitter this season came from Josh Beckett in a 6-0 victory at Philadelphia on May 25.
Thomas Harding is a reporter for MLB.com. Follow him on Twitter @harding_at_mlb. This story was not subject to the approval of Major League Baseball or its clubs.