Gray returns to form as A's rise to MLB's best mark
Oakland gets 11 more hits vs. Texas; righty sharp for seven frames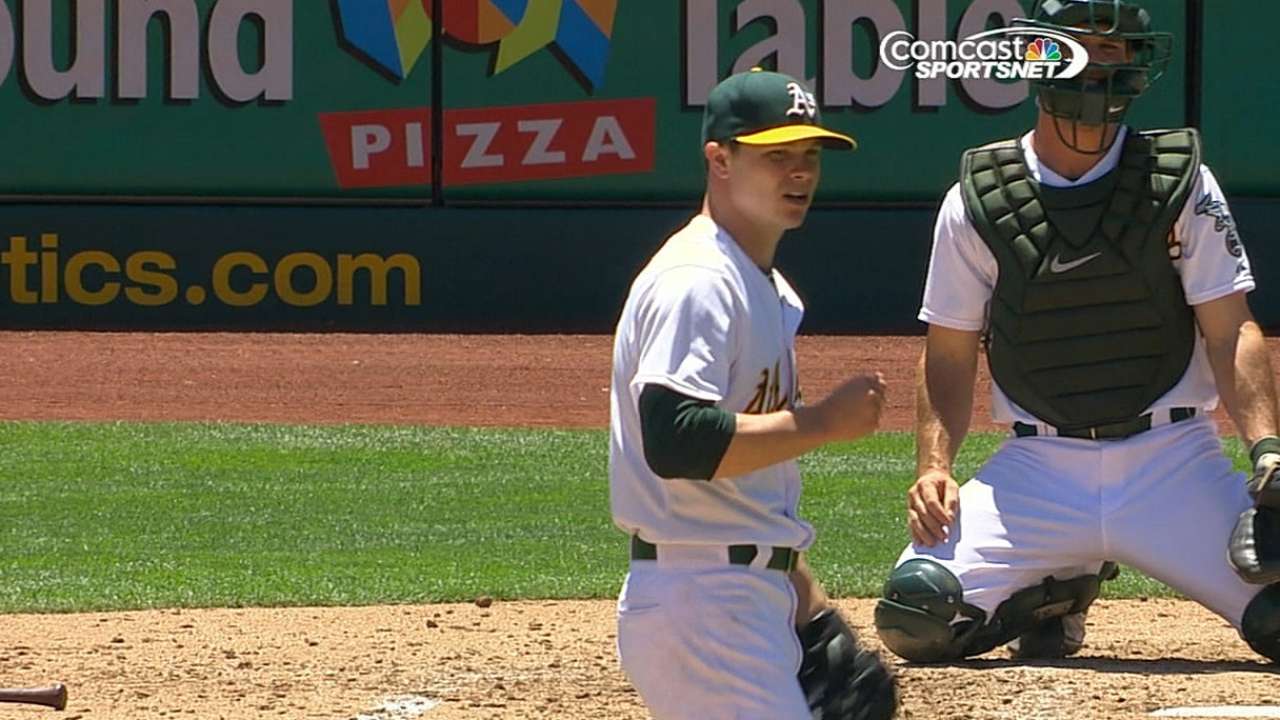 OAKLAND -- The A's bats were wide awake in a three-game meeting with the Rangers, who couldn't quite keep up in Wednesday's finale against Sonny Gray.
The Oakland righty, on the heels of consecutive losses for the first time in his young career, righted the ship and looked like an ace again in the matinee, firing seven innings of two-run ball in a 4-2 series-clinching victory at the Coliseum.
Once upon a time, when both clubs boasted good health, the growing rivalry between the A's and Rangers was one of the best in the game, even if overlooked on the other side of the country.
Texas' depleted club now doubles as a MASH unit, but the A's aren't ready to dismiss the Rangers, who have admirably hung tough through it all. Still, they exited Oakland two games below .500 and nine games out of first place.
The A's, meanwhile, not only sit atop the AL West. Their latest win, combined with San Francisco's loss to the White Sox, secured baseball's best record at 44-28.
Josh Donaldson, coming out of a slump, collected two hits and an RBI, and John Jaso and Brandon Moss helped out with RBI doubles off righty Nick Tepesch, who allowed four runs in five innings. In all, the A's totaled 39 hits in 25 innings in the series.
"Anytime, at this point in time in the season, that you can say you have the best record in baseball, it's satisfying, but there's a lot of baseball yet to be played," said manager Bob Melvin. "You try to take that confidence and where you are right now and apply it to games tomorrow and the next day and the next day. At least for the time being, it feels good."
"They are a very good team," said Rangers manager Ron Washington. "They can hurt you in three areas of their lineup: top, middle and bottom. Somebody in that lineup in each of the groups is having a good day. That's why they are so successful."
The A's next challenge comes in the form of yet another battered club, with the 34-38 Red Sox heading into the Coliseum on Thursday for the start of a four-game series.
Boston has struggled to defend a World Series title Oakland has been inching toward for years. Many believe this could be the club that conquers it.
"I think it says a lot about the guys who have gotten opportunities and stepped up," said Sean Doolittle. "We've seen it the last couple of years, the way Bob has managed the platoons. But, if you look at the way guys like Jesse Chavez, Drew Pomeranz have come in ... it's something about the nature of this clubhouse and the nature of this team. It's a loose enough environment in here that guys can be themselves, stay relaxed enough to go out there and make the most of their opportunities."
Doolittle has surely made the most of his, extending his scoreless innings streak to 22 1/3 in the closer's role with his ninth save on Wednesday. The lefty's numbers are silly: He's struck out 48 and walked just one, yet he tries to ignore them.
"But it's getting harder and harder," Doolittle said smiling. "I tend to be focused more on the process, more on the work I do before the game. It's all about getting into those counts that are in my advantage. I don't think it's a secret I hate walks. I hate walking people. Having been a hitter in the past, I feel like I have a little bit of an idea how hard hitting is, so I feel like if I can make quality pitches rather than give a guy a free pass, make him earn it, then I give myself a better chance to have a good inning."
Gray had six good innings Wednesday, completing seven in all with six hits and two walks with seven strikeouts. Outside of a two-run fifth inning, he carved through the Rangers' lineup with ease, improving to 8-2 with a 1.90 ERA in 13 career starts against the AL West.
He was 1-2 with a 5.63 ERA in his last four starts.
"When I first came up, talking to some of the older guys that are here, and this year talking to [Scott Kazmir], I think people sometimes forget that baseball's a pretty hard game and there's going to be some rough patches that you're going to go through," said Gray. "But being able to know how good you are and know what you're able to do and stay with from game to game. ... Just continue to move on and look to the next start."
"I don't think he worries too much about thinking about, 'I need to bounce back,'" said Melvin. "He's just preparing to reach out and has high expectations for himself and expects to go out there and do well."
Jane Lee is a reporter for MLB.com. This story was not subject to the approval of Major League Baseball or its clubs.