McAllister returns to Tribe's rotation
Right-hander activated from disabled list; Outman designated for assignment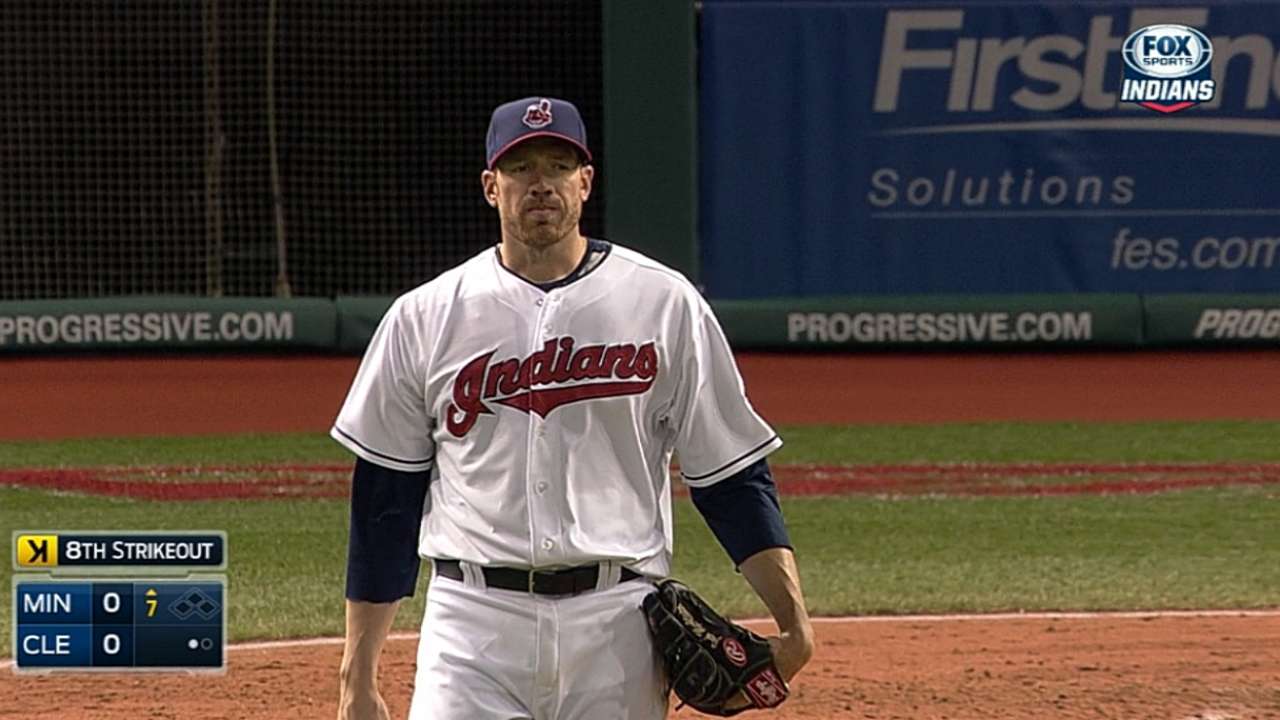 CLEVELAND -- Right-hander Zach McAllister is back in the Indians' rotation, and Josh Outman is out of the bullpen as a result.
On Wednesday, the team activated McAllister from the 15-day disabled list. Outman, a lefty reliever who has a 3.28 ERA in 31 appearances this season, was designated for assignment to clear a spot on the roster. The original plan was for McAllister to start on Thursday, but due to Wednesday's game being postponed due to inclement weather, Justin Masterson will now start on Thursday. The Indians haven't announced the rotation plan after that.
Normally, a starting pitcher is activated on the day of his start. But with Outman already unavailable to pitch on Wednesday and the bullpen in need of safeguarding, the Tribe opted to bring in McAllister a day early.
"If something fluky happens [on Wednesday], we protect ourselves without making four moves," Indians manager Terry Francona said before Wednesday's game was postponed.
The Indians can either trade or release Outman within the next 10 days. If he clears waivers, he can also accept an outright reassignment to a Minor League team.
Despite surrendering two runs in 1 1/3 innings on Tuesday night, Outman -- a lefty specialist -- has held left-handed hitters to a .180 average and a .673 OPS this season. However, right-handers are batting .295 against him this year and he's had command issues, which left the team willing to risk losing him to a waiver claim.
Rookie southpaw Kyle Crockett's meteoric rise to the Major Leagues also influenced the decision, as he had essentially taken over Outman's old responsibilities.
"When Crockett came to [Cleveland], it kind of changed Josh's role," Francona said. "You're looking for a little bit maybe in length; I'm not sure that role really fit him. We feel that Crockett can throw strikes, that he's going to do nothing but probably get better."
Crockett has pitched 2 2/3 scoreless innings since being recalled from Triple-A Columbus on Friday.
McAllister, who struggled to a 5.89 ERA in 10 starts with the Tribe, returns to the club after going on the disabled list on May 22 with a sore back. He made his third rehab start on Saturday, scattering five hits over four scoreless innings while fanning two.
"I felt good. I was happy with it," McAllister said on Monday. "[I threw] 65 pitches, was able to throw about 70 percent strikes."
Alec Shirkey is an associate reporter for MLB.com. This story was not subject to the approval of Major League Baseball or its clubs.