Braves denied by Phils despite quick start
Four-run first overshadowed by Phillies' five-run second off Harang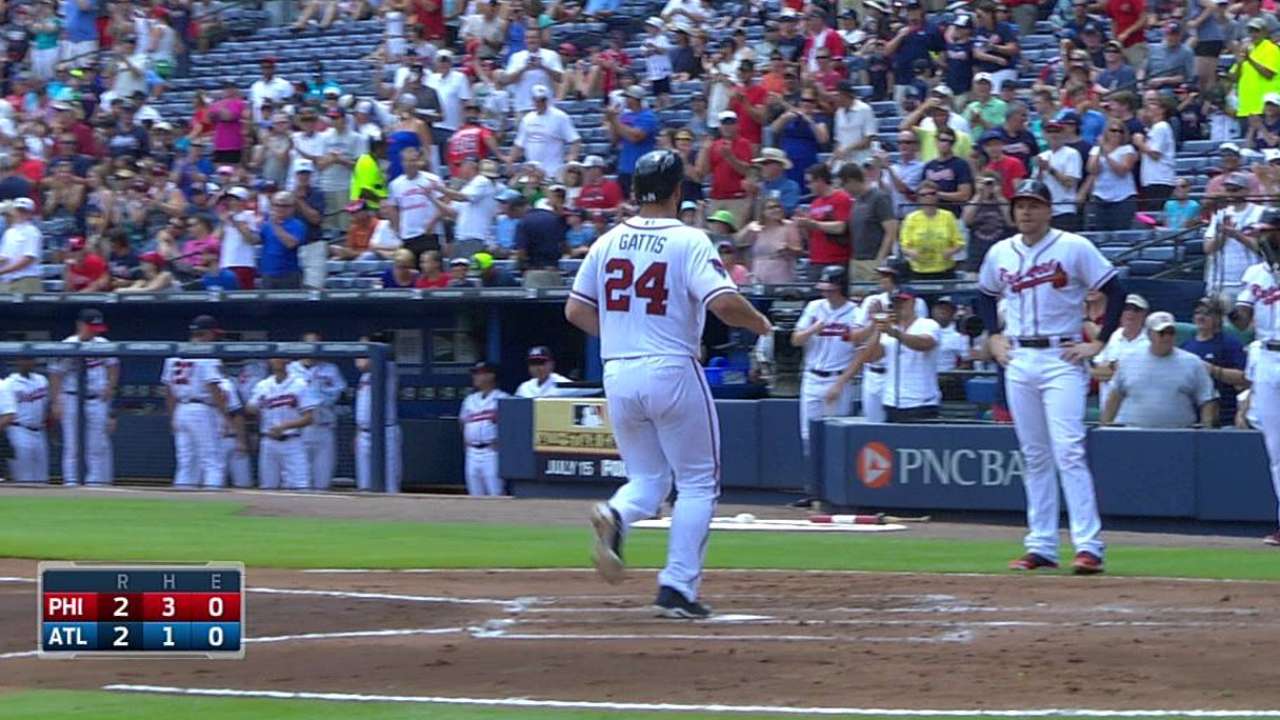 ATLANTA -- Although the National League East is still very winnable and there is plenty of baseball left, the Braves are not in a good place at the moment. The Phillies came to Atlanta last in the division and swept the Braves with a 10-5 win on Wednesday.
The Atlanta starting rotation was dominant in April, helping the club get off to a stellar 17-7 start that included 12 wins in the Braves' first 18 games against NL East foes. But those days are long gone as Atlanta now fights with Miami for second place.
With the opener of a four-game set at Nationals Park on Thursday night, the Braves will begin an 11-game road trip that concludes with a four-game set in Philadelphia. Atlanta has won 18 of its last 25 games against Washington and would like to maintain that trend.
"We're going to go into D.C. with a little bit of a chip on our shoulder," Ryan Doumit said. "This wasn't a good series, and it left a bad taste in our mouth, but we're going to go take it out on the Nationals."
Evan Gattis extended his hitting streak to a career-best 17 games with a two-run homer in the bottom of the first, but a strong offensive showing was not enough for Aaron Harang, who has posted a 5.46 ERA since giving up a total of three runs in his first five starts of the season.
Harang struggled through another tough outing on Wednesday, surrendering a season-high 13 hits, seven of which came with two outs. He also issued two two-out walks, each resulting in a run.
As left-hander Alex Wood stretches out at Triple-A Gwinnett to rejoin the starting rotation, his anticipated return on June 28 provides some hope. Harang, Ervin Santana and Mike Minor have all struggled mightily in recent weeks.
The trio has posted a combined ERA of 5.20 in 20 outings since May 16.
Philadelphia's big inning on Wednesday was the second, in which the club scored five runs after making two quick outs. The two-out troubles drove Harang's pitch count through two frames to 60, more than half of the 115 pitches he threw. Given how taxed Atlanta's bullpen has been the past couple of weeks, Harang would have liked to pitch longer.
"It was one of those days where I wasn't as sharp," Harang said. "They seemed to be all over my breaking pitches, too. I was just trying to hang in there and hoped to give our bullpen a little bit of a rest. I just had to battle through those last few innings to at least take another major blow out of the bullpen."
Braves manager Fredi Gonzalez added: "He really battled under the circumstances, and he knew what's going on the in the bullpen. He's paid attention the last three days, and he gave us everything he had."
The frame was especially deflating, given the way the Braves rallied back from the two runs Harang surrendered in the top of the first. Atlanta tallied four runs, boosted by Gattis' 16th home run, which tops all Major League catchers.
It took Gattis 285 plate appearances to smack his 16th homer last season, on Sept. 3. He has reached the total this season 78 plate appearances, and 77 days, earlier than he did as a rookie.
"The guy's an animal, I don't know what to say," said Doumit, who also homered in the loss. "I'm right there with you guys. It's fun just to sit back there and watch him to do what he does. He's a special talent, and it's just fun to watch."
The Braves put together a first inning of three walks and three hits to open up a 4-2 lead after watching their opponent score first for the seventh time in a span of eight games, but the advantage was short-lived.
Harang gave up six consecutive two-out hits in the top of the second, a barrage that included an RBI double from Ryan Howard. The Phillies' first baseman finished the three-game series 5-for-13 with a double, two homers and six RBIs.
"I always love coming to Atlanta," Howard said. "It's a nice city -- good people. I just was able to put some stuff together and will try to carry it over now."
Philadelphia's sweep was its first at Turner Field since it took three straight from Sept. 26-28, 2011, and it puts the Braves in a tough spot. The Phillies trail Atlanta by only 3 1/2 games in the NL East, and the sweep has put the Braves on notice.
"We didn't play our best," Doumit said. "We didn't play our best this series, but we seem to crank it up a notch against the Nationals, and I expect us to do so."
Joe Morgan is an associate reporter for MLB.com. This story was not subject to the approval of Major League Baseball or its clubs.