Phils sweep Braves on season-high 18 hits
Byrd, Mayberry plate three runs apiece; five-run second the difference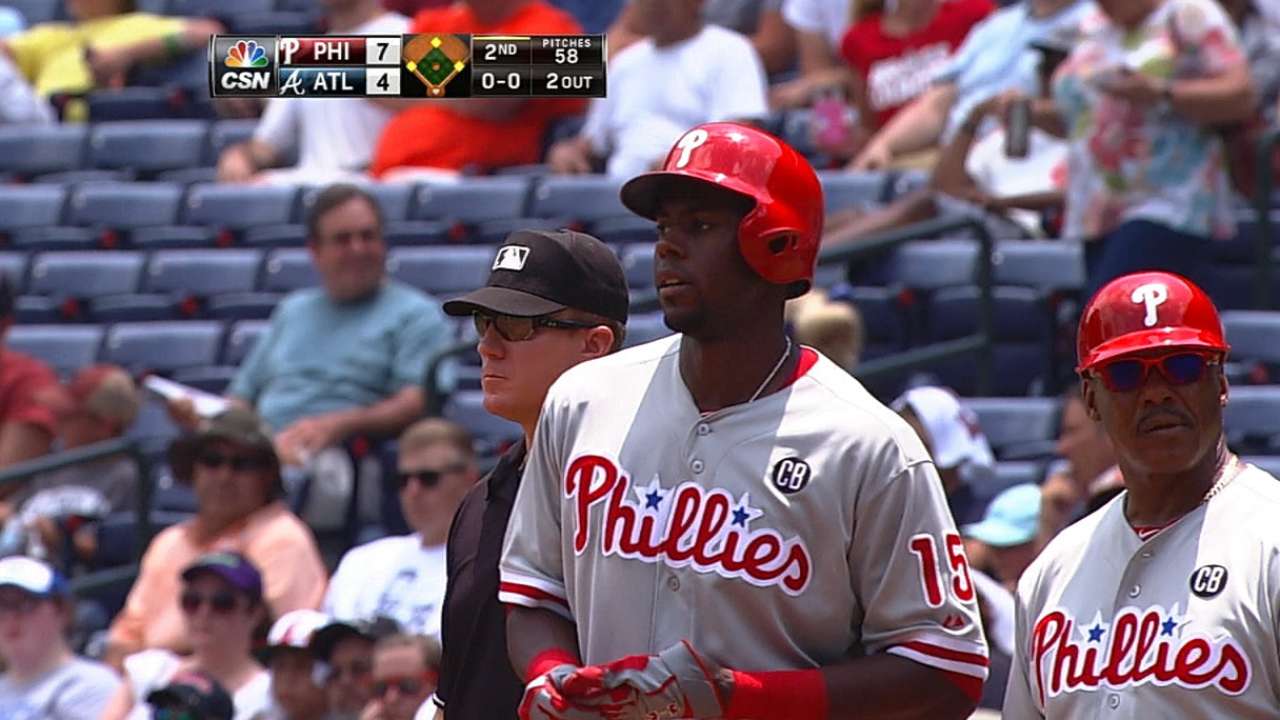 ATLANTA -- This should give the Phillies' front office something more to think about, shouldn't it?
The Phillies swept the Braves in a three-game series with Wednesday's 10-5 victory at Turner Field to move within 4 1/2 games of first place in the National League East, despite a 32-38 record. The Phillies have struggled for much of the season, but thanks to a season-high 18 hits on Wednesday, they have won seven of their last nine games.
Maybe the front office, which is planning to potentially act as a seller before the July 31 non-waiver Trade Deadline, took notice.
"I hope so, I hope so," Marlon Byrd said. "[General manager] Ruben [Amaro Jr.] is going to make the moves that he has to. He has his own timeline. Right now, we have to make an easy decision for him as far as keeping guys here. We've got to win. He put this team together to get to the playoffs, and the only way we can do that is by winning."
The Phillies boarded their flight for the Midwest more upbeat than they have been in a long time. They had the worst record in the National League on June 8, when they were 25-36. They moved out of last place in the NL East on Tuesday, knocking the Braves out of first place in the process.
Their next step?
Get to .500.
It will not be easy. The Phillies will open a four-game series on Thursday in St. Louis, and the Cardinals are one of the hottest teams in baseball, having won eight of their last 10.
"Next series is key, too," Byrd said. "We've still got to fight to .500. We've got a long ways to go, especially with four in St. Louis. We have to make sure we go there and win that series."
Wednesday's win wasn't exactly pretty, but it worked. The first inning took 36 minutes, as Braves right-hander Aaron Harang and Phillies right-hander Roberto Hernandez threw a combined 64 pitches.
The afternoon grind started when Cesar Hernandez bunted a ball up the third-base line for a single. Wil Nieves followed with a single to right. Harang intentionally walked Ryan Howard with one out to load the bases. Byrd then singled to score Hernandez, and Harang walked John Mayberry Jr. with the bases loaded and two outs to score Nieves and make it 2-0.
Hernandez fared worse than his counterpart in the first. He allowed a two-out walk to Freddie Freeman, and Evan Gattis followed with a two-run home run to tie the game and extend his hitting streak to 17 games. Hernandez allowed two more two-out runs in the first to hand the Braves a 4-2 lead.
But Harang and Hernandez weren't working out the kinks in the first.
Harang allowed five more runs in the second inning as the Phillies took a 7-4 lead. The frame included six consecutive hits, and RBIs from Chase Utley, Howard, Byrd and Mayberry. Harang allowed one run in both the fourth and fifth innings to extend the Phillies' lead to 9-4 before Braves manager Fredi Gonzalez pulled the righty.
In five innings, Harang allowed 13 hits, nine runs (eight earned) and three walks, striking out four, as the Braves tried to save an overworked bullpen. Hernandez allowed eight hits, five runs and five walks, striking out two, in six innings.
"On a day like today, he hung in there and gave us some innings," Phillies manager Ryne Sandberg said of Hernandez. "That was big because we wanted to stay away from a couple of guys in the 'pen. The bullpen, with [Antonio] Bastardo and [Ken] Giles, was very good. He hung in there. He had a rough first. You know what? The offense bounced right back there and picked him up. He was much better."
Byrd homered in the eighth to give the Phillies their fourth double-digit runs game of the season. They hope they can score a few in St. Louis, too. They will need the runs. Because if the Phillies truly believe they can be contenders, they need to keep winning.
"He's got to do whatever it is he's got to do," Howard said about Amaro. "We've got to take care of business in here. This is a step in the right direction. I don't think we've ever really been out of it. We've played hot and cold, but we've been six, seven, eight, nine games out of it. You want to definitely handle these types of games against the division rivals. This is the step in the right direction."
Todd Zolecki is a reporter for MLB.com. This story was not subject to the approval of Major League Baseball or its clubs.