Royals win 10th straight behind Infante's homer
Fifth-inning blast, Gordon's catch, RBI enough to lift stellar Guthrie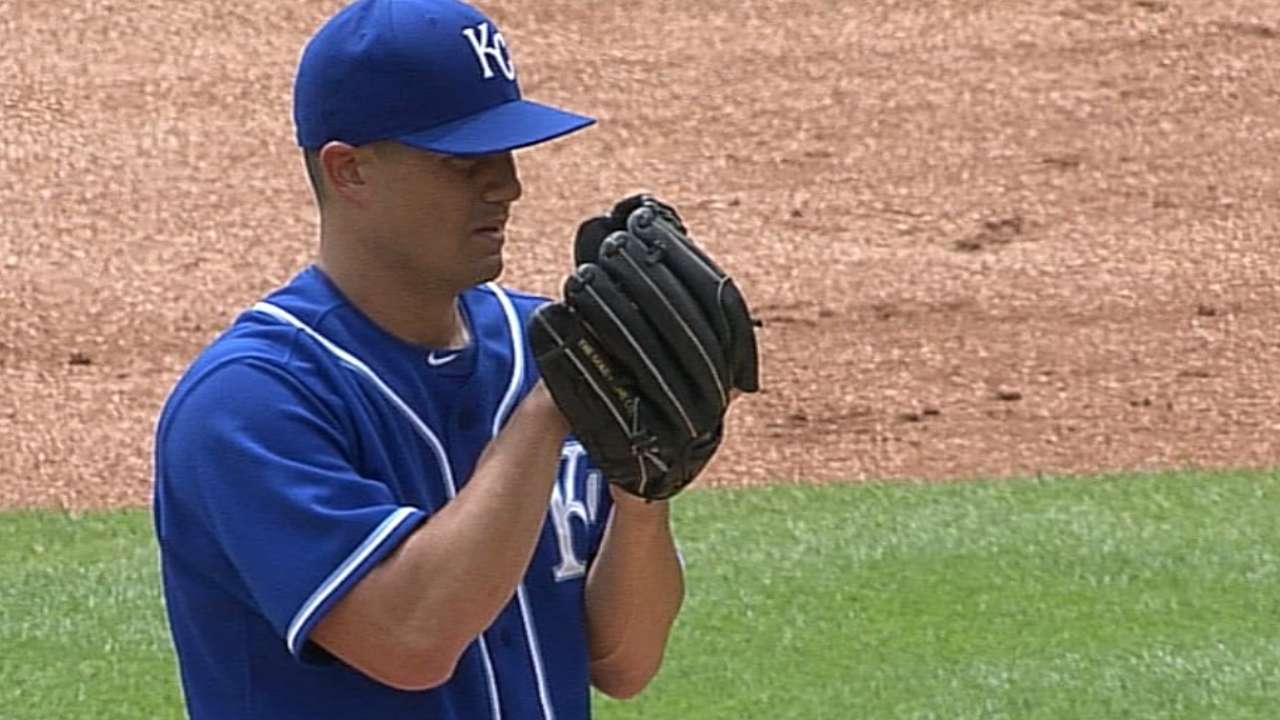 DETROIT -- Now it's 10 straight victories, and the Royals are assured of being in first place when they leave Detroit after Thursday's makeup game.
Kansas City made it three in a row against Detroit with a 2-1 win on Wednesday with 37,209 fans at Comerica Park, increasing the Royals' lead in the American League Central to 1 1/2 games over the Tigers.
Jeremy Guthrie pitched 6 2/3 superb innings, Omar Infante's solo homer provided the eventual winning run and the bullpen wrapped it up. Everything is going the Royals' way.
"These guys have won 10 in a row," the Tigers' Miguel Cabrera said. "They're playing at a high level right now. You have to give credit to these guys. They play awesome. They play aggressive. When you're doing good, you close your eyes and you swing and get hits."
Afterward, reminded that even a loss on Thursday would not knock his Royals out of first place, manager Ned Yost had a firm response.
"My goal wasn't to take three out of four ... my goal is to win every single game," he said.
Which is pretty much what the Royals have been doing. This streak is the longest since a 14-gamer came just prior to the players' strike in 1994. The franchise record is 16 straight in late 1977.
Guthrie, who went 11 straight starts without a victory, has now won two in a row. In both games he has struck out nine.
"This could be the best game he's thrown all year," Yost said. "He was fabulous. Just fabulous. … With that lineup, the way he was carving balls -- he was surgical with his stuff today."
Infante connected off left-hander Drew Smyly in the fifth inning to give Guthrie a 2-0 lead. He drove a 2-2 pitch over the left-field wall.
"I'm feeling better at the plate; I'm trying to make good contact," Infante said. "In that situation with the home run today, I waited for that pitch [a slider] because he'd been throwing a lot of changeups and a lot of sliders."
Infante played last year for the Tigers, and seven of his 10 homers came at Comerica Park.
No surprise then that, after hitting two homers in his previous 48 games this year for the Royals, he has matched that in this series alone. Infante banged a three-run homer in the series-opening 11-8 victory.
Infante has a combined eight RBIs in the three victories here.
"I'm lucky in this stadium," he said.
The Royals' first run came with some of that luck that inevitably accompanies a long win streak. Eric Hosmer singled in the first inning and stole second base. Alex Gordon's ground ball up the middle ricocheted off second base, ruining shortstop Eugenio Suavez's chances for a third out.
Hosmer raced around to score.
"Hey, with two strikes you put the ball in play, and in baseball sometimes that happens," Gordon said. "You try to make something happen, and luckily it did."
Guthrie was not giving up much of anything through the first six innings. Just two singles and his throwing error on a pick-off attempt allowed the only runner, Ian Kinsler, to reach second base.
Gordon kept Kinsler from scoring when he dived to catch J.D. Martinez's drive to end the fourth inning. It was the third time in three games that Martinez had been robbed by Royals outfielders.
But in his next at-bat, in the seventh, Martinez drove a solo home run down the left-field line, his fifth this year. When Nick Castellanos doubled with two outs, Guthrie was lifted.
Kelvin Herrera kicked off a fine day for the bullpen by getting Don Kelly for the third out.
Set-up man Wade Davis struck out the side in the eighth, giving him 21 consecutive scoreless innings and 52 strikeouts in his 31 1/3 innings this year. It was his first appearance in three days.
"It's good to get some rest and get out there and pitch some quick innings," Davis said
Closer Greg Holland pitched past a leadoff single by Cabrera in the ninth to post his 21st save.
"He's just Holly, coming in and doing what he does," Yost said.
And it was just the Royals doing what they have been doing lately, winning for the 15th time in 19 games. The Tigers have lost 12 of their past 17.
"They're hot. We're not. They get breaks. We don't," Smyly said.
The Royals are happily taking what comes their way.
"As soon as we get off that bus back at the hotel, we're thinking of 11 in a row," Hosmer said.
Dick Kaegel is a reporter for MLB.com. This story was not subject to the approval of Major League Baseball or its clubs.