McCann's five RBIs lead Yankees past first-place Jays
Catcher's two-run homer, three-run triple pace bats in victory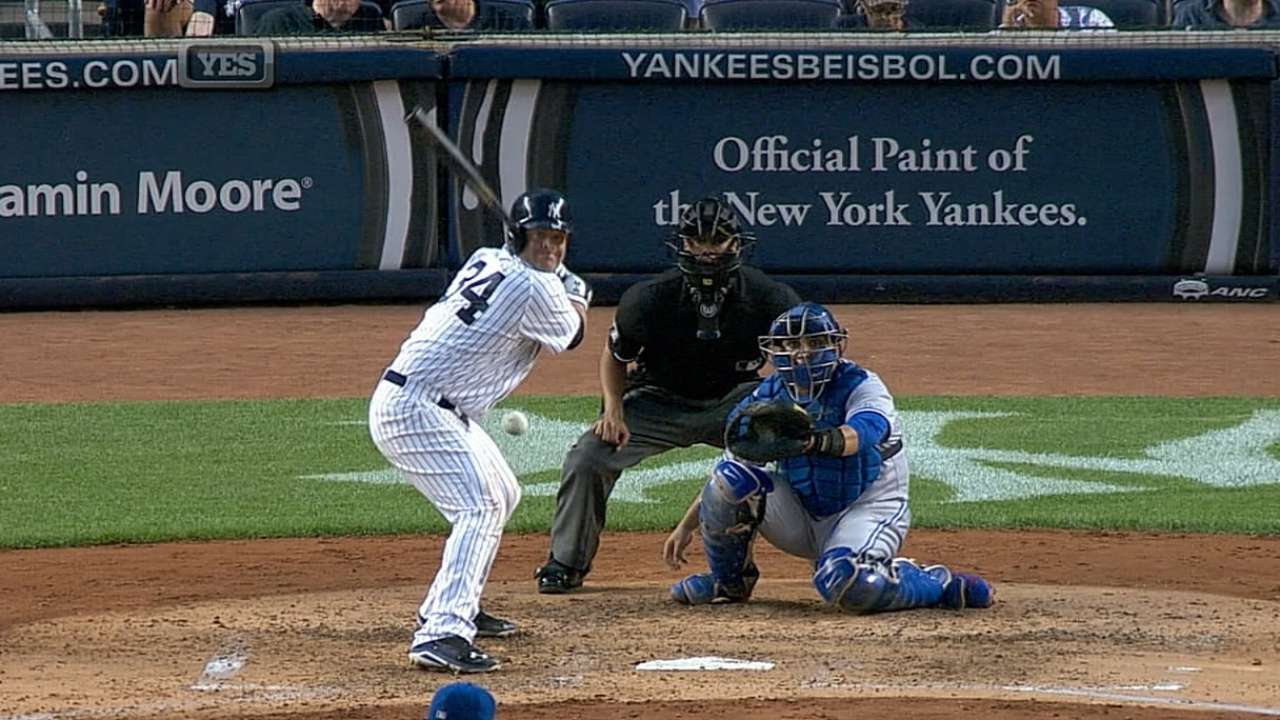 NEW YORK -- When the Yankees signed catcher Brian McCann in the offseason, they undoubtedly envisioned the kind of offensive performances the lefty slugger displayed Wednesday night.
McCann busted out of a prolonged power-hitting slump by tying a career high with five RBIs, led by a go-ahead two-run homer off starter Mark Buehrle in the fourth inning, guiding the Yankees to a 7-3 victory over the American League East-leading Blue Jays.
"It's much different when you get contributions up and down your lineup," said manager Joe Girardi. "We really believe in him as an offensive force, and he really showed it tonight."
Trailing, 2-1, in the bottom of the fourth, the Yankees reclaimed the lead for good when McCann greeted Buehrle's 10th pitch of the at-bat with a line drive that just snuck over the right-field wall. In the seventh, McCann broke things open off lefty reliever Brett Cecil, clearing the bases with a triple that dropped just out the reach of a diving Colby Rasmus. A few feet made all the difference.
"[I was thinking],'Please don't catch it,'" said McCann. "And when it fell, I knew I had a good chance for three."
The homer was McCann's first dinger since May 23 in Chicago, and he became the first Yankees catcher since Elston Howard in 1962 to homer, triple, and plate five runs in a game.
"Tonight was a good night," McCann said. "It was about time I chipped in. … It was just nice to contribute on the offensive side for a change."
McCann entered Wednesday's contest with one extra-base hit in the month of June. But he wasn't the only one clicking on offense. Brett Gardner stayed hot, roping four singles, and the Yankees managed to chase Buehrle, who came in with 10 wins on the season, after six innings.
"We've done pretty well against Buehrle. … We've kind of had his number," said Gardner, alluding to the lefty hurler being winless in his last 13 starts against the Yankees dating back to 2004. "We put together some good at-bats, were able to pick up some runs."
Starting pitcher Chase Whitley cruised along through three innings, and it looked like for the second straight night that the Blue Jays wouldn't find an answer offensively. But in the fourth, after allowing a leadoff single to Jose Bautista and hitting Brett Lawrie (who later left the game with a hand injury), Whitley soon found trouble. Dioner Navarro and Rasmus quickly poked back-to-back RBI singles to center field to put Toronto on top.
It was a battle after that.
Whitley, who has consistently preached getting ahead of hitters, quickly did the opposite and ran into deep counts that forced him out after five innings (his lowest single-game total since facing the Twins on June 1), which included walking a batter for the first time since May 21.
Still he was effective enough to earn his third win.
"I fell behind some guys today," Whitley said. "I didn't have my best command of pitches, [but] adversity is where you grow up. To come out of that successful still, and us get the win, is great."
Whitley's win was aided by a solid effort from the bullpen. Adam Warren, who continues to be a candidate to move into the rotation, shut down the Blue Jays for two consecutive innings, striking out the side in the sixth and inducing three straight groundouts to Brian Roberts in the seventh. After the Blue Jays roped two straight doubles off Jose Ramirez in the eighth, scoring one run, Dellin Betances got the Yanks out of the inning.
David Robertson pitched a scoreless ninth in a non-save situation.
"The key to our success has been starting pitching and then handing the ball to our bullpen," said McCann. "Those guys have been lights-out."
Warren returned the compliment.
"We've been kind of waiting for an explosive performance like that," he said, referring to McCann. "We knew he was capable of doing it, so it was great to see him kind of break out tonight and carry us offensively."
Gardner opened the scoring in the first thanks to an Alfonso Soriano RBI single that beat the Blue Jays' infield shift. Gardner also crossed home in the seventh when Ichiro Suzuki drew a bases-loaded walk.
The Yankees had been searching for a complete effort like this for a while. Now, winners of six of their last eight, and 15 in a row against Toronto at home, they're starting to click at a pivotal time, facing teams in their division in their next 13 games.
"It's big," said Girardi. "This is the team we're chasing. We're in our division, and these games are extremely important. It's the easiest way to make up ground or lose ground, when you're playing within your own division."
Warren summed it up simply.
"We'll take two against a division rival anytime we can."
Jake Kring-Schreifels is an associate reporter for MLB.com. This story was not subject to the approval of Major League Baseball or its clubs.