Cardinals' streak ends at five as rally falls short
Lynn cruised until giving up two runs in the sixth to end his day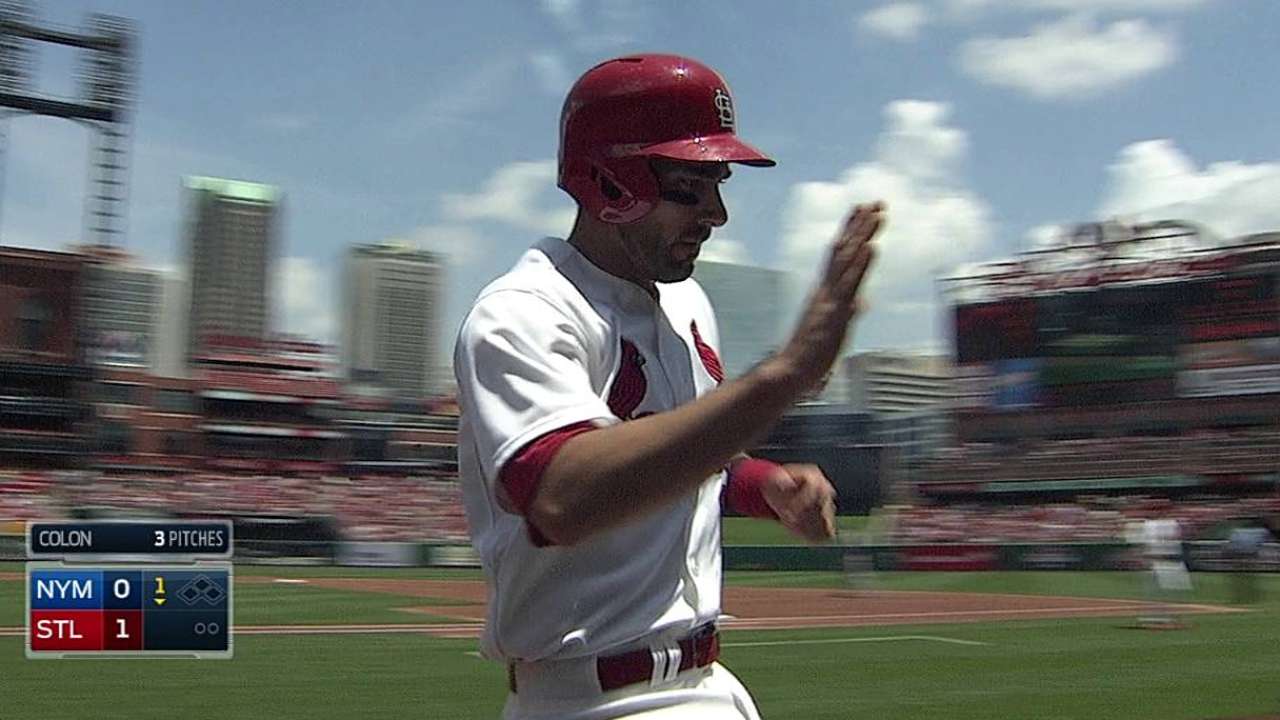 ST. LOUIS -- Seeking to extend their season-long winning streak to six games, the Cardinals instead couldn't get Mets starter Bartolo Colon out of the way.
The Cardinals anticipated the challenge of hitting Colon, the 41-year-old, fastball-throwing veteran who has yet to lose to the Cardinals in a 17-year-career. What they didn't expect was that he would hit them.
Colon handled the bat well on Wednesday, setting up both of the Mets' run-scoring innings in New York's sweep-stopping 3-2 victory over the Cardinals. The 42,221 fans at Busch Stadium got to see some history -- Colon knocking the first extra-base hit of his career -- but not what would have been the 40th season win for St. Louis.
"I guess he was due," starter Lance Lynn said afterward.
Due for a double, that is.
Matt Carpenter tagged Colon for a leadoff homer, equaling the scoring the Cardinals did against him in an April loss at Citi Field. But it would be all they got again.
A Cardinals club that had scored at least four runs in four straight games, managed only one other runner into scoring position until showing ninth-inning life in the series finale. At one point, Colon retired 13 straight, a sequence broken up by Daniel Descalso's two-out single in the eighth.
Colon answered by retiring pinch-hitter Jhonny Peralta, solidifying his second eight-inning start of the season.
He was also the one who foiled Lance Lynn's attempt to go just as deep. His leadoff double down the left-field line in the sixth on a 1-0 fastball made him the first Mets player to reach second and kick-started a two-run inning.
"I thought there was no way he was swinging. And he swung," Lynn said. "That at-bat right there cost us the game. If I make a couple of good pitches there to get him out, then who knows what that inning would entail?"
"If he threw a breaking ball, I was going to miss it," admitted Colon. "I was sitting fastball. I just ran into it."
It was his first extra-base hit in 123 career at-bats, Colon's first hit of any kind since 2005. A subsequent double by Eric Young Jr. sent the 283-pound Colon scampering home. He last did that as an Expo.
It took Lynn 26 pitches to navigate through the inning. The Mets took the lead before it ended with a strikeout of Chris Young after Lynn issued consecutive walks with two out. That would be the last batter Lynn faced in an outing spoiled by a few elevated mistakes.
Lynn had cruised through the first five innings, much like he did while pitching eight shutout frames over the weekend. Before the sixth, he allowed three baserunners, two of which were erased trying to advance to second.
Colon sandwiched his mesmerizing hit with a pair of successful sacrifices. The second one moved Wilmer Flores into scoring position, where he scored a key insurance run on a two-out ground-rule double off Seth Maness.
"He did all the little things right," manager Mike Matheny said of Colon. "He seemed to control the game the whole way. "
The Cardinals' trouble, though, wasn't so much the damage done against them as it was their continued befuddlement with Colon, the pitcher. It's been going on since last century, when Colon first faced the Cardinals as a rookie and helped the Indians to a win. John Mabry, now the Cardinals' hitting coach, batted fifth in that game.
It was the first of Colon's now six career starts against the Cardinals, who have yet to win one. It's not been out of trickery, either, as Colon has extended his career by finding success with an overwhelming reliance on a fastball, despite velocity lost.
"He has some deception even though his velocity is not what it used to be," Carpenter said. "It's impressive him being able to do what he did today."
Colon's career ERA against the Cardinals dropped to 1.66.
"He's tough because he has a lot of movement on his ball and he changes speeds," outfielder Allen Craig said. "He throws a lot of fastballs, but no two fastballs are the same speed. He does a good job of locating."
Mets manager Terry Collins pulled Colon after 86 pitches, a move that suited the Cardinals. Carpenter jumped on reliever Jenrry Mejia for a leadoff double in the ninth and later scored when Craig legged out a two-out, infield single.
Lefty Dana Eveland secured the final out by getting weak contact from Matt Adams, halting the Cardinals' quest for a second consecutive sweep.
"Obviously sweeps are better than winning two-out-of-three," Carpenter said. "But at the end of the day, we won another series, and if we can continue that and win the rest of them, we'll be happy with how that works out."
Jenifer Langosch is a reporter for MLB.com. Read her blog, By Gosh, It's Langosch, and follow her on Twitter @LangoschMLB. This story was not subject to the approval of Major League Baseball or its clubs.